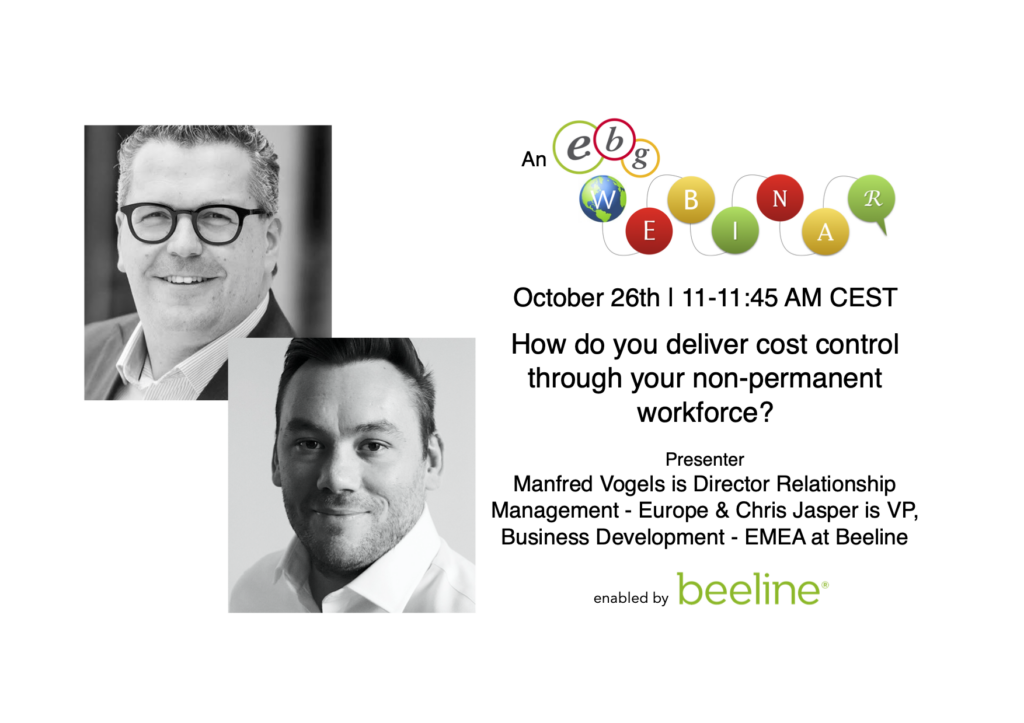 How do you achieve that? Companies worldwide are increasing their use of non-employees to create a more agile and resilient workforce. At the same time, the challenge of engaging and managing this extended workforce has grown.
This area has intrigued EBG | Network for a long time. How much of your workforce consist of non-employee individuals? Cost being one aspect – how to ensure you get the competences desired another! Who and how can gain that control and visibility and with what technology to support it?
Let's find out during 45 intense minutes!
Date: October 26th 2021
Time: 11:00-11:45 AM CEST
Place: Your computer/tablet/phone
Language: English
Cost: Free of charge but requires registration
Organizer: EBG | Network & Beeline
We will cover
Why is your non-permanent workforce such a different spend category to the rest? Why does it need to be managed differently and how can you use data to optimize the way it's managed to deliver cost savings to your business? How are others managing their professional services category or their corporate wide non-employee workforce from a spend and control perspective?
Welcome to a session where Manfred Vogels, Director Relationship Management – Europe and Chris Jasper, VP, Business Development – EMEA at Beeline will share their hands on experiences and concrete advice working with non-permanent workforce control and visibility.
During this session we will go through different approaches to driving more efficient programmes and the importance of data to the different stakeholder groups.
Join our webinar to learn how to use data – cost savings, milestones and deliverables, process efficiency, and more – to calculate ROI and build a business case for a next generation way for businesses and procurement to work with contingent workforce development.
We will discuss
What is 100% visibility of your contingent workforce worth?
How do you ensure compliance with internal policies and external regulations?
How do you manage statement of work-based projects easily and efficiently?
Welcome! All who register receive the slides and recording. Feel free to send in questions you want to be answered.
About Manfred
Manfred Vogels is Director Relationship Management – Europe at Beeline.
He is responsible for Beelines European relationship management team and a number of key clients. Beeline provides an innovative technology that allows the world's biggest companies to manage and source their non-employee workforce through their ecosystem of people, partners and suppliers. Manfred brings more than 25 years' experience in the contingent labour industry, having worked for Manpower and, Accenture as global category practice lead for non-permanent labour. As part of this role, he was responsible for managing internal and external clients' contingent labour workforce needs, development of total workforce strategies as well as developing sourcing strategies for contingent labour.
About Chris
Chris Jasper is VP, Business Development – EMEA at Beeline.
Currently at Beeline, Chris helps organisations on their transformation efforts specific to how they source, manage, and optimise contingent labour. A well-tenure digital procurement specialist, his career has seen him hold a number of roles at leading procurement and supply chain providers including Tradeshift, Jaggaer and Determine, a Corcentric Company. As a result, he has had the opportunity to guide and influence organisations as they look to transition away from legacy processes and tools, and move to industry leading solutions, better allowing them to meet the needs of the business, their end users, and scale as their company evolves.
About Beeline
Beeline workforce management solutions go far beyond the traditional vendor management system (VMS). Our platform helps you manage all categories of non-employee resources and address every phase of the extended workforce life cycle, enabling you to manage the complexities of the modern workforce. With over 20 years experience, $700 billion in spend, and 30 million workers, you can be confident in the technology powering your workforce. Gain expert guidance every step of the way with Beeline.