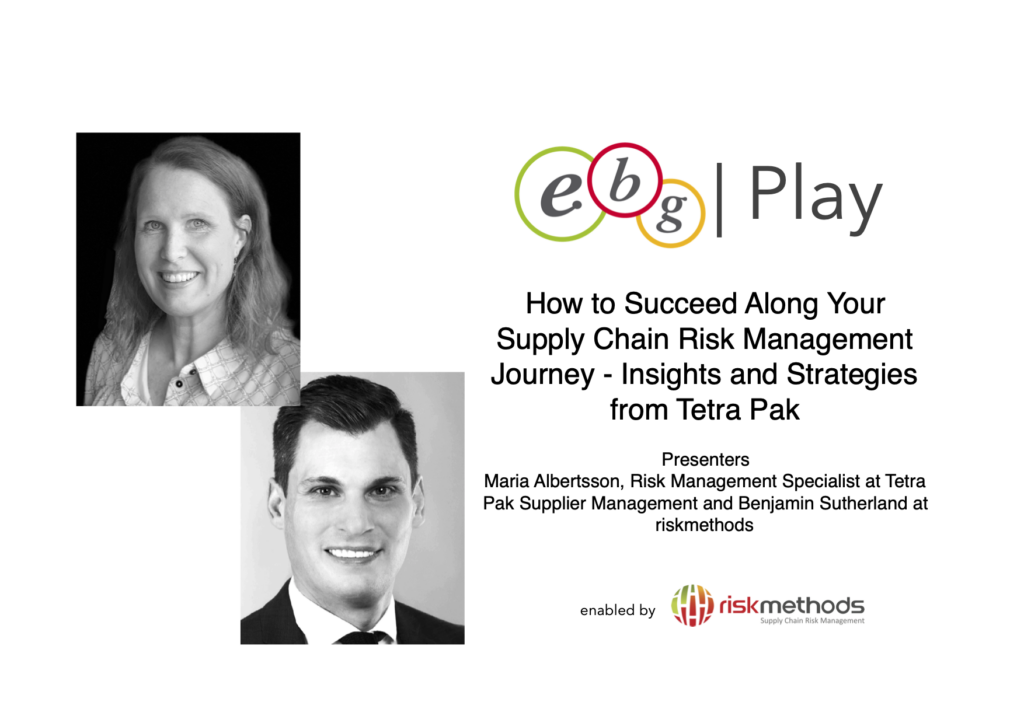 As a global company, Tetra Pak faces various challenges arising from an increasingly volatile, uncertain, complex, and ambiguous (VUCA) business environment.
Driven by strategic objectives focused on quality and food safety, sustainability and compliance, as well as competitiveness and innovation. Tetra Pak seeks to balance effectiveness vs efficiency in supply chain risk management.
Now you can view or re-view the webinar EBG | Network hosted. Maria Albertsson, Risk Management Specialist at Tetra Pak Supplier Management and Benjamin Sutherland at riskmethods shared their supply chain risk management experiences.
View On Demand
Tetra Pak supply management drivers are sustainability, quality and safety, competitiveness and innovation. During this session we get to follow their change initiative journey. We learn about their risk based approach per category and how actions are prioritized based on risk tolerance.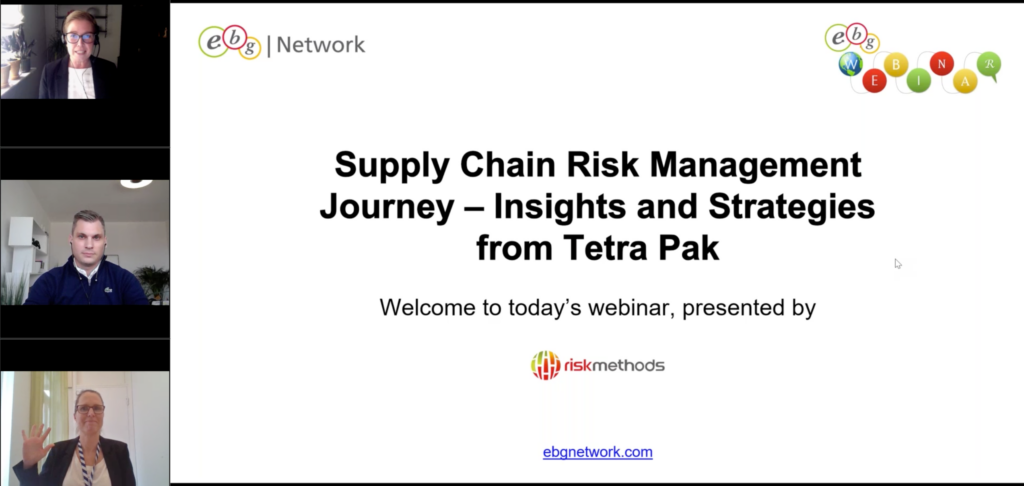 How do you analyze, track and monitor supply chain disruptions?
If only we knew in advance what we don't know.. The below poll question and results highlight how hard that is. Financial ratings is a given and probably a minimum. But how to turn all data available into a decision tool to make informed decision before it is too late. What would your responses be? (And don't mind the German letters, no idea how they turned up here..)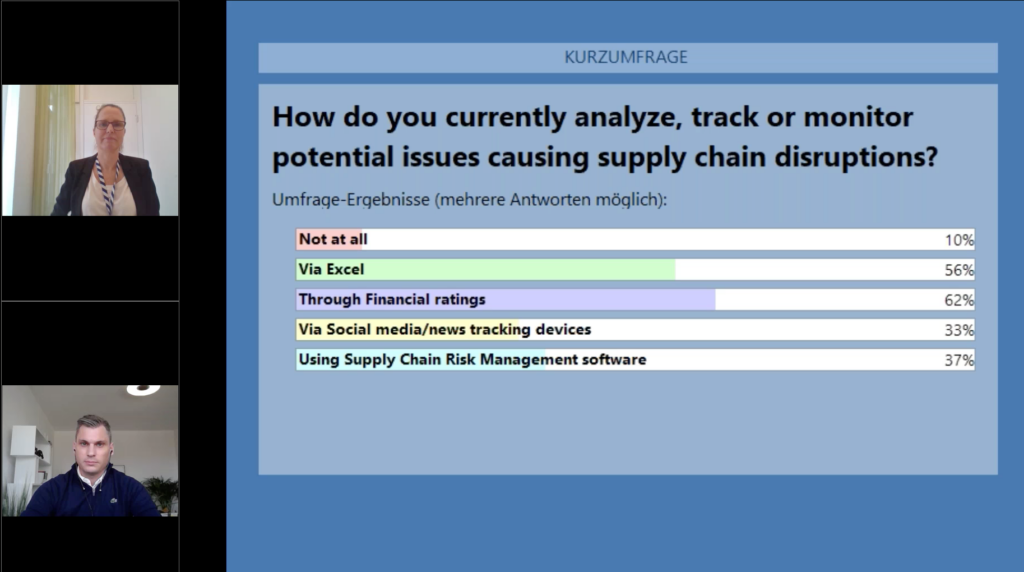 How is our organization preparing against risk?
These results are reassuring – 50% of the respondents work with proactive measures and data to make informed decisions. All were impressed by the 12% also having their sub-tier actions visible. Something that is really hard as concluded by Maria and Benjamin.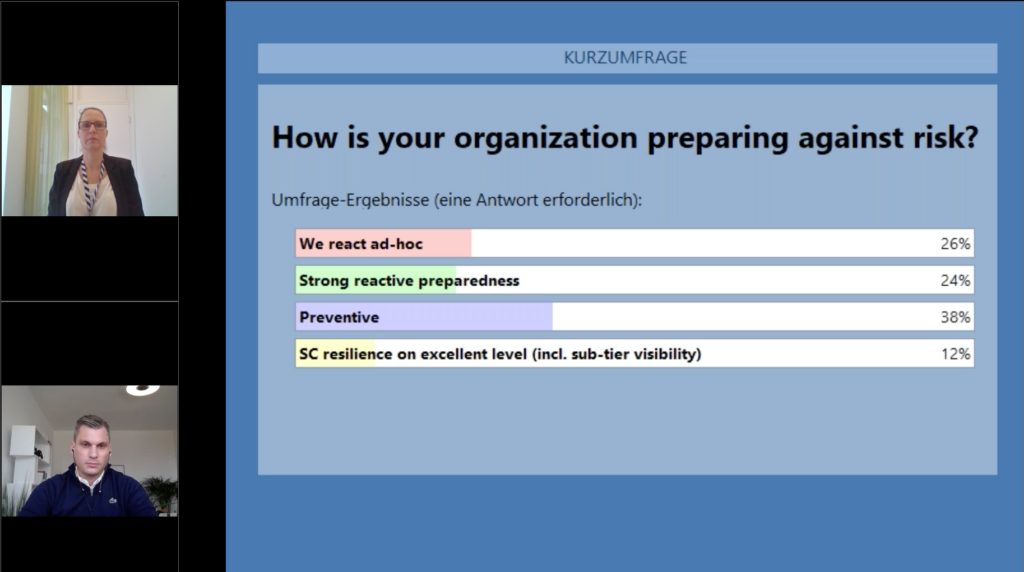 Technology role in supply chain risk management
How do you gather, manage and share the right information with those needed across the supply chain? It is easy to view risk management as a stand alone activity. Riskmethods state that more than 75% of companies only have tier 1 visibility. That however every 2nd disruption originate from tier 2 or below.
In 2017 EBG hosted a webinar where Benjamin was working at Husqvarna Group! Being able to make multiple choices, 72% then had tier 1 visibility and 30% sub-tier visibility.
The challenges stay the same but technology is evolving fast. Systems like riskmethods today including AI and other ways of helping businesses get real time data from multiple sources.
About Maria
Maria Albertsson is a Risk Management Specialist at Tetra Pak Supplier Management. Maria has more than 15 year's experience in Supplier Management and in global roles within Risk Management and Sustainability. Maria is a valued subject matter expert. Recently, she has led several projects as part of the on-going transformation journey in Tetra Pak Supplier Management. Aiming to secure a risk-based approach to risk management and a balance between effectiveness and efficiency in supply chain risk management.
About Benjamin
Benjamin Sutherland is a Solution Consultant with riskmethods, responsible for the EMEA region. Benjamin has over 10+ years of international business experience in various aspects of operational & strategic purchasing. Also supply chain risk management, SaaS technologies, and project management. Since joining riskmethods in 2019, Benjamin is working closely with the EMEA sales and implementation teams. Understanding strategic business issues and then craft and communicate solution strategies on behalf of riskmethods customers.
About riskmethods
riskmethods empowers businesses by giving them a risk management solution to identify, assess and mitigate all types of risk in the supply chain. By using artificial intelligence, we help customers automate and accelerate their threat detection. Enable them to be more risk aware, react faster and manage risk more proactively than ever before. With The riskmethods Solution™, our customers can gain competitive advantage with a well-managed approach to meeting customer demands, protecting brand reputation and reducing total cost of risk.
About Tetra Pak
Tetra Pak is a world leading food processing and packaging solutions company.
Working closely with our customers and suppliers, we provide safe, innovative and environmentally sound products that each day meet the needs of hundreds of millions of people in more than 160 countries. With more than 25,000 employees around the world, we believe in responsible industry leadership and a sustainable approach to business. Our promise "PROTECTS WHAT'S GOOD™," reflects our vision to commit to making food safe and available, everywhere.
View our history, starting in 1943 starting in 1943 when development work begins on creating a package for milk, and read about our founder Dr Ruben Rausing.​

tetrapak.com