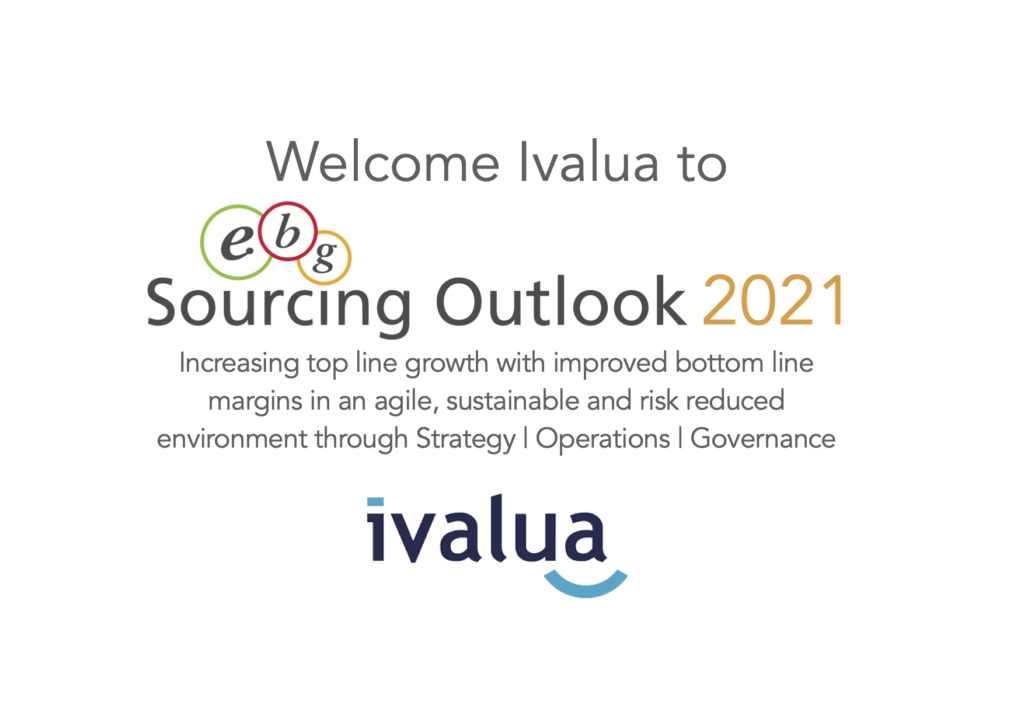 EBG | Network give a warm welcome to Ivalua joining Sourcing Outlook 2021 as an Expert Organization. On November 25th you who join the summit – the FINAL EBG Online Summit – can join their Theme Discussions. Meet with a smaller group of peers interested in the same topic as You. EBG connect you prior, during and – if you want to – after the summit.
Register and start choosing
Since 2010, EBG have enabled group discussions based on interests. What better than to meet with a group led by experienced moderators. Focusing on the different aspects ensuring You reach set targets. And possibly find new ways to evolve.
About Ivalua
Ivalua is the Procurement empowerment platform. Recognized as a Leader by Gartner and Forrester, Ivalua's Source-to-Pay suite is leveraged by hundreds of companies to manage all spend. The platform's combination of ease-of-use, depth, breadth and incredible flexibility ensures high employee and supplier adoption, rapid time to value and the ability to meet unique or evolving requirements, evidenced by the industry's leading 98% retention rate.
Ivalua has a strong customer base in the Nordics with many using Ivalua for standard Procurement processes, but we also have Nordic customers that use Ivalua for unique challenges such as ESG reporting on Suppliers, managing Outsourcing regulations within the Procurement process, Product Lifecycle Management and BOM sourcing, Digital Twin procurement and more.
We are always interested in an open and honest discussion to see if Ivalua might be right for you.
About Sourcing Outlook 2021
"Not another online conference" You might think? "Why even be bothered logging on? They are usually available after as well. Even though I know I will hardly watch any of it" You might think? EBG completey understand you – we have thought the same about physical conferences. Why bother if all you do is sit and listen to others speaking?
An EBG Summit focus on round table discussions. Of course also presentations, brains need some time to focus on different tasks during one day.
EBG still focus on round table discussions forced to go online during the pandemic. The November 25th summit will be the 4th and final Online Summit EBG create. (We have created online experiences since 2014, here we talk about full scale summits.)
Therefore this is your final chance in a long time to bring together your cross country colleagues. Divide into different groups and meet with other peers and experts based on what You want to develop. What You want to ask others about.
As soon as you register you can start choosing what Theme Discussions to join!