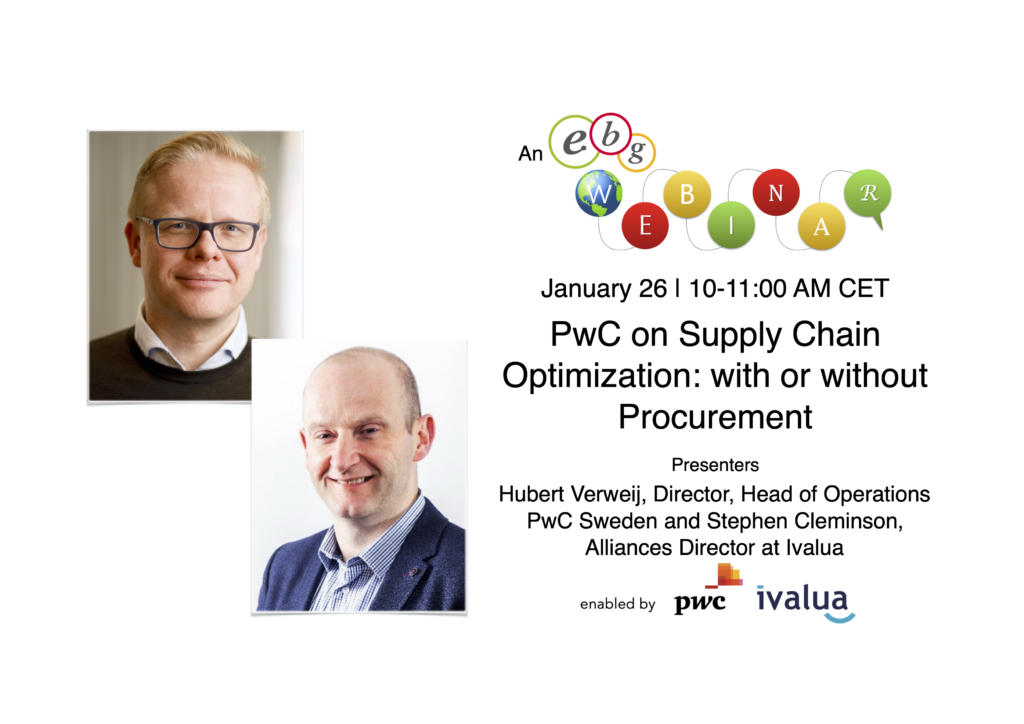 Leading companies go beyond functional efficiency and shift into an end-to-end oriented ecosystem. Champions reap more benefits from investments into advanced capabilities and outperform their peers in both revenue generation and cost reduction. Ad digital to the mix and you get Digital Champions as PwC call them. Explained in a recent study including 1,601 senior executives from companies in 33 territories across EMEA, the Americas and APAC.
Welcome to a webinar where study results will be gone through. Research will be connected to current and future challenges and opportunities for procurement and supply chain functions.
Date: January 26, 2022
Time: 10:00-11:00 AM CET
Place: Your computer/tablet/phone
Language: English
Cost: Free of charge but requires registration
Organizer: EBG | Network & PwC and Ivalua
Tomorrow's supply chains will be connected and self – orchestrated ecosystems. Next-level supply chains will be connected end-to-end. All relevant internal functions will be connected using one common data network, from R&D and procurement through manufacturing, logistics, and marketing and sales. In addition, all relevant supply chain partners,such as suppliers (including tier 1, tier 2 and even beyond), logistics service providers, customers and innovation partners will also be integrated within the supply chain.

PwC | Connected and autonomous supply chain ecosystems 2025
Implications of Digital Champions & Supply Chain and Procurement collaboration
What does the above quote imply for you working in procurement and supply chain management? Which insights do the study results give us about the role of digitizing and digitalizing procurement and the supply chain? What are Digital Champions and Digital Novices?
With recent major disruptions like Covid-19 and more recently supply shortages in several industries, Supply Chain Optimization is more important than ever.
But even before these disruptions, there were increasing demands from consumers for better insight into product origin, quality and eco-footprint.
Welcome to join this session where Hubert Verweij, Director, Head of Operations PwC Sweden and Stephen Cleminson, Alliances Director at Ivalua join forces. They will share study results and business development insights.
Having a firm grip on your supply chain has become a competitive advantage. PwC research shows that Digital Champions clearly outperform their competitors. Resulting in revenue and cost benefits that are twice as high as Digital Novices.
Join this webinar to learn:
Procurement's critical role in reshaping the supply chain
New collaboration models between the Supply chain and the Procurement function
Autonomous Supply chain systems and Procurement's critical role in making them successful
Best practices for Procurement and Supply Chain to win together as a team
All who register will receive the slides and recording.
About PwC
PwC Sweden is the market leader within auditing and advisory services with 2,800 employees across Sweden – we are where you are! We have approximately 33,000 customers comprised of global enterprises, large companies and organisations, SME's and the public sektor.
With offices in 156 countries and more than 295,000 people, PwC are among the leading professional services networks in the world. PwC help organisations and individuals create the value they are looking for, by delivering quality in Assurance, Tax and Advisory services. Some facts about PwC:
In FY21, PwC firms provided services to 84% of the Global Fortune 500 companies
90,273 people joined PwC firms around the world in FY21
For the year ending 30 June 2021, PwC's gross revenues were US$45 billion.
About Ivalua
Ivalua is the Procurement empowerment platform. Recognized as a Leader by Gartner and Forrester, Ivalua's Source-to-Pay suite is leveraged by hundreds of companies to manage all spend. The platform's combination of ease-of-use, depth, breadth and incredible flexibility ensures high employee and supplier adoption, rapid time to value and the ability to meet unique or evolving requirements, evidenced by the industry's leading 98% retention rate.
Ivalua has a strong customer base in the Nordics with many using Ivalua for standard Procurement processes, but we also have Nordic customers that use Ivalua for unique challenges such as ESG reporting on Suppliers, managing Outsourcing regulations within the Procurement process, Product Lifecycle Management and BOM sourcing, Digital Twin procurement and more.
We are always interested in an open and honest discussion to see if Ivalua might be right for you.