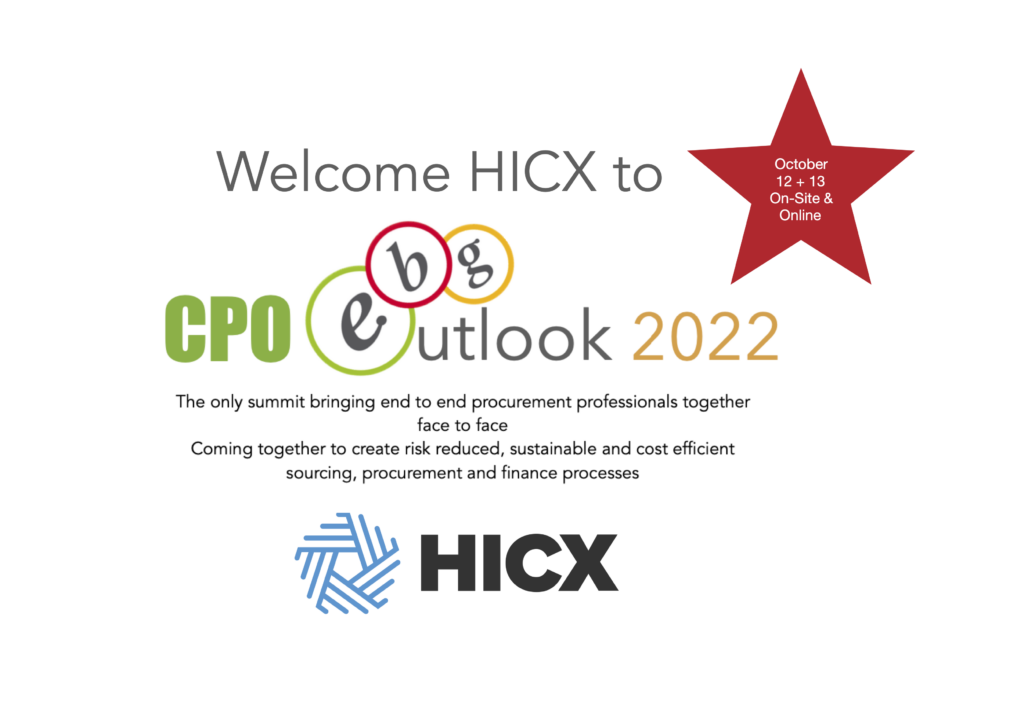 For you in the Nordics and nearby, October 12th & 13th are dates to mark in the calendar. Especially if you being responsible for or having an interest in developing how you work with external spend and partners. If you join us in October you have probably too realized that improving what is an end to end flow take cross function collaboration. Come October some of us will meet in person in Stockholm and the rest online. Two different experiences and we welcome HICX joining CPO Outlook 2022 as an Expert Organization!
In Stockholm you will be able to join round table discussions hosted by HICX. You will you will learn from online hands on experiences and advice based on their concrete services.
About HICX
HICX helps Global 5000 companies to take control of their supplier data and to deliver a great supplier experience.  The HICX Supplier Experience Management platform enables businesses with thousands of suppliers to efficiently onboard and manage the end-to-end lifecycle of all suppliers, to achieve a single version of truth for all supplier data, and to remove the friction from supplier relationships. Some of the world's largest companies, trust HICX for the management of their supplier data, these include Unilever, Mars, Mondelez, Lenovo, Baker Hughes, Orkla, BAE Systems and EDF Energy.
Learn more via hicxsolutions.com
HICX resources
The turbulent events of 2020 and 2021 have brought the world to a virtual standstill and with it a realization of just how dependent organizations are on their supplier communities. Companies have reacted by starting to shift their focus towards collaboration, establishing true partnerships and driving value for all stakeholders, rather than simply thinking about cost savings.

This guide will address the differences between the established "Supplier Relationship Management (SRM)" approach and the increasingly popular and more holistic approach known as "Supplier Experience Management (SXM)."

HICX website
Continue reading this article an dmore from the HICX >>blog.
About CPO Outlook 2022
CPO Outlook is the combination of the annual spring summit Source 2 Pay Summit and autumn Sourcing Outlook. Making this summit the only end to end procurement summit. The only procurement summit period in the Nordics in 2022. Since 2010 EBG have enabled competent people to come together to draw from each others experiences. On site CPO Outlook will be focused on smaller group discussions EBG call Theme Discussions. Online on demos and customer cases. Both in person and online you will be able to network and find others sharing the same interests as you.
After the summit all attending can continue discussing via EBG | Community. An online platform where groups can continue discussing and finding each other also after the summit has ended.
Regsiter your interest
Make sure to register your interest today and EBG will keep you updated. All EBG summits are based on real conversations, breaking large scale transformation projects down into manageable pieces.