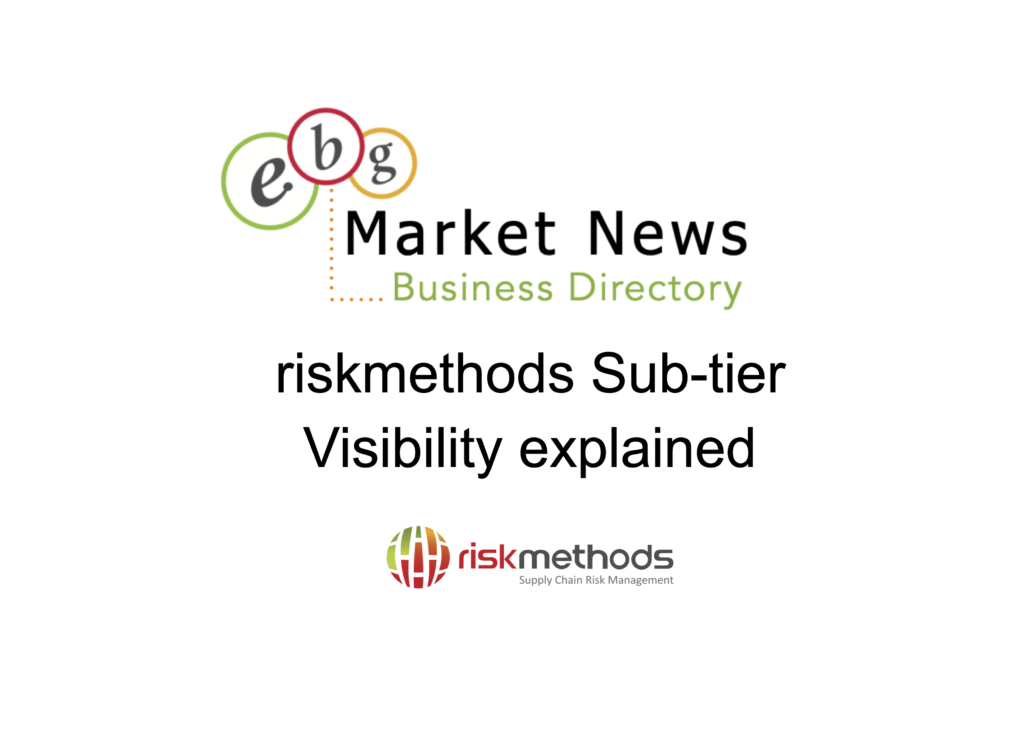 In August 2021 riskmethods launched Sub-tier Visibility™, a service enabling companies to monitor, identify, assess, and mitigate risk throughout the sub-tier supply network. Since its launch of riskmethods Sub-tier Visibility, chemical customer Clariant that counts 20,000 suppliers, over 13,000 employees and 85 production sites worldwide have run a compliance assessment of over 10,000 suppliers.
Critical alerts trigger
Within a matter of just three weeks after launching their SCRM program with The riskmethods Solution™, Clariant was able to run a compliance assessment of over 10,000 suppliers and found that 2 % of those suppliers triggered very critical alerts and 4 % of them triggered critical alerts, signaling that the company must take a deeper dive into these suppliers and perform audits. In 2021, Clariant has extended this compliance assessment to all 20,000 of its suppliers not covered by any sustainability program. They have also enhanced their SCRM program with riskmethods Sub-Tier Visibility™ in 2021.
Artur Kulawiński, Global Supply Risk Manager at Clariant, confides:
Most of our suppliers understand the benefits of taking part in a collaborative supply risk network. They love to visualize their risk exposure on a world map. And of course, they want to become more resilient themselves. I believe that a collaborative supply network and sub-tier visibility will become standard in the market by two to three years from now.
Sub tier visibility explained
Sub-tier supplier dependencies, supply risk and collaboration
By improving corporate ability to map sub-tier suppliers, an organization is able to clearly identify supply chain dependencies and expose supply risk at an early stage. Companies also discover new areas for collaboration, and risk mitigation. With visibility into the sub-tiers, enterprises can address shortages or other disruptions.
riskmethods Sub-Tier Visibility generates multi-tier transparency through a collaborative approach where data is provided and validated by suppliers and not through unconfirmed data collection – unique to all other approaches. riskmethods Sub-tier Visibility is the critical first step to collaboratively reduce risk in the supply network. Every participant benefits from gaining visibility of new and emerging threats.
Compared to other solutions, suppliers are empowered to increase their own risk-awareness and tackle risk before it moves up in the different supply tiers.
Supplier collaboration benefits
Suppliers get the following benefits thanks to their collaboration; a value they've never received before:
Understand the criticality of risk events or objects
Receive real-time warnings, so they can take appropriate countermeasures
For example, they might book different transportation modes, or increase stock levels
Gain risk insights, so they are better able to keep their production running
Ensure business continuity across the entire supply chain
Avert financial damage at every level and stay competitive with best-in-class technology
Supply chain resilience ahead
Supply chain resilience is now on the executive agenda, and for a very good reason. Driven by the coronavirus pandemic, the year 2020 was characterized by disruption. Organizations are increasingly recognizing that managing risk is essential for supply chain resilience. The ability of supply chains to withstand negative impacts and recover quickly from disruption is fundamental for the success of the entire company. Yet the majority of organizations today lack insights into the supply network sub-tiers, which makes them vulnerable to risk events. Recent surveys have shown that up to half of all supply chain disruptions originate at levels beyond tier 1. If you are unable to monitor, identify, assess, and mitigate risk throughout your supply network, you remain vulnerable to threats and disruption. Put simply, you can't manage what you can't see.
Learn more about Sub-tier Visibility
Gain valuable insights for your organization! Discover in this >>whitepaper how to create transparency and minimize​ risk in your supplier network​.
riskmethods via EBG | Business Directory
EBG have gathered information about systems and services needed to gain end to end visibility and control within sourcing, procurement and finance. Learn more about riskmethods and contact them today to find out even more!