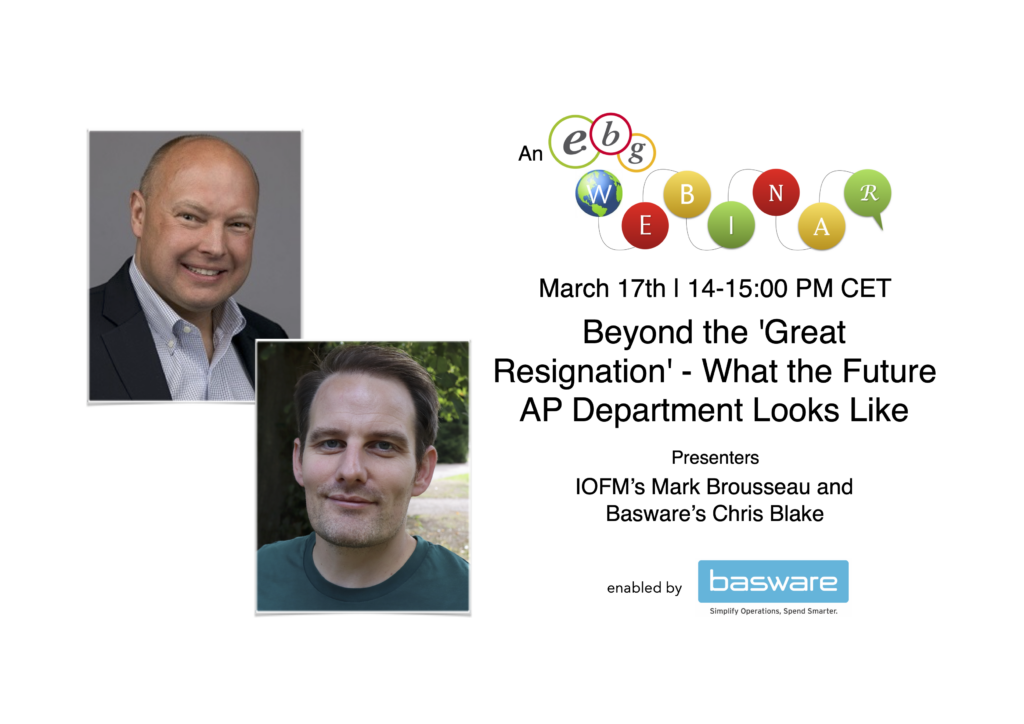 How much of your accounts payable processes and transactions are still manual? Or semi manual. How have your AP department changed over the past years? How much time does that take from more strategic and value adding activities? What role is and will automation play in developing your AP department ahead? To reduce operational costs, minimize errors, less fraud and faster cycle times. How are you as you get better and better insights collaborating with other parts of the organization to improve workflows and working capital?
Join this 60 minutes session and compare notes and experiences with peers.
Date: March 17th, 2022
Time: 14:00-15:00 PM CET
Place: Your computer/tablet/phone
Language: English
Cost: Free of charge but requires registration
Organizer: EBG | Network & Basware
The workforce is on the move! The Great Resignation is likely already impacting you and your organization. Staff turnover presents challenges, but also great opportunities for Accounts Payable professionals, leaders, and those entering the profession.
Best practice organizations must attract new talent while retaining existing AP rockstars by providing engaging roles and best of breed platforms. They must also find more streamlined operating models that enable them to remain agile in times of change.
Join IOFM's Mark Brousseau and Basware's Chris Blake to learn what top-performing AP teams will prepare for 2022 and beyond.
Learn how automation can supercharge you and your AP team, generate hard savings, and provide cutting edge tools and processes.
We will discuss
What are the main drivers changing AP departments?
How are operating models changed in line with automation advancements?
Which finance skills will be most important ahead?
How can you evaluate your AP status and how to choose and retain the best talents?
Presenters
Guest-speaker: Mark Brousseau, Industry analyst, IOFM. IOFM is the premier provider of education and training for Accounts Payable, Procure-to-Pay, Accounts Receivable, Credit & Collections, and Order-to-Cash professionals
Basware Co-Host: Chris Blake, VP, Proposition Marketing, Basware
All who register will receive the slides and recording.
About Mark Brousseau
Over the past 26 years, Mark Brousseau has established himself as a thought leader on accounts payable, accounts receivable, payments and document automation. A popular speaker at industry conferences and on webinars and podcasts, Brousseau advises prominent end-users and solutions and services providers on how to use automation to improve document- and payments-driven business processes. Brousseau has chaired numerous educational conferences and has served on several industry committees and boards. He resides in Center City Philadelphia with his wife and three sons.
About Basware
Basware offers the largest open business network in the world and is the global leader in providing networked source-to-pay solutions, e-invoicing and innovative financing services. Our technology empowers organizations with 100% spend visibility by enabling the capture of all financial data across procurement, finance, accounts payable and accounts receivable functions. Basware is a global company doing business in more than 100 countries and is traded on the Helsinki exchange (BAS1V: HE).
Find out more at basware.com
EBG | Business Directory about Basware
Learn more about the services Basware offer via EBG | Business Directory.