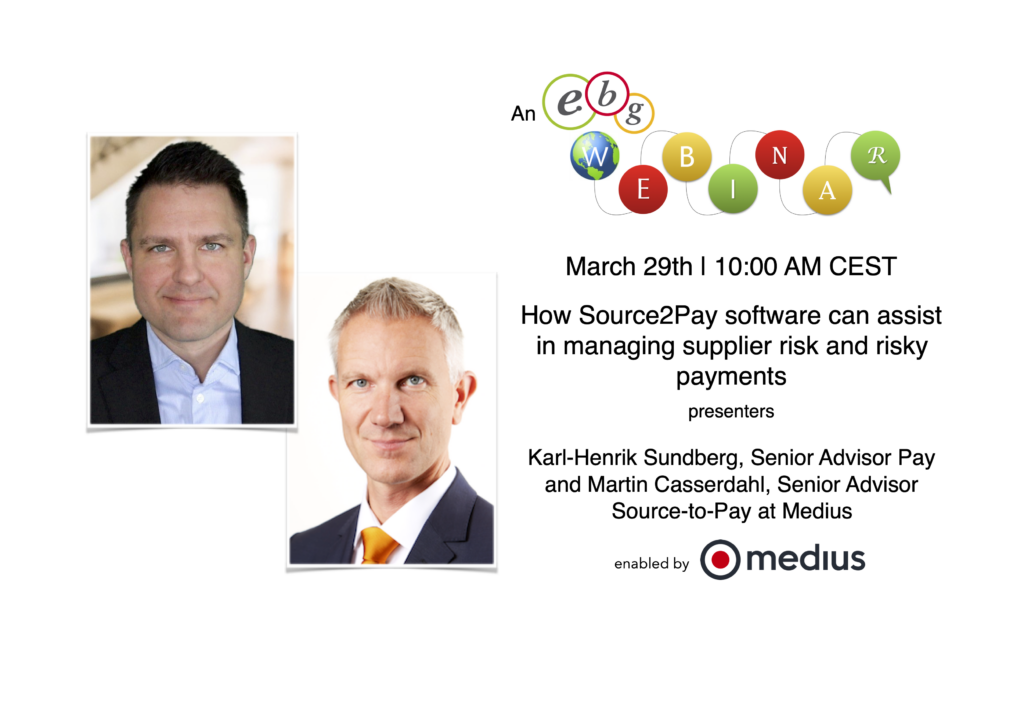 Do you have an end to end perspective over your supply chain and procurement flows? Do you really? Can you tell who your suppliers are and what you buy from them? How do you follow up your contracted savings? Can you highlight supply dependencies across your suppliers and suppliers suppliers? And – can you tell – for sure – that you pay what you should to those you should pay? EBG think there may be room for improvement and have a session ahead that will help you along the way.
Date: March 29th, 2022
Time: 10:00-10:45 AM CEST
Place: Your computer/tablet/phone
Language: English
Cost: Free of charge but requires registration
Organizer: EBG | Network & Medius
Source2Pay from two perspectives
Source… To manage Supplier Risks is becoming a vital task for the Procurement department. Not only the operational Supply Chain risk but all sorts of Supplier risks. How do you identify, manage and mitigate these various risks? Martin Casserdahl, Senior Advisor Source-to-Pay will in the first part of the webinar introduce you to how Medius can help you manage Supplier Risk.
What are the most common Supplier Risks and how are they categorized?  
What can you do about it, advice and examples on how to manage the various risks 
…to Pay Having a secure payment process is essential component in a best-in-class finance department. With external and internal payment fraud on the rise, slim finance departments need to work smarter with payment controls and reviews. In this part of the webinar, Karl-Henrik Sundberg, Senior Advisor Pay, will explain how Medius can help enhance the payment process and combat payment fraud before it happens.
Which security risks exist in payments today?
How can some of these challenges be tackled with modern software?
All who register will receive the slides and recording.
About Medius
Medius is a leading global provider of cloud-based spend management solutions, helping organizations drive their business forward by enabling best-in-class process efficiency, cost saving opportunities and greater financial control.
Over 3,500 customers and 450,000 unique users worldwide use Medius spend management solutions, managing transactions worth more than $150 billion annually.
Medius was founded in 2001 and acquired procurement solution provider Wax Digital in 2019. Today, the company has over 350 employees and offices in Sweden (HQ), the United States, United Kingdom, Australia, Denmark, Norway, the Netherlands and Poland. For more information, please visit mediusflow.com
EBG | Business Directory
Learn more about Medius also via their EBG Directory page found >>here.