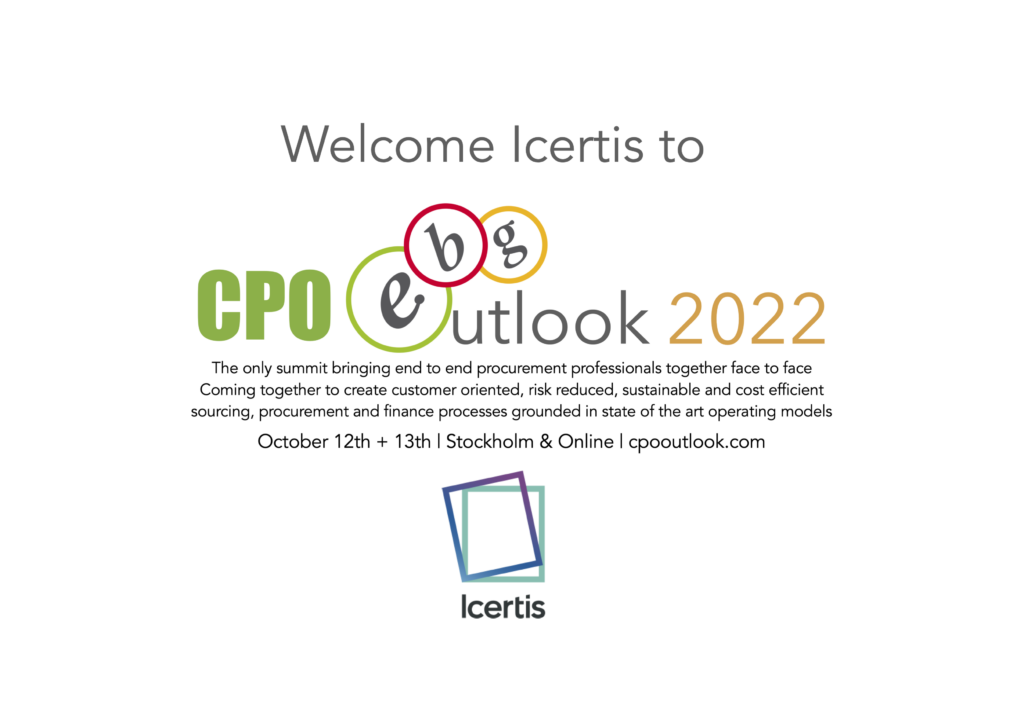 EBG | Network welcome Icertis as Platinum Partners at CPO Outlook 2022! How are you handling your contracts? Your blood line between you and your critical and non critical suppliers. Your way of ensuring that what you have planned with the business and agreed with the supplier is agreed upon. And followed through. It is easy to understand that there is still a lot that can be done within the Contract Lifecycle management (CLM) area. Icertis have a lot to say about it and show you. How are you today making sure your contracted desired outcome actually come true? That contracts are not just pieces of paper (may be it digital papers). But an active part of your spend management follow up.
On October 12th & 13th you can join us in Stockholm for the only Nordic summit with an end to end procurement perspective. The only summit that since 2010 have focused on pure quality peer ad expert experience exchange. You don't need another two days of non stop lectures from a stage. You need to draw from all of the capacities and experiences in the room. EBG help you do that through round table discussions, workshops, networking, dinner and much more. If you cannot join us in Stockholm you can join us Online to take part in demos and customer cases.
About Icertis
With unmatched technology and category-defining innovation, Icertis pushes the boundaries of what's possible with contract lifecycle management (CLM). The AI-powered, analyst-validated Icertis Contract Intelligence (ICI) platform turns contracts from static documents into strategic advantages by structuring and connecting the critical contract information that defines how an organization runs. Today, the world's most iconic brands and disruptive innovators alike trust Icertis to govern the rights and commitments in 10 million+ contracts worth more than $1 trillion, in 40+ languages and 90+ countries. icertis.com
About CPO Outlook 2022
Make sure to register your interest now (here) and let EBG know how you might want to join the summit. EBG | Network is based on behavioral science experiences founder Anna Bjärkerud have. Early in 2008 she realized that what most large organizations struggle with is change management. On surface it looks like a tech implementation or a re-organization or a merger or equal. In reality – making sure all are on-board no matter what the visions and strategy plans state – is the main challenge. That is also why all EBG summits focus on peer and expert exchange through round table discussions and workshops. There are no one size fit all solutions to any challenge – but finding bits and pieces that can help You reach Your set goals is EBGs key vision.
EBG bring 12 years of experiences into every activity. CPO Outlook 2022 is the combination of Source to Pay Summit and Sourcing Outlook. Two summits usually held in the spring versus in the autumn.
Joining in person or online will be two different experiences. EBG hope to SEE you but if not possible taking part of great content online will give you great value too.
More from Icertis
Take a look here at a webinar from last year with EBG and Icertis. Featuring Martin Mohr, Regional Vice President – Business Development EMEA at Icertis. To his right you see Richard Beaumont, Former CPO at The Co-Operative Bank, bottom left our Anna Bjärkerud. To her right Haydn Jones, Director – Senior Blockchain Market Specialist at PwC.