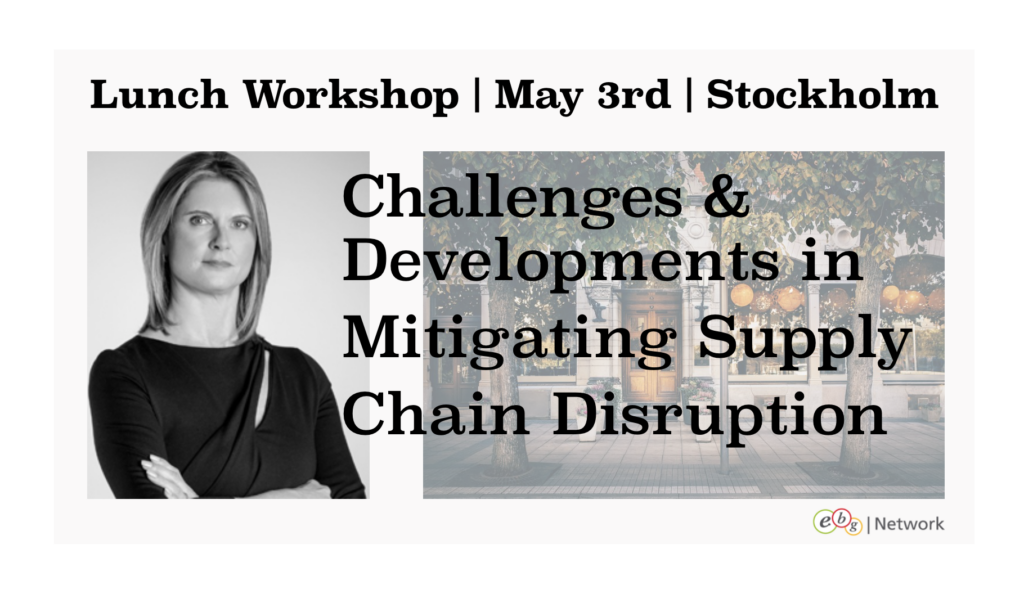 Jennifer Bisceglie, founder and CEO of Interos is coming to Stockholm on May 3rd. Few know more or have more years of experience mitigating supply chain risk than her. With her 25 years of industry experience managing risk in the global economy, Interos today provides technology critical to building supply chain resilience for companies and government agencies including the U.S. Department of Defense and NASA.
EBG | Network will host a lunch workshop with CPOs or Supply Chain Directors in large Nordic organizations. During the session we will focus on sharing experiences in the group. The lunch workshop is open for a limited group to enable great discussions. Interested in learning more? Contact Lars!
Date: May 3rd 2022
Time: 11:15-13:30 PM CEST
Place: Nobis Hotel, Norrmalmstorg 2-4, Stockholm
Language: English
Investment: Free of charge but require dialogue with EBG for confirmation
Questions? Contact Lars Bjärkerud at +46 73 3500343 or lars(at)ebgnetwork.com
Lunch workshop outline
How do transparency and visibility down to the nth tier help mitigate supply chain disruption?
Technology plays a vital part in helping organizations map, monitor and understand the different types of risk scenarios within their supply chain. Detailed insights into these risks and opportunities help your organization become resilient to unforeseen disruptions. How "perfect" does your supplier data need to be to gain these insights, what do you need to know about your suppliers to tap into the risk data available and what does it take to create that full multi-tier visibility?
Suggested discussion topics:
What are the current challenges faced by organizations and how can we anticipate them?
How are underlying factors such as climate change, international trade restrictions, and increasing cyber-attacks affecting risk mitigation?
Which are the different type scenarios you would want to be able to mitigate and what are the challenges doing so today?
Where do you get supplier insights and how does your organisation collaborate to ensure best visibility across departments?
How does your organization respond to risk scenarios, alerts, non-compliance of suppliers and potential disruptions?
What is the one thing you wish you had that would solve your supply chain issues?
We will discuss different points of view – the idea being for everyone to share knowledge and gain insights.
About Jennifer Bisceglie
Jennifer Bisceglie is the founder and CEO of Interos, the dynamic supply chain risk management and operational resilience company.
Under Jennifer's leadership, Interos, a 'unicorn' startup with a $1B+ valuation, has emerged as a major player in the emerging operational resilience space, empowering clients such as the U.S. Department of Defense, NASA, and a host of Fortune 500 companies with the tools and counsel needed to detect and respond to crises before they happen. Jennifer and Interos have disrupted the traditional supply chain risk management discipline, bringing 24×7 real-time visibility into every supplier at every tier and at every location around the world.
About Interos
Interos is the operational resilience company — reinventing how companies manage their supply chains and business relationships — through a breakthrough SaaS platform that uses artificial intelligence to model and transform the ecosystems of complex businesses into a living global map, down to any single supplier, anywhere.
Reducing months of backward-looking manual spreadsheet inputs to instant visualizations with continuous monitoring, the Interos platform helps the world's companies reduce risk, avoid disruptions, and achieve dramatically superior resilience. Businesses can uncover game-changing opportunities that radically change the way they see, learn and profit from their relationships.
Based in Washington, DC, Interos serves global clients with business-critical, interdependent relationships. The fast-growing private company is led by CEO Jennifer Bisceglie and supported by investors Venrock and Kleiner Perkins. interos.ai