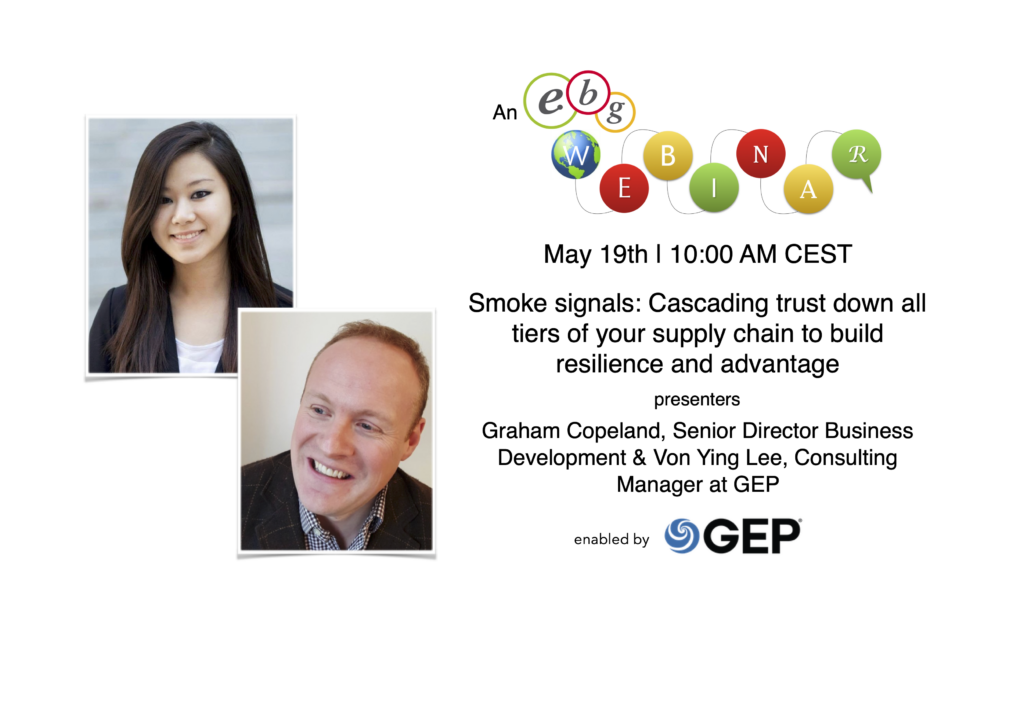 You probably do not have a full understanding or overview over your entire supply and supplier base. Maybe you cannot follow through all aspects from source to pay such as supplier performance, supply delivery according to contracts, line level follow up on goods received nor an invoice match. You are not alone. Yet the demands set on businesses today ask procurement and supply chain to have control and be able to share insights. How do you achieve this in a step by step manner?
Welcome to a webinar where Graham Copeland, Senior Director Business Development & Von Ying Lee, Consulting Manager at GEP will share their many years of insights.
We will go through 3 main development areas all companies need to explore. The common denominator being knowing your data and having ways to communicate and building trust with your suppliers. Long gone are the days when companies could get away with not knowing their suppliers. How many tiers do you know and communicate with?
Date: May 19th, 2022
Time: 10:00-10:45 AM CEST
Place: Your computer/tablet/phone
Language: English
Cost: Free of charge but requires registration
Organizer: EBG | Network & GEP
Risk mitigation
It differs how much an organization know about their supply and supplier network. The granularity in which dependencies can be clarified or even who the majority of suppliers are. In a volatile world where companies cannot afford to not know – how do you identify and mitigate third party risks today?
Scope 3 emissions
As Scope 3 is becoming a reality it is evident that customers and the market will demand facts and concrete figures rather than codes of conduct. How can you achieve that when so much is unknown about the supply chain? With so much data available – how do you select and optimize the information you need to make informed decisions? How do you get suppliers on your side and collaborate to reach the desired outcome? How are you following up on performance – and what do you do when suppliers do not comply?
Optimization
As you step by step get to know your data and supply base – how can you continue to optimize ways of working and collaborating internally and externally? How can optimizing help build supply chain resilience? Compare with the progress peers have and how you can improve based on your way of organizing and ways of working.
We will discuss:
How do you identify and manage third party risks?
Understanding Scope 3 emissions and motivating your supply base to engage – how?
In what ways can you build supply chain resilience through optimization?
The webinar is free of charge to join but require registration. All who register will receive the slides and recording.
About GEP
GEP delivers transformative supply chain solutions that help global enterprises become more agile and resilient, operate more efficiently and effectively, gain competitive advantage, boost profitability and increase shareholder value.
Fresh thinking, innovative products, unrivaled domain expertise, smart, passionate people — this is how GEP SOFTWARETM, GEP STRATEGYTM and GEP MANAGED SERVICESTM together deliver supply chain solutions of unprecedented scale, power and effectiveness.
Headquartered in Clark, New Jersey, GEP has offices and operations centers across Europe, Asia, Africa and the Americas. To learn more, visit gep.com