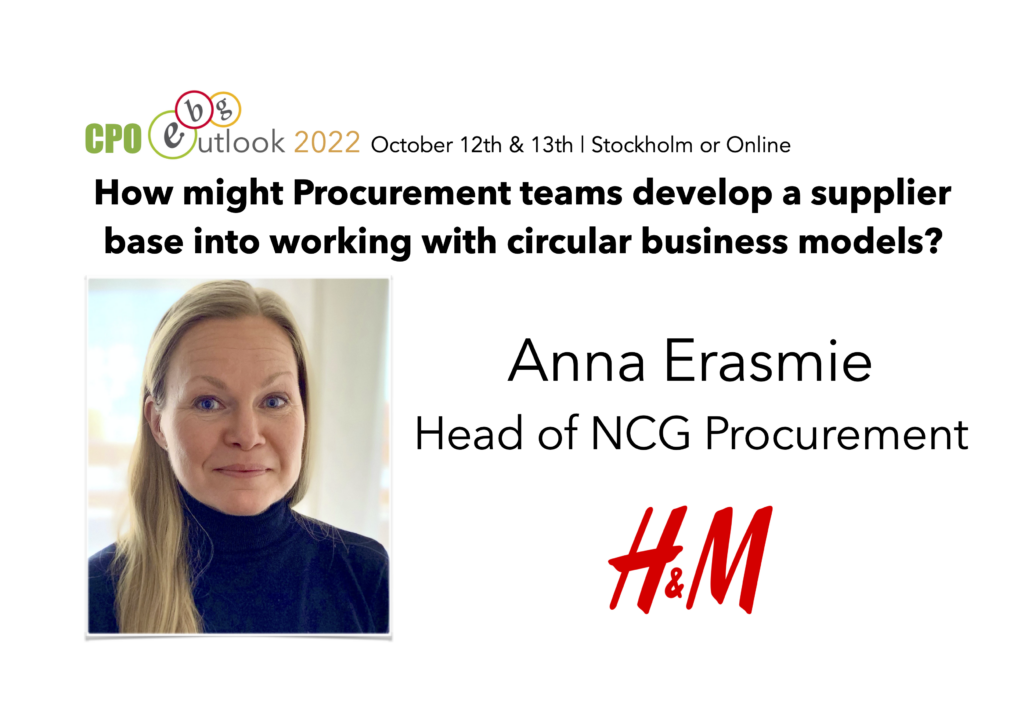 And we are live! Welcome to register to what has been and will be the best investment you can do. At least if you want to learn from peers and experts in an informal yet very point of view way. If you want to make reality of those strategies we know you all have.
EBG | Network welcome H&M to CPO Outlook 2022! On October 12th Anna Erasmie, Head of NCG Procurement at H&M invite you to join her Theme Discussions (round table discussions).
She will bring up a topic that is of importance to most. It may differ how far you have come in your sustainability journey. No one can develop sustainability strategies in a void. You need to come together to find solutions and ways to overcome obstacles! It is all interconnected and at CPO Outlook you can make a difference by coming together!
How can Procurement teams develop a supplier base into working with circular business models?
The last years the world have gone through a wave of change with increased attention to climate impact affecting societies and communities around the globe. Companies today have a responsibility towards communities, business partners and shareholders to drive sustainable business.
Expectations from customers are arising in areas connected to sustainability, and governmental legislations are impacting businesses and industries – resulting in Sustainability being a clear objective for most companies.
We need to build a more resilient supply chain with utilizing less resources and challenge the linear model of take-make-dispose. With a circular model we need to challenge current ways of designing both products but also our business processes. Many companies today have high ambitions reducing their carbon footprint and to reach the objective there is often a need to collaborate with partners, with an ecosystem approach.
The call for action is here – and within Procurement teams we have an opportunity to support the change, impact company objectives, lead our industries towards a more sustainable future. We will also have increased obligations connected to compliance and legislations.
We will discuss;
How do we develop our suppliers to implement circular business models?
How can we measure progress?
How do we get the best outcome working with a broad and global supplier base?
How do circular business models differ between Commercial and Non Commercial Goods?
About H&M
H&M Group is a family of brands and businesses, making it possible for customers around the world to express themselves through fashion and design, and to choose a more sustainable lifestyle. We create value for people and society in general by delivering our customer offering and by developing with a focus on sustainable and profitable growth.
About CPO Outlook 2022
As EBG start welcoming the great moderators joining CPO Outlook 2022 in October you may note a couple of things.
EBG will enable about 40 round table discussions on October 12th. You cannot join them all, bringing a colleague is a good idea
As we get closer to the summit you need to choose which Theme Discussions to join. Don't wait to long to register, they will come at a first come first serve basis
EBG need to know how many want to join us Onsite to be able to plan ahead. Registering too late may mean there will not be room for you!
CPO Outlook is the only procurement conference in the Nordics in 2022. Also the only conference in Europe taking an end to end perspective since 2010