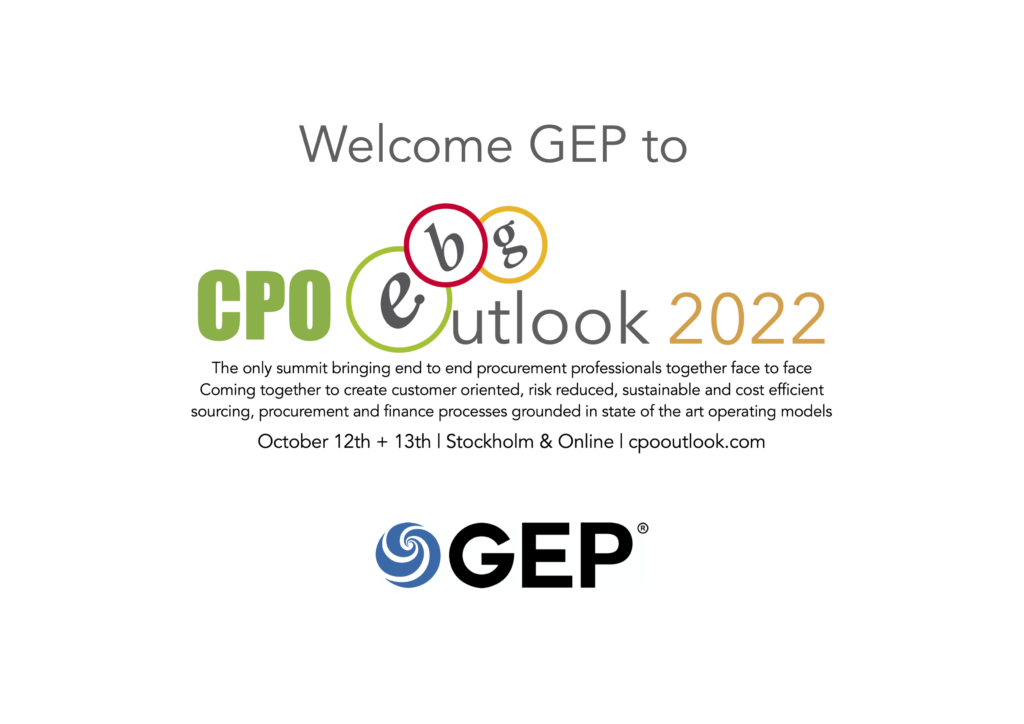 A warm welcome to GEP joining CPO Outlook 2022 as an Expert Organization! On October 12th and 13th you who join us in Stockholm can choose to take part in Theme Discussions hosted by GEP. Together with a peer group and GEP you can explore their and the peer group experiences in a certain area. All topics chosen by the moderating company making each EBG | Network summit as real as it get! A true time stamp.
Registration is open! EBG will continue to ad great topics to the agenda, since 2010 creating the only end to end procurement summit in Europe.
Today your customers and employees demand you are in control. Social, environmental, governance – yet EBG know that many do not have that control. Numerous reasons. What is clear is that it will start costing businesses revenue unless source to pay insights are there. Each category strategy, each supplier, each transaction – you need to gain insight.
About GEP
GEP delivers transformative supply chain solutions that help global enterprises become more agile and resilient, operate more efficiently and effectively, gain competitive advantage, boost profitability and increase shareholder value.
Fresh thinking, innovative products, unrivaled domain expertise, smart, passionate people — this is how GEP SOFTWARETM, GEP STRATEGYTM and GEP MANAGED SERVICESTM together deliver supply chain solutions of unprecedented scale, power and effectiveness.
Headquartered in Clark, New Jersey, GEP has offices and operations centers across Europe, Asia, Africa and the Americas. To learn more, visit gep.com
About CPO Outlook 2022
Having end to end control and visibility has never been more important. To achieve that you need to know where to start, how to continue and frankly how to persist year after year. You can cut endless hours by learning from others experiences and just that is what all EBG | Network summits are all about.
Two days of great networking among peers and experts.
Said about EBG summits
Very inspiring – You both have a good way to facilitate the event and an ability to provide topics that are of interests.

Getinge
Interesting and well defined Agenda High class presentations Engaging round table discussions

Vattenfall
Really good an inspiring, both when it comes to the presentations and the workshops. It was the first time I participated, but hopefully not the last.

NCC