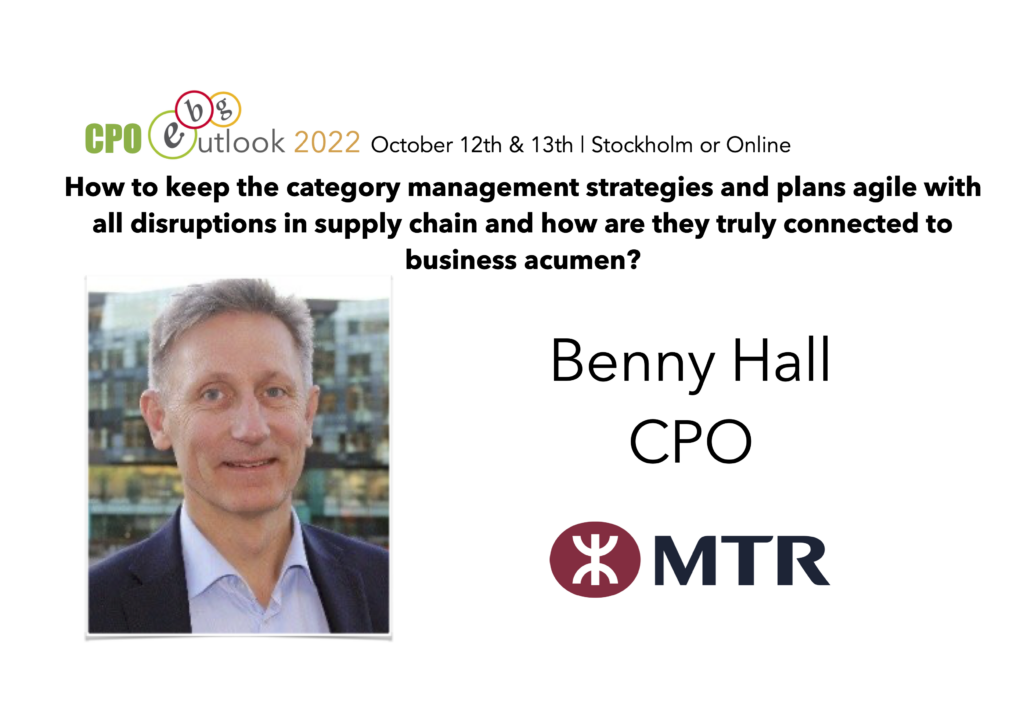 EBG | Network welcome Benny Hall, CPO at MTR Nordic Group to CPO Outlook 2022! How do you keep category management strategies and plans agile? With all disruptions in supply chain today how to you adapt? How are your strategies truly connected to business acumen? This and more will be discussed during the Theme Discussions – round table discussions – hosted by Benny on October 12th.
You who join us on October 12th and 13th in Stockholm will – finally – be able to once again sit down with peers and draw from each others experiences. Since 2010 EBG have brought together peers and experts and never have the desire to meet been bigger!
Registration is open
If you are unable to join us in person you can join us online. Online you can take part in demos and customer cases as well as finding others sharing your interests, challenges and topics to discuss.
Discuss the below with Benny – as we get closer to the summit you will choose which sessions – among about 40 on the 12th – to join. Limited seats to ensure great discussions.
How to keep the category management strategies and plans agile with all disruptions in supply chain and how are they truly connected to business acumen?
Category management have been around a really long time yet there is still much to discuss and debate. Consider all the challenges in today's markets as well as the need for risk management and sustainability accountability. Take into account digitalization and most important – the connection with the core business. Are companies working with category management efficiently and with the desired effect? During this session you can compare how you structure procurement strategies and how you choose to align with the business accordingly.
Discuss;
How are you structuring procurement today and what does category management mean to you?
To what extent can you follow your category plans and how often do you need to make ad hoc decision?
How do you incorporate business acumen into procurement strategies and operations?
As many companies are in transformation and under constant change pressure – how do you manage to hold your course?
Moderator: Benny Hall | CPO | MTR Nordic Group
About MTR Nordic Group
MTR Nordic Group is part of MTR Corporation, which is one of the leading train companies in the world.
"On November 2, 2009, MTR took over the operation of the Stockholm metro on behalf of SL. We have since expanded our operations to a total of six companies and today have close to 6,000 employees. During the trip, MTR worked focused on renewing the experience of the train industry and showed that we are a long-term partner with high delivery precision."
About CPO Outlook 2022
As EBG start welcoming the great moderators joining CPO Outlook 2022 in October you may note a couple of things.
EBG will enable about 40 round table discussions on October 12th. You cannot join them all, bringing a colleague is a good idea
As we get closer to the summit you need to choose which Theme Discussions to join. Don't wait to long to register, they will come at a first come first serve basis
EBG need to know how many want to join us Onsite to be able to plan ahead. Registering too late may mean there will not be room for you!
CPO Outlook is the only procurement conference in the Nordics in 2022. Also the only conference in Europe taking an end to end perspective since 2010