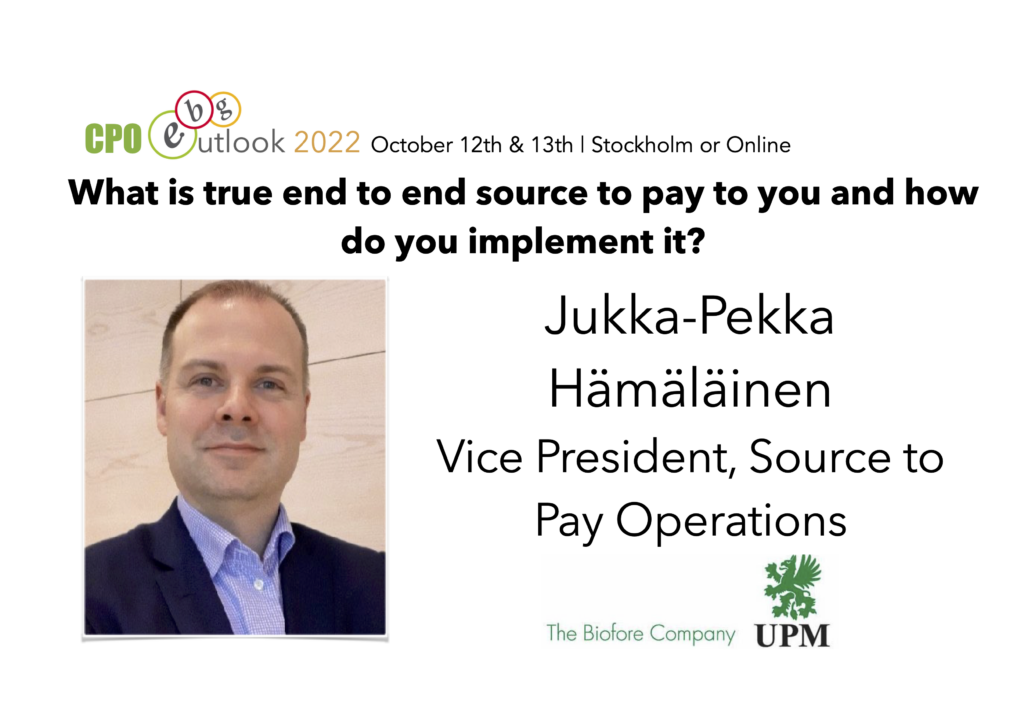 What is true end to end source to pay to you and how do you implement it? This is what Jukka-Pekka Hämäläinen, Vice President, Source to Pay Operations at UPM invite you to discuss with him and a peer group. More companies than ever understand the value in end to end spend and cash insights. Not the least as markets continue to be volatile and unpredictable. It take thinking through how you are organized. It takes considering what technology will support processes. Working hard with change management.
On October 13th you who join CPO Outlook 2022 in Stockholm can join a workshop – a Focused Theme Discussion – hosted by Jukka-Pekka. By then we know each other and these workshops aim to dig even deeper and make sure you walk away with concrete examples and how others have developed what you for sure too need to get better at.
It is evident procurement and finance need to collaborate much closer. This has been improved the past 2,5 years it seems. No wonder as a company not knowing their predicted cost nor how to use that insight to improve working capital may just not be here tomorrow.
Discuss;
What is true end to end source to pay to you and how do you implement it?
Most companies want insight and control long before an invoice land at someone's desk. Sourcing wants to understand business needs in time to make informed decisions and help get the best goods and services. Procurement wants contracts to be used as intended and goods and services to be delivered as agreed. Finance wants to ensure working capital efficiency and cash control. All are reliant on suppliers co-operating and following plans.
At UPM end to end source to pay is a reality. It's 19000 people worldwide and annual sales of EUR 10.5 billion are supported by sourcing, procurement and finance collaboration.
The roadmap has considered how to improve data quality, increase process efficiency and establish end-to-end Source to Pay operating models. In addition digital sourcing capabilities have been enhanced.
During this interactive workshop you will share lessons learned and compare notes with peers in the room. Take the opportunity to benchmark others strategy, process and technology choices and walk away with a clearer view over what end to end optimization could mean to you.
Discuss;
How have you organized sourcing, procurement and finance?
What is stopping you from end to end optimization?
Which trends and technology advances do you think will help you ahead?
What technology challenges are you or have you experienced?
Moderator: Jukka-Pekka Hämäläinen, Vice President, Source to Pay Operations, UPM
About UPM
We respond to the growth in consumer demand with recyclable products that are made of responsibly-sourced, renewable raw materials. We deliver responsible solutions and innovate for a future beyond fossils across six business areas: UPM Fibres, UPM Energy, UPM Raflatac, UPM Specialty Papers, UPM Communication Papers and UPM Plywood.

As the industry leader in responsibility we are committed to the UN Business Ambition for 1.5°C and the science-based targets to mitigate climate change. We employ 17,000 people worldwide and our annual sales are approximately EUR 9.8 billion. Our shares are listed on Nasdaq Helsinki Ltd.

upm.com