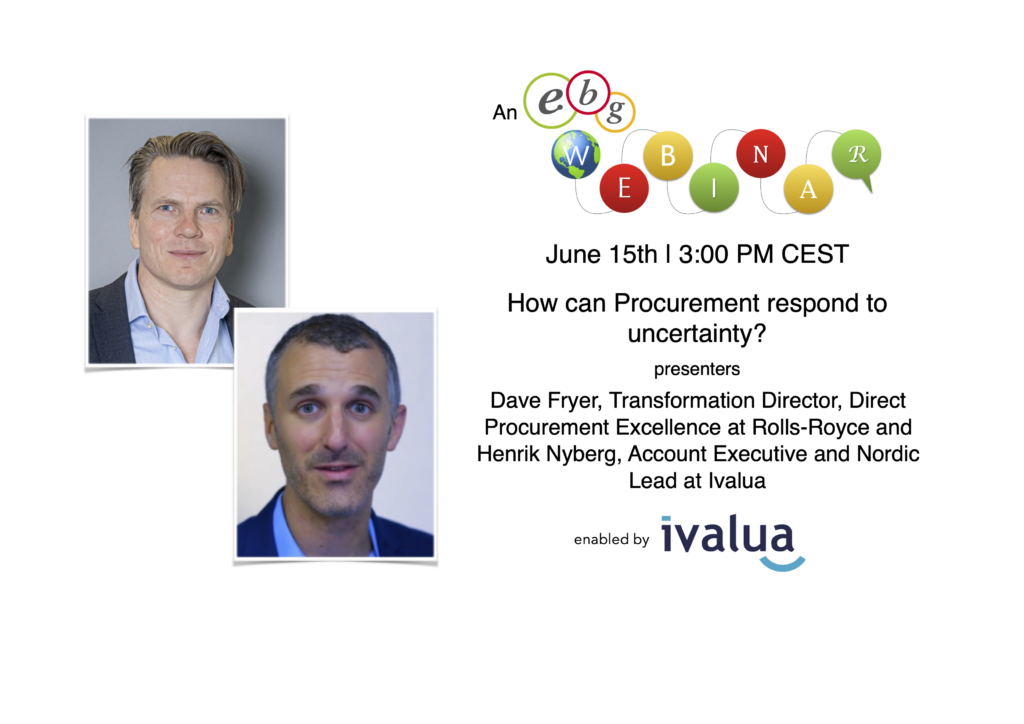 The past years have taught Rolls-Royce and all other companies to be prepared for anything. Demand management and supplier collaboration have become a strategic part of the business.
Welcome to a webinar where Dave Fryer, Transformation Director, Direct Procurement Excellence at Rolls-Royce and Henrik Nyberg, Account Executive and Nordic Leader at Ivalua will look at previous and potential future volatility such as covid, brexit and stagflation.
Date: June 15th, 2022
Time: 3:00-3:45 PM CEST
Place: Your computer/tablet/phone
Language: English
Cost: Free of charge but requires registration
Organizer: EBG | Network & Ivalua
During this session we will learn how one business had to find its way as the balance between supply and demand drastically shifted while running a procurement transformation. How they used data to preserve cash and how they fundamentally have changed how they procure goods and services to stay agile while ensuring user adoption to the new digital procurement practices. A key aspect being enhancing resilient relationship management.
In the process Dave has rolled out the DPEX or Procurement Excellence program which is a clear plan for delivering future value. Sign up to discover some of the key learnings for future category managers.
We will go though:
How do you help the organization follow processes and systems that are fit for the future?
In what ways have supplier integration and communication changed?
Which additional value has been realized?
What are the main lessons learned and what will be next?
How can we impact product sourcing?
All who register will receive the slides and recording.
About Rolls-Royce
Rolls-Royce pioneers cutting-edge technologies that deliver clean, safe and competitive solutions to meet our planet's vital power needs.
Civil Aerospace
Civil Aerospace is a major manufacturer of aero engines for the large commercial aircraft, regional jet and business aviation markets.
The business uses its engineering expertise, in-depth knowledge and capabilities to provide through-life support solutions for its customers.
Defence
Defence is a market leader in aero engines for military transport and patrol aircraft with strong positions in combat and helicopter applications.
It has significant scale in naval and is the technical authority for through-life support of the nuclear power plant for the Royal Navy's submarine fleet.
About Dave Fryer
Dave is leading a £20m+ project to transform and simplify the direct procurement processes and systems of Rolls-Royce globally across the Civil, Defence and Group Business Services divisions. This project will deliver significant value to Rolls-Royce over multiple years in terms of enhanced spend and contract management savings, process efficiency and up skilling of our global procurement teams.
About Ivalua
Ivalua is a leading provider of cloud-based Spend Management software. Our complete, unified platform empowers businesses to effectively manage all categories of spend and all suppliers, increasing profitability, improving ESG performance, lowering risk and improving employee productivity. We are trusted by hundreds of the world's most admired brands and recognized as a leader by Gartner and other analysts. Learn more at ivalua.com. Follow us at @Ivalua.