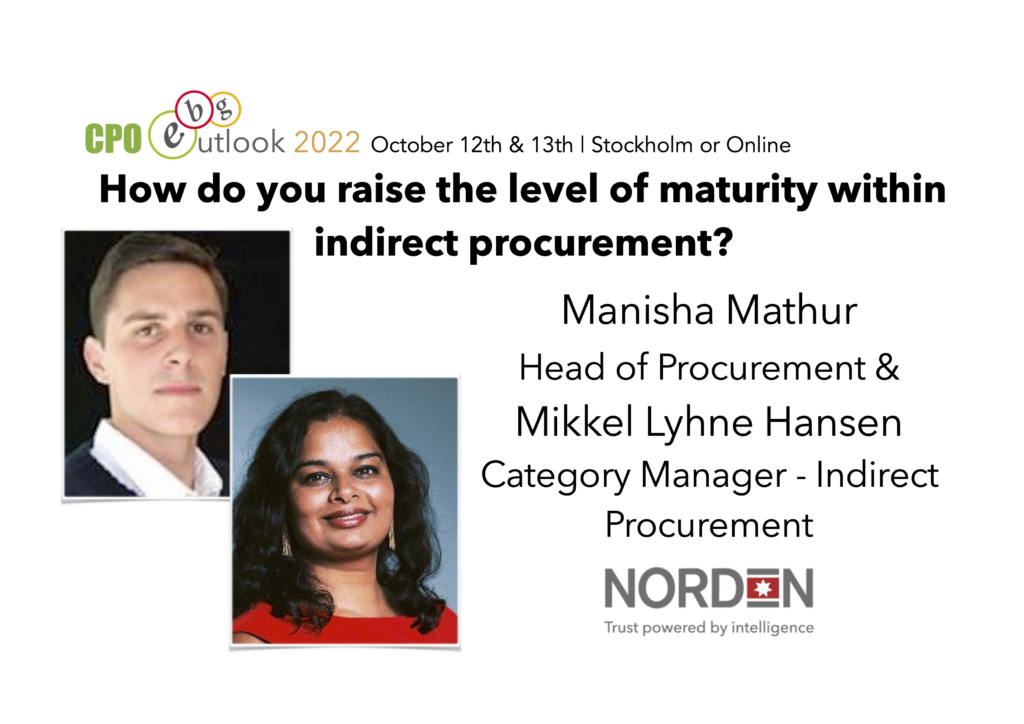 Procurement if often under staffed yet asked to have control over spend that is usually a huge part of corporate turnover. Being asked to help the business make informed decisions. Making sure supplies are secured and risk analyzed. Ensuring working capital is handled the best way possible.
How do you achieve that and more if you are a medium size organization? How do you tackle indirect procurement if more or less all in the business are buyers (yet not professional buyers)? This is a scenario many face!
A warm welcome to Manisha Mathur, Head of Procurement and Mikkel Lyhne Hansen, Category Manager – Indirect Procurement at Norden joining CPO Outlook 2022. On October 12th and 13th you who join us can choose to join their Theme Discussions, round table discussions.
Below what they invite you to discuss;
How do you raise the level of maturity within indirect procurement?
There are many companies experiencing challenges in structuring indirect procurement. For small to midsize companies, Indirect procurement is often forgotten or only has a small resource team focus. This raises challenges for capturing spend, leveraging scale and challenges finding the best fit S2C systems. Typically, you find buyers spread through organization where indirect buying is a secondary task. During this discussion you will share experiences developing indirect procurement starting from zero. What do you do when you don't have the data nor a clear governance structure? When you aim to have centralized insights yet still will have de-centralized buying? When spend is not big enough for a complex source to pay system yet the business need to control spend?
Discuss;
How can you create central purchase to pay governance when buyers are not professional purchasers?
How do you mature an indirect organization starting from zero?
How can you manage without a S2C or P2P system yet create end to end insights?
What are the issues you face when you cannot get a system?
In what ways can you connect and develop a contract repository and purchase to pay data?
About Norden
NORDEN was founded in 1871, making it one of Denmark's oldest internationally operating shipping companies. Incorporated in Denmark, they are listed on Nasdaq Copenhagen as a part of the OMX Nordic Mid Cap index.
Norden provide dry cargo and product tankers services globally and offer their shareholders earnings from industry-leading operator activities implemented by a highly skilled organization in addition to cyclical exposure to dry cargo and product tanker markets.
With 12 offices across 6 continents, NORDEN is an integrated part of the global commodity trade – delivering reliable, safe and compliant transport solutions to customers all over the world.
About CPO Outlook
Sourcing, procurement and finance need to collaborate to ensure businesses can tackle uncertainties the best way possible. Still most organizations operate in silos. Making cross function collaboration hard.
Procurement in particular is a fairly small community of professionals holding such responsibility in their hands. Especially now that volatility seem to be the new norm. How do you find margins when prices increase like they do now? How do you ensure customers get their orders when there is such material shortages? How can you ensure corporate ESG figures are correct when Scope 3 is so hard to get a grip on? The list goes on and on October 12th and 13th you who join us in Stockholm will meet peers knowing exactly what You are going through.
If you cannot join us in Stockholm you can join us online to take part in demos and customer cases. As well as connecting with peers.
It is all about connecting people and corporate development is abut people.
Welcome!