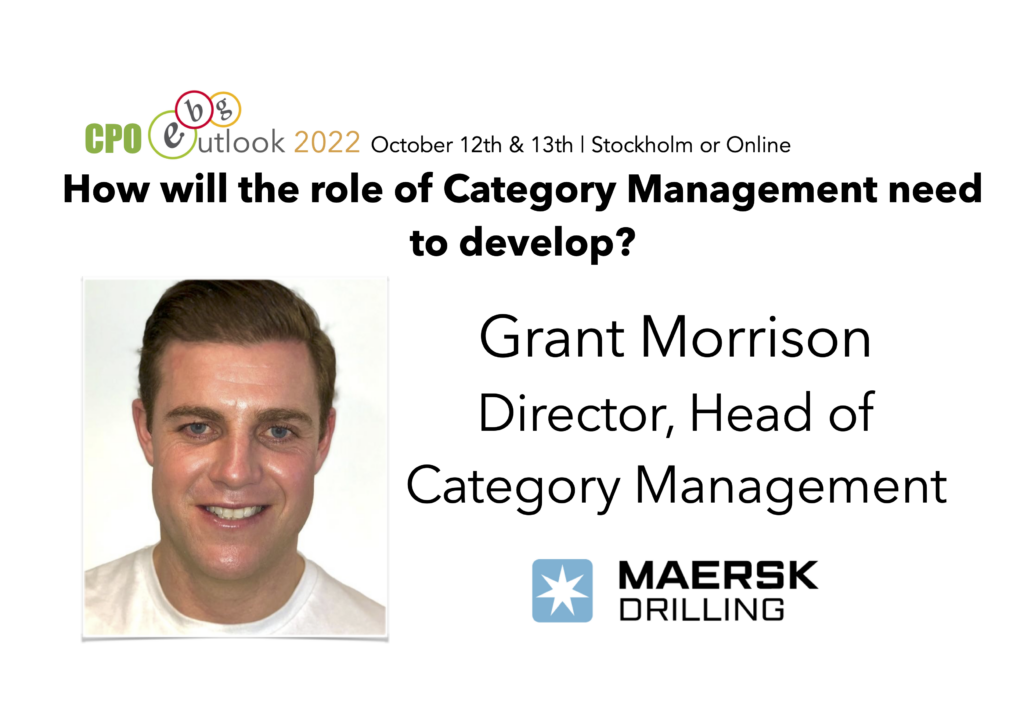 EBG | Network welcome Grant Morrison, Director, Head of Category Management at Maersk Drilling to CPO Outlook 2022! Grant invite you who join us on October 12th and 13th in Stockholm to his Focused Theme Discussion. A session where a group of people will come together and dig really deep into a specified topic. In this case the development of category management.
What do you bounce your development strategies against? If you decide to digitize – who are the people that will make it a reality? In case you choose to centralize or de-centralizer – who are the people fitting into that structure? If you decide to innovate – who are the people making sure those who need to be involved actually are? The point to be made – no matter how detailed a strategy is it comes down to people. In procurement Category Management and Category Managers historically have been those in charge of realizing corporate investment strategies. Bridging a possible gap between the business and the supply market.
As the demand for more integrated sourcing, product management and R&D, incredibly high stakes in sustainability and a demand to have transparent data – how are category managers responding to this development? What skills, tools and mindset will be needed ahead. We can all agree it has been changing and will change further.
Grant will discuss;
How will the role of Category Management need to develop?
With an even greater focus on digitalization and automation, increased sustainability goals and supplier enabled initiatives – how have and will category management (CM) and category managers need to evolve? Product Management (PM) is increasing across many organizations therefore CM and PM need to collaborate and succeed together. Discuss in what ways and how to drive Supplier Relationship Management throughout the organization.
Go through;
How can the category manager support company sustainability goals through Supplier lead sustainability initiatives?
How do you structure and achieve Senior Management buy-in?
Why do we need to partner rather than only working with suppliers to innovate and digitalize? 
What does mean to drive an alliance model, how does this differ from a relationship model?
Focused Theme Discussions
EBG have had them before, a slightly bigger group coning together to discuss a specific topic. To really draw from each others experiences and walk away the wiser. With a concrete understanding how others are tackling the same issue you are tasked with. You will be asked to choose sessions prior to the summit and seats are limited.
About Maersk Drilling
Maersk Drilling provides safe, efficient, and reliable drilling services to oil and gas companies around the world. We specialise in harsh and deep water operations, always priding ourselves on our operational excellence and continuous innovation.
The origins of Maersk Drilling can be traced to the Danish Underground Consortium ("DUC"), established in 1962 among Maersk, Shell, and Gulf to exploit the resources in a defined area of the Danish part of the North Sea. By 1972, DUC produced first oil in the Danish part of the North Sea, and later that year, the Maersk Storm Drilling Company was established in a joint venture with Dearborn-Storm Drilling Company and underpinned by two semi-submersibles named Zephyr I and Zephyr II. These rigs were owned by Maersk Drilling but operated by Storm Drilling.
About CPO Outlook 2022
A strategy is not better than its ability to be realized. Too often execution get stuck in between. In between functions, in between an internal and external organization and in between the minds of those there to make reality of the strategy. EBG | Network is based on behavioral science insights. That it take human behavioral change to realize strategies. Even if they are about digitalization. Despite their often detailed structures. At CPO Outlook there will be different perspectives meeting. Different functions and different experiences. Together we harness hundreds of years of know how both from strategy execution and how to operationalize them.
Seat are limited, an EBG summit is not a fair – it is a limited seats, 75% round table discussion or workshop focused gathering of great minds.
We hope to see you in Stockholm! If you cannot – feel free to join us online, another experience yet still valuable.