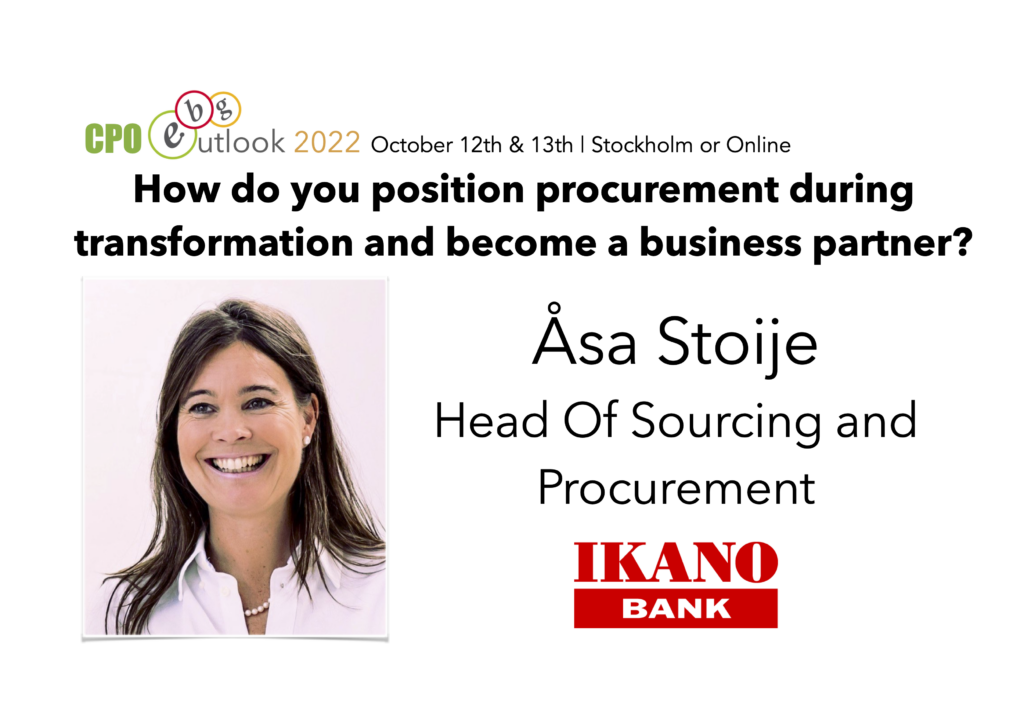 A warm welcome to Åsa Stoije, Head Of Sourcing and Procurement at Ikano Bank joining CPO Outlook 2022. On October 12th and 13th you who join us in Stockholm can choose her Theme Discussions, round table discussions. During an EBG summit the focus is on what peers and experts find important to share and discuss right now. Making each EBG summit a sign of the times we are in.
Below what Åsa invite you to discuss with her.
How do you position procurement during transformation and become a business partner?
They are on a unique journey. To become a fully digitized bank incorporating a network of technologies to achieve that. In just a couple of years Ikano Bank will be One Sustainable Bank. Procurement has evolved and today nothing can be bought, purchased, sourced without the procurement and sourcing function being involved. How do you become that business partner step by step? What role can procurement play to assess 3rd party product approval processes? How do you develop category management and operations changing business model?
Discuss;
Where are you positioned in the organization – finance/legal, other?
What is your main challenge being heard and how are you changing that?
How can you combine efficiency competences with business acumen in procurement?
In what ways are you using data to create a basis for decision making processes?
About Ikano Bank
Born in Almhult, Sweden, Ikano Bank set up our UK office back in 1994 with a clear ambition to share our bank's promise of delivering finance on fair terms.

Owned by the family that founded IKEA, we share the same values. We believe by delivering banking on fair terms we have created and will continue to create better possibilities for living and working here in the UK.

About Ikano Bank
Ikano Bank is a part of the Ikano Group, an international group of companies active within banking, real estate, production, insurance, data analytics and retail, who owns 51% of the Bank. Ingka Group, a strategic partner in the IKEA franchise system, operating 378 IKEA stores in 31 countries, owns the remaining 49% of Ikano Bank.
Ikano Bank's head office is located in Malmö, Sweden and the company is registered in Almhult, Sweden where the business was once founded.
About CPO Outlook
How many times have the corporate you work in said "As of XX we will change XX to become XX in XX months". Just to leave you in procurement and finance with a sense of "and how do they expect me to achieve that?". In essence this is the idea with everything EBG | Network do. Empowering people to reach their desired outcome. To help businesses ensure procurement as an end to end structure is aligned with business strategies and enabled to reach set goals. It takes passion and it takes change management.
At CPO Outlook you meet like minded people. Eager to learn and share. This is the only end to end procurement summit in Europe and the only procurement summit in the Nordics in 2022! Seats are limited – the aim is that as many as is possible will have exchanged experiences. Register now and meet us in Stockholm in October! If you cannot join us in person you can join us Online – another experience, also valuable.