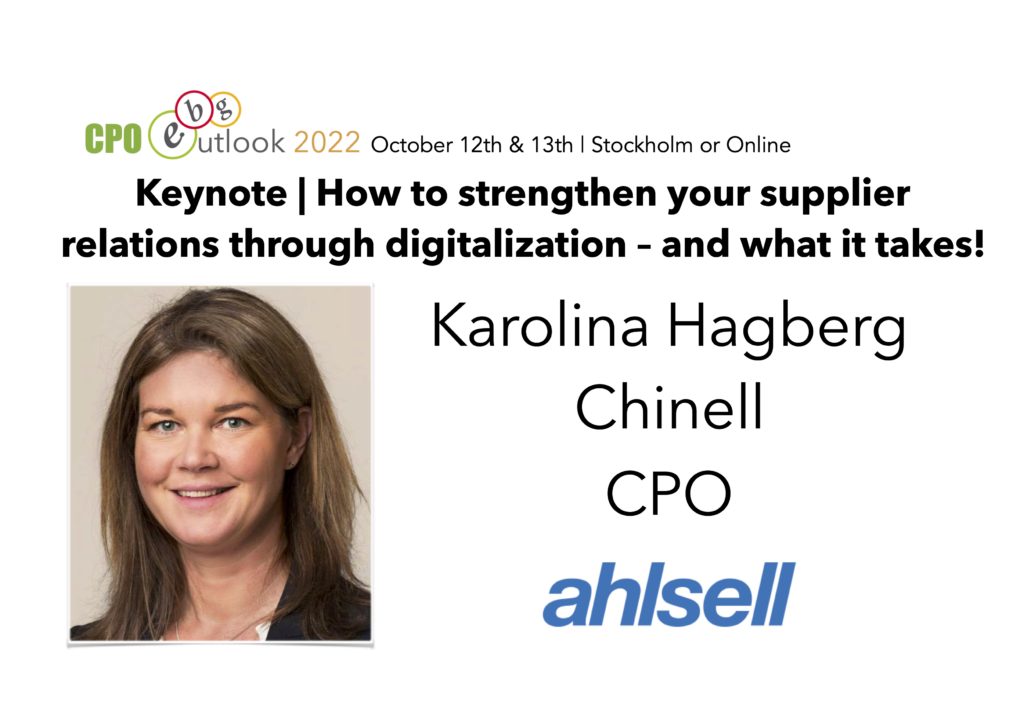 What role do suppliers play in your corporate strategy? In what ways have you digitized ways of communicating and collaborating with your suppliers? EBG | Network welcome Karolina Hagberg Chinell, CPO and member of the Group Management Team at Ahlsell joining CPO Outlook 2022. On October 12th you who join us in Stockholm can take part in her keynote. Learning more from her many years of experiences developing corporate strategies.
One thing is clear – understanding how to collaborate and communicate with suppliers is a growing area of interest for all businesses. This will be a great opportunity to learn more.
Keynote | How to strengthen your supplier relations through digitalization – and what it takes!
The Ahlsell Group is the leading distributor in the Nordics of installation products, tools and suppliers to private and public customers. At Ahlsell category and procurement aims to create a sustainable, competitive, profitable customer offering for all channels. Their focus is on group wide synergies, strategies, processes and digitalization initiatives to obtain industry leadership within GFR, GNFR, Ahlsell´s own brands and sustainability.

At Ahlsell working closely with suppliers is key to sustaining and further develop customer loyalty and satisfaction. Just as at other companies working on that closer relationship, creating insight and speed, has been an area under development. Developing different levels of supplier information management. Digitizing and digitalizing data and ways to communicate and improving attractiveness with suppliers. Differentiating segments of supplies and suppliers, engaging suppliers to adapt to new ways of working. Making sure behavioral data and market drivers are understood and incorporated into supplier communications.

During this session you will learn from Karolina Hagberg Chinell, CPO and member of the Group Management Team, how Ahlsell have strengthened their supplier relations through digitalization.
You will learn
How have Ahlsell chosen to structure supplier communication?
How have suppliers reacted to changed ways of working?
What does digitalization mean in this area?
Which have the biggest changes and lessons learned been during the digitalization journey?
How have the work procurement do affected and strengthened the Ahlsell market offer?
This session is enabled by Ivalua
About Karolina
Karolina holds a board position at Saltå Kvarn, a supplier of ecological products to the Swedish grocery retailers. Prior to Ahlsell Karolina worked within the grocery and FMCG industry and has held management positions within leading retailers and suppliers such as Coop, ICA and Barilla.
Karolina is an engaged and experienced leader with a strong track record of delivering commercial results and a passion for change management and continuous improvements.
About Ahlsell
Ahlsell is present where people reside, work and live their lives. Ahlsell is the Nordic region's leading distributor of installation products, tools and supplies for installation, construction, real estate management, industrial and power companies and the public sector. With some 5,900 employees, more than 240 stores, e-commerce and three central warehouses, we deliver on our promise to our customers, every day: Ahlsell makes it easier to be professional.
About CPO Outlook 2022
At an EBG summit you come together to really learn from each others experiences. Since 2010 EBG have brought together end to end perspectives along sourcing, procurement and finance. Knowing it takes time, passion and knowledge to make strategies come true.
At an EBG summit you choose round table discussions based on what You are interested in. Is is ESG, risk management, category management, change management, supplier collaboration, sustainability? Is it all? Bring your team and make a 2-day activity – including dinner – together with EBG.
Register today, seats are limited!