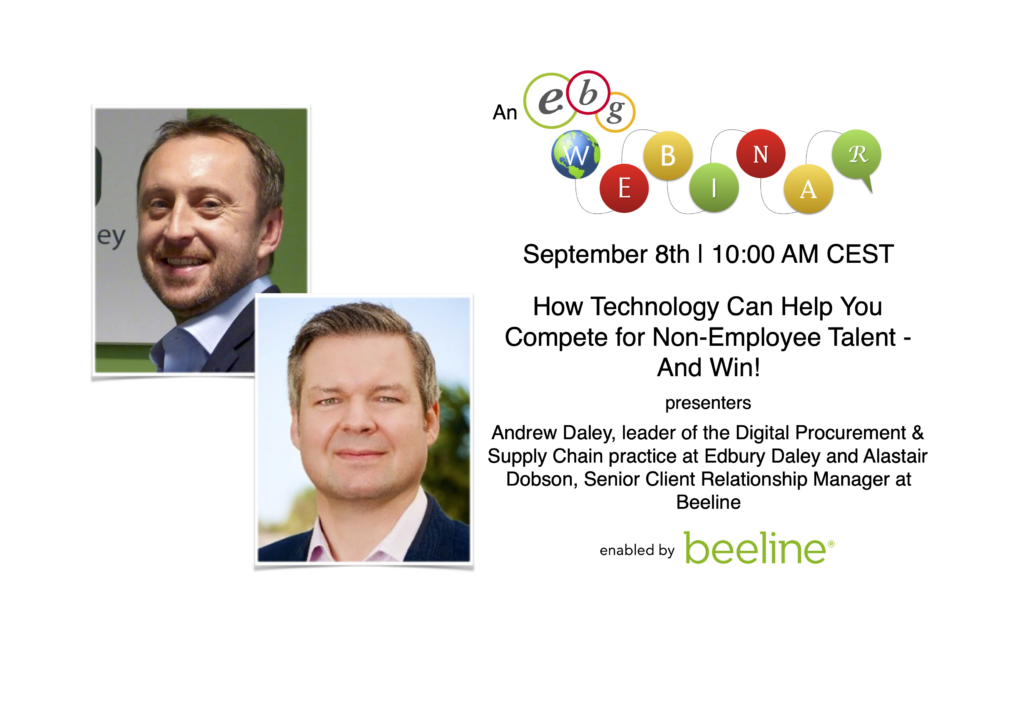 How do you ensure you find the best talents available and manage engagement cycle times the best way possible? As the non-employee numbers increase – how do you source, engage and evaluate the talents you need? How can procurement help the business find and keep the right talent?
The role of procurement in ensuring the business have the right talent is becoming – or should be becoming – more strategic. Increasing value in the non-employee segment mean a shift in mindset.
Welcome to join intense 45 minutes sharing how others are managing non-employee talent the best way possible. During this session you will learn more about the role of procurement in the contingent workforce space.
Date: September 8th, 2022
Time: 10:00-10:45 AM CEST
Place: Your computer/tablet/phone
Language: English
Cost: Free of charge but requires registration
Organizer: EBG | Network & Beeline
Europe is experiencing a labour and skills shortage greater than ever before. Demand for talent, as measured by job vacancy rates, is unprecedented, and contingent workers – non-employees who can fill these skill gaps – are increasingly in demand. What can procurement do to help the business find the right talent at the right time and with the intended value creation?
Presenters are Andrew Daley, leader of the Digital Procurement & Supply Chain practice at Edbury Daley and Alastair Dobson, Senior Client Relationship Manager at Beeline.
Join our webinar to learn about technologies that are helping businesses to:
Open new talent sourcing channels
Accelerate labour engagement cycle time
Evaluate contingent workers and contractors faster, and more accurately
Go beyond rates and skillsets to fill other unmet needs, including contingent workforce diversity
In this session you can learn how to find and manage the non-employee talent your company needs to succeed and what role procurement may have in that.
All registering will receive the slides and recording.
About Beeline
Beeline workforce management solutions go far beyond the traditional vendor management system (VMS). Our platform helps you manage all categories of non-employee resources and address every phase of the extended workforce life cycle, enabling you to manage the complexities of the modern workforce. With over 20 years experience, $700 billion in spend, and 30 million workers, you can be confident in the technology powering your workforce. Gain expert guidance every step of the way with Beeline.
About Andrew Daley, Edbury Daley
Andrew Daley is the leader of the Digital Procurement & Supply Chain practice at Edbury Daley. He is vastly experienced in a range of recruitment projects across the digital procurement ecosystem with a particular specialism in senior leadership appointments and client facing, revenue generating roles like sales, presales, account management, customer success and transformation consulting.
His clients include the leading solution providers and emerging best of breed tools, their corporate customers and the consultancies who specialise in the associated digital procurement transformation projects.
About Alastair Dobson, Beeline
Alastair is a Senior Client Relationship Manager at Beeline, a role he has performed for almost 3 years. This is his second employment period with Beeline, having joined originally in 2008, until 2012.
Alastair has almost 20 years experience in the VMS and MSP industry in Europe, having performed varying roles from sales, implementation and service delivery, as well as operational leadership, business consulting and most latterly relationship management.
Over the course of his career, Alastair has watched the evolution both in technology sophistication of VMS, and the growth, both geographical and in workforce types with a keen interest.