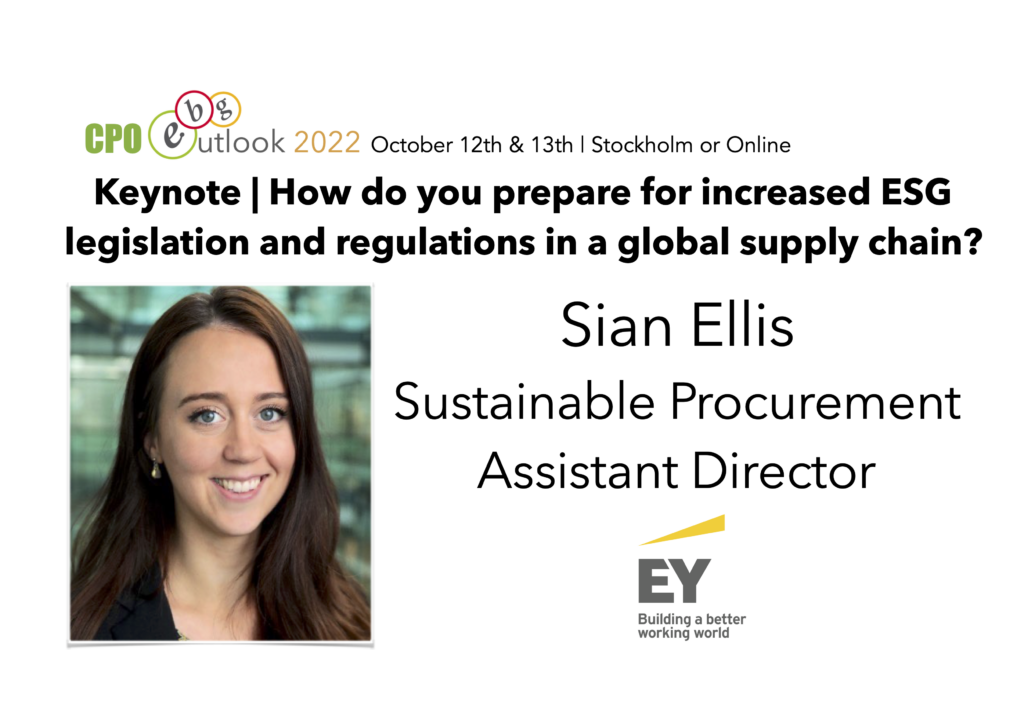 EBG welcome EY joining CPO Outlook in October in Stockholm. ESG (Environmental, Social and Governance factors) and sustainability are on all companies agenda. At the same time as cost control, risk reduction, supply and service delivery, innovation – the list can go on. During CPO Outlook 2022 on October 12th and 13th EBG | Network allow you to dig deeper together with peers and experts. In Stockholm you will meet others choosing the same sessions as you. Ensuring you get to discuss what matters the most for you, right now and ahead.
Sian Ellis, Sustainable Procurement Assistant Director at EY in the UK will join the summit on stage and host a workshop. She will share and discuss the below. Seats are limited and come at a first come fist served basis, register here.
Keynote | How do you prepare for increased ESG legislation and regulations in a global supply chain?
This session will look at the actions and plans taken by EY in our ESG in Supply Chain strategy. ESG meaning using Environmental, Social and Governance factors to evaluate companies and countries on how far advanced they are with sustainability.
EY has had an active Supplier Diversity programme for 18 years, and as a B2B have increased broader ESG efforts significantly over the past 5 years. EY's ESG in supply chain programme includes training, policy and process review, supplier due diligence and range of category level initiatives. Here we will learn from Sian Ellis, Sustainable Procurement Assistant Director at EY in the UK about EY's programme, what resources have been dedicated and how ESG in the supply chain aligns to EY's broader business goals.
Learn more about;
A short overview of the scope of the EU Directive
The importance of ESG risk mapping and how has EY done this
Learning and engagement with staff and targeted suppliers
Integrating ESG into processes to make it Business As Usual
Following her keynote, Sian invite you to join her workshop. An EBG enabled round table discussion or workshop bring peers together in an informal yet to the point way. To really be able to draw from each others experiences. Ask each other questions.
How can companies improve sustainability facts sharing with customers and during supplier due diligence?
Given the number of suppliers all companies have, the work process ensuring codes of conduct and contracted measures are realized is daunting. What are the ways forward to minimize duplication and save time completing and gathering a range of surveys? During this workshop you will come together with peers to exchange ways of working and common challenges. What can be drawn from different industry initiatives and can and should there be more universal ways to measure sustainability?
Discuss;
Should companies use shared platforms to ensure efficiency?
Would additional measures be needed?
Will this adequately meet legislation?
What platforms and standards are acceptable? (what with so many around the world)
About Sian
Sian have worked with ethical sourcing and sustainable procurement since 2015. Today she is Sustainable Procurement Assistant Director at EY in the UK. She have a Human Rights MA from University of Sussex. And a Bachelor International relations from University of the West of England.
About EY
EY exists to build a better working world, helping create long-term value for clients, people and society and build trust in the capital markets.
Enabled by data and technology, diverse EY teams in over 150 countries provide trust through assurance and help clients grow, transform and operate.
Working across assurance, consulting, law, strategy, tax and transactions, EY teams ask better questions to find new answers for the complex issues facing our world today.
About CPO Outlook 2022
EBG | Network have enabled round table and workshop based summits since 2010. The idea bringing cross function and cross industry peers and experts together. Brought together to discuss what is an end to end process – procurement and supply chain. Sourcing, procurement and finance coming together with experts to draw from each others experiences. Understanding how much has to do with change management and What's in it for Me for each individual. At least if you want strategies to come true.
Before joining us – in 2022 either in Stockholm or Online – you will choose what discussions and workshops to join. Since the idea is to connect as many as is possible, seats are limited. EBG spend a lot of time making sure You get to meet with and exchange experiences. Doing so with those sharing the same interests as you.
Register here to meet us in Stockholm or here to join us Online here. EBG do not believe in broadcasting on stage presentations that take place in front of a live audience. The online experience is different than the onsite summit. Still very valuable, just with a dedicated focus more suitable for an online experience.
Welcome!