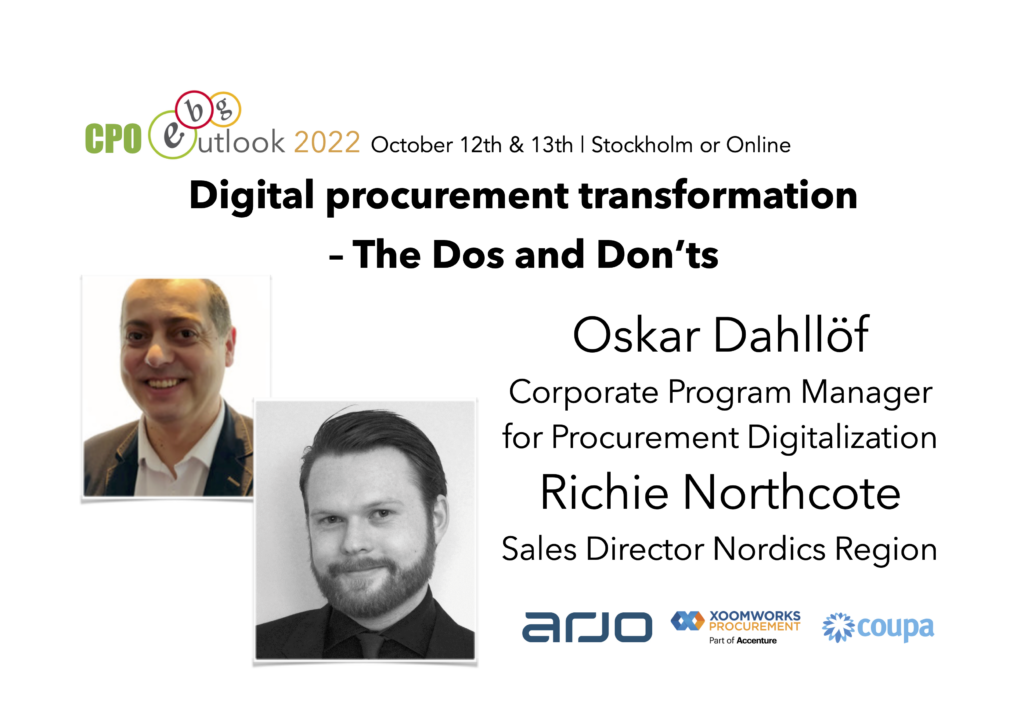 In just a few week procurement professionals will meet in Stockholm or Online for the 17th annual summit hosted by EBG | Network. CPO Outlook 2022 is the combination of Source 2 Pay Summit and Sourcing Outlook – bringing you the only end to end procurement summit in the Nordics in 2022.
Oskar Dahllöf, Corporate Program Manager for Procurement Digitalization at Arjo will be joining the summit alongside Richie Northcote, Sales Director Nordics Region at Xoomworks Procurement, part of Accenture to host Theme Discussions. The sessions are also enabled by Coupa.
A Theme Discussion is a smaller group discussion, a round table discussion. Enabled by EBG since 2010, these sessions are a unique way of learning and connecting among peers and experts. Making sure you get your questions answered and at the same time can draw from reflections in the group.
Informal yet to the point which mean CPO Outlook 2022 have limited seats!
Great group discounts are available.
The discussion Oskar and Richie will host will focus on;
Digital procurement transformation – The Dos and Don'ts
Digital procurement transformation is a matter of WHEN not IF. It's now time for innovative, fast-growing companies to take the leap and transform their procurement into a world-class, revenue generating function. Implementing a S2P/P2P solutions enables companies to follow a standardized procurement process, make proactive decisions, generate savings and increase efficiency.

However, there a few Do's and Don't when talking about procurement transformation, that can make or break your project. During this session we will discuss practical tips that can ensure the success of your project and situations that should be avoided to reduce project risk.
Discuss;
Why do fast-growing companies need a digital procurement transformation?
How do you set your main project objectives? OR What should your main project objectives be?
Do you think an integrated scalable solution is better than periodically adopting new systems to fit your business objectives?
How to deal with user resistance to change (low user adoption)?
About Oskar
As Program Manager for Procurement Digitalisation, Oskar is responsible for the transformation project to modernise, digitalise and optimise the Source-to-Contract and Purchase-to-Pay processes within Arjo. With 10 years' experience working within project management and process development covering IT, Procurement, Finance, Logistics and Operations projects.
About Arjo
Arjo's vision is to be the most trusted partner in driving healthier outcomes for people facing mobility challenges.
At Arjo, we believe that empowering movement within healthcare environments is essential to quality care. Our products and solutions are designed to promote a safe and dignified experience through patient handling, medical beds, personal hygiene, disinfection, diagnostics, and the prevention of pressure injuries and venous thromboembolism. With over 6000 people worldwide and 60 years caring for patients and healthcare professionals, we are committed to driving healthier outcomes for people facing mobility challenges.

About Arjo, arjo.com
Financial targets 2021–2023
Average annual organic sales growth of 3–5% per year
Adjusted EBITDA margin of approximately 23% from full-year 2023
Annual cash conversion of more than 80%
The Group's dividend is to correspond to 30- 60% of net profit after tax
About Richie
For 15+ years, Richie have worked in different companies enabling procurement digitalization. Thus giving him insights from numerous technologies and organizations having gone through digitalization journeys
About Xoomworks Procurement, part of Accenture
Xoomworks Procurement, part of Accenture is a leading procurement consultancy that helps global to mid-size organisations across more than 15 industries around the world transform procurement into a more valuable corporate asset.
They work with clients throughout their procurement journey, from deciding the scope, priorities and preparing for success, through to delivering the solution and supporting businesses after go-live.
Their expertise covers Procurement Transformation, Procurement Technology Implementation, and Operational Procurement Support – from sourcing, supplier management and visibility of spend through to transactional control and supply chain financing. To learn more, visit xoomworks.com
About Coupa
Coupa is the cloud-based Business Spend Management (BSM) platform that unifies processes across procurement, supply chain, and finance functions. Coupa empowers organizations around the world to maximize value and operationalize purpose through their business spend. To learn more, visit coupa.com or follow us on LinkedIn and @Coupa Twitter.
About CPO Outlook 2022
For two days in Stockholm about 40 round table discussions and 6 workshops will take place. Mixed with keynotes and panels – this is a great opportunity to come together in person again after three years of distant reflections. At the end corporate transformation come down to people changing behavior and at CPO Outlook 2022 we energize each other to do better in a volatile world! Seats are limited, register >>here. You can join us Online in stead if you cannot make it to Stockholm. Note that the online set up is different from Stockholm, although still very valuable.