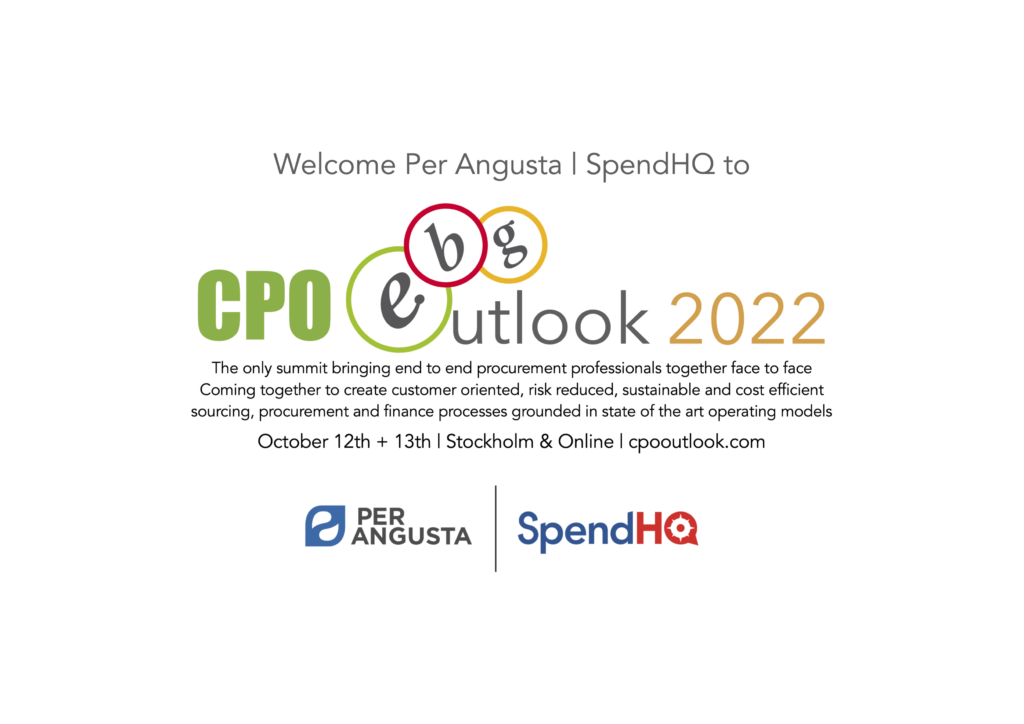 A warm welcome to Per Angusta | SpendHQ joining CPO Outlook 2022 on October 12th and 13th in Stockholm. How do you bridge organizational intelligence gaps in your end to end procurement practices today? It is increasingly being asked of organizations to have complete sourcing process control. Yet EBG | Network know how hard that may be to achieve. Sourcing and procurement teams often lack resources and struggle to find time to act more proactively and strategic.
At CPO Outlook 2022 we aim to inspire. To connect you with peers and experts who know all about what You are experiencing. Peers and experts there to discuss how to improve. How to develop procurement as an end-to-end process in all the ways needed today.
You who join us in Stockholm can choose to join the Theme Discussions – round table discussions – hosted by Per Angusta | SpendHQ. Informal yet to the point discussions. Discussions that enable you to draw from expert advice as well as the peer group joining. Imagine the questions that may be asked and the common knowledge that will be shared! You do not experience that in any other procurement summit in 2022.
About Per Angusta | SpendHQ
With the combination of Per Angusta and SpendHQ, procurement leaders have a best practices-based solution to improve procurement performance lifecycle, starting with strategic planning using Spend Intelligence, to oversight and management of project pipeline status, value tracking, and financial and non-financial reporting. Per Angusta is the leader in providing a practitioner-built Procurement Performance Management solution used by 130+ global clients on a daily basis. Combined with SpendHQ, the leading Spend Intelligence platform used by 350+ client organizations, Procurement teams rapidly gain visibility of at least 97% of their total spend, so they can focus and drive goals, and priorities. This increases and demonstrates Procurement's impact and value in a data driven, transparent way. To learn more visit per-angusta.com and spendhq.com
About CPO Outlook 2022
How do you create and develop the level of insight needed in your end to end procurement processes and strategies today? We live in a complex world and you have probably too much to do. At the same time it is asked of you to look up and plan ahead. How do you manage to do that?
At an EBG summit we take your challenges and need of collaborative assurance and experience exchange very seriously. And we think it should be fun and easy to be inspired. Since 2010 EBG have enabled networking summits focused on round table discussions. When you leave an EBG summit you should feel empowered. Having found new inspiration and be assured that you have peers and expert around you willing to connect and exchange know how.
Seats are limited. EBG spend weeks mapping up the discussion sessions and creating a learning environment you do not get anywhere else. Register >>here and EBG look forward to seeing you in Stockholm!
If you cannot join us in Stockholm, you can join an Online version. Not the same but also valuable, take a look >>here.