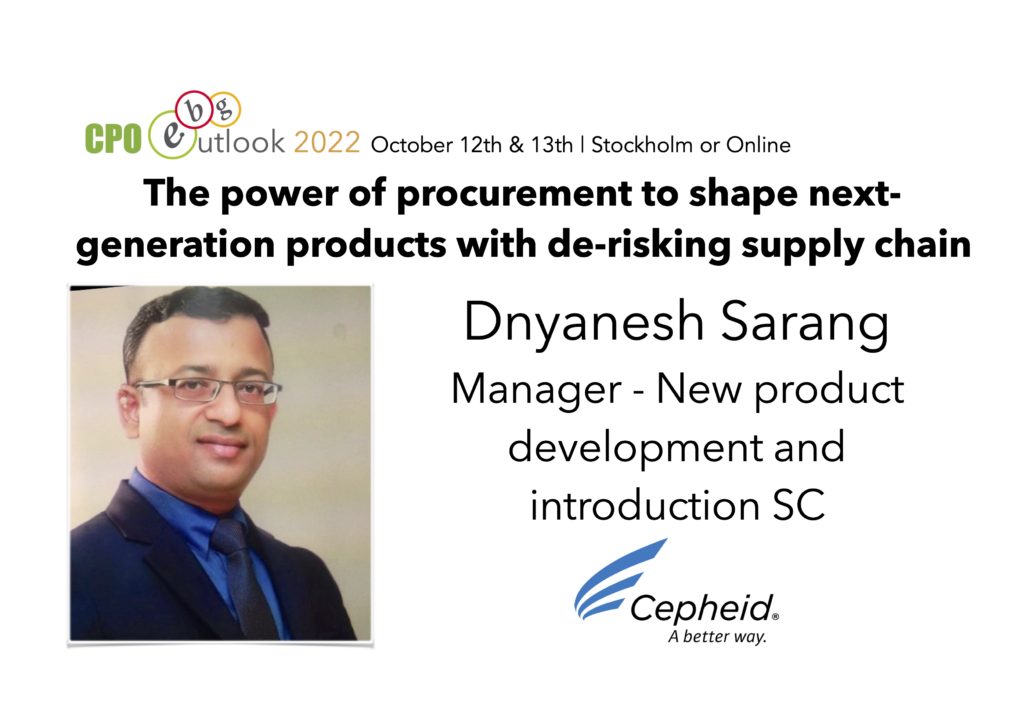 An incredible addition has been made to CPO Outlook 2022 in Stockholm. Always seeking ways to empower individuals and strengthen businesses. A warm welcome to workshop host Dnyanesh Sarang, Manager – New product development and introduction SC at Cepheid (Danaher group). He invite you who join us in Stockholm to join his workshop on October 13th. A possibility for peers to come together to discuss how procurement fit in new product innovation, development and introduction.
This is a topic that has become more and more frequent during EBG summits. Procurement with all knowledge available are making ways into more and more core areas in organizations.
Joining CPO Outlook 2022 in Stockholm you will be able to discuss the below:
Workshop | The power of procurement to shape next-generation products with de-risking supply chain
How many products have you experienced which doesn't turn out to be commercialized well? Especially when procurement and supply chain is not involved in product development phases.
How often do companies empower procurement by early involvement and allowing it to impact overall product development to de-risk their supply chains? During this session you will discuss selective topics around involving procurement and Supply chain in product innovation – development, strengthening cross-collaboration, and making Procurement ready for such collaboration.
We will discuss;
How does Procurement fit in New product innovation, development, and introduction
How can you accelerate Procurement engagement with other departments?
Checklist for Procurement team responsible for New product development
Using supplier innovation to de-risk product
Blueprint of Procurement involvement engagement and value driving
About Dnyanesh
Logical, versatile, and motivational Procurement professional with amalgamated experience in industry and management advisory. Driven by sustainable value creation, helping people to grow – develop, promote best practices and improve efficiencies. Took Sr regional and global roles in procurement functional leadership, NPD, category management, Strategy development, cost-procurement transformation programs, portfolio leadership, and managed services. Built greenfield functions, and diverse teams and lead the managers.
About Cepheid (Danaher group)
Cepheid was founded in 1996 with a vision to develop an innovative system that simplified a highly complex, multi-stage process for the detection and analysis of nucleic acids, such as DNA, in samples such as blood, urine, food and industrial water. In its first phase, Cepheid was focused on its SmartCycler® System which integrated the amplification and detection phases of nucleic acid testing in a single instrument. The system was launched in 2000, the same year the Company went public.
Today, Cepheid operates within the Danaher family of Operating Companies. With a patient-centric approach, the Company is striving to deliver the benefits of seamlessly accessible molecular testing closer to the patient, enabling a higher quality of care, lower costs, and improved outcomes.
About CPO Outlook 2022
No where else in the Nordics can you bring your team and cover a multitude of topics important to you as an individual and your organization. EBG have enabled round table discussion based summits since 2010 and the focus is informal yet to the point experience exchange.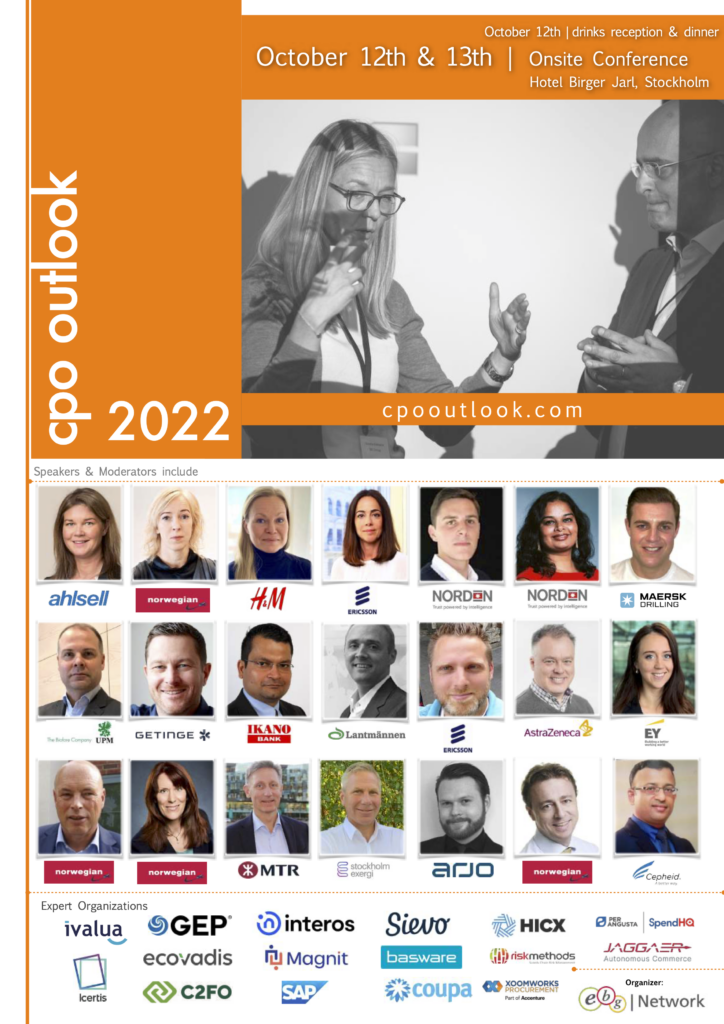 We are down to our final seats – if you want to meet international competences you only meet here in the Nordics, register now.
If you cannot meet in person
In parallel with meeting in Stockholm, Anna Bjärkerud will welcome you who cannot meet in Stockholm to meet online. It is not the same summit as in Stockholm – but still valuable.