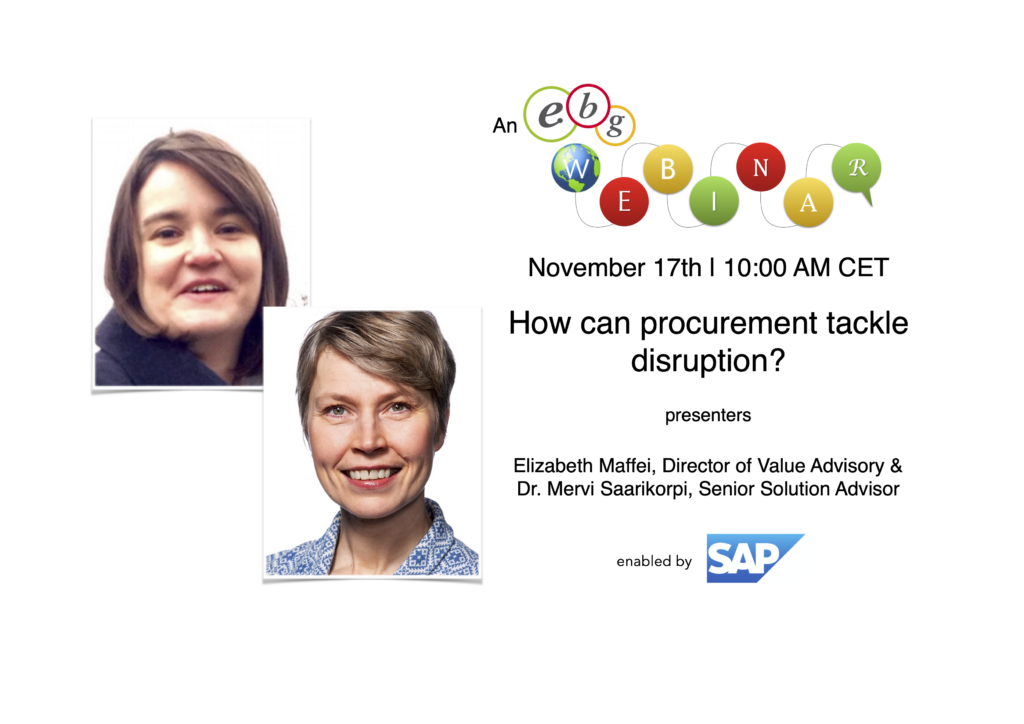 Following the recent EBG | Network summit CPO Outlook 2022 several things were evident apart from all businesses continuously experiencing disruptions. Disruptions making it harder to focus on strategies, harder to find time and harder to plan ahead. Procurement professionals are very passionate about improving ways of working and the outcome that brings. Category management is still a hot topic. Data is still very scattered. Sustainability is on the top of all businesses agenda.
What better then than to focus the next EBG webinar on some of these topics! Welcome to join 45 minutes filled with insights and practical advice.
Date: November 17th, 2022
Time: 10:00-10:45 AM CET
Place: Your computer/tablet/phone
Language: English
Cost: Free of charge but requires registration
Organizer: EBG | Network & SAP
The current turmoil across global markets imposes various challenges for procurement and sourcing organizations. In this webinar, we will discuss how procurement can become a strategic contributor to company success at times of disruption. We will provide insights into tackling disruption through three lenses – strategies, technologies and talent – which are are essential for procurement leaders and managers to consider when trying to find ways to manage disruption.
We will focus on these key questions:
What is the role of category strategies in managing disruption?
How can technology support procurement organizations going forward?
What kind of talent is needed for procurement in the future?
How can volatility be operationalized in terms of KPIs and what kind of benchmarks are there?
The presenters during this webinar are Dr. Mervi Saarikorpi, Senior Solution Advisor and Elizabeth Maffei, Director of Value Advisory at SAP.
All registering will receive the slides and recording.
About Mervi
Mervi has both theoretical as well as practical knowledge of strategic purchasing transformation, processes, and best practises through work experience at UPM and doctoral studies at Aalto University, where she got her PhD degree in 2018. After joining SAP, Mervi has worked in sourcing and procurement solution presales, product development as well as research and thought leadership.
About Elisabeth
Elisabeth joined SAP after having previously worked for Procurement Leaders as part of their research team across a range of procurement categories and related topics to add insight, value and intelligence to their members. Prior to that she worked for LOCOG on the London Olympics and has extensive experience in a Procurement and Contract Management across sectors as diverse as events, media, banking and hospitality.
About SAP
SAP Ariba solutions create direct, intelligent connections between your business and your suppliers and targeted solution providers, redefining how you communicate, collaborate, and get work done.
Your organization needs more from procurement. As business moves faster and faster, more spending is happening across more channels using more payment methods than ever before. And your customers are demanding more from the organizations they buy from and work with. They want more speed, better quality, the best experience, and full transparency into the impact you and your suppliers are making on the world.
It's up to procurement and supply chain managers to continue to control all the costs, manage the risks buried in your transactions, and do it all while making sure process doesn't slow down progress. Using SAP Ariba solutions and Ariba Network – market leaders in spend management software – you can equip your company to be responsive and responsible, both today and in the future:
-Buyers can manage the entire purchasing process as they control spending, find new sources of savings on both direct and indirect goods, and build healthy, ethical supply chains
-Suppliers can connect with profitable customers and efficiently scale existing relationships, simplifying sales cycles and improving cash control along the way.
Visit ariba.com for more