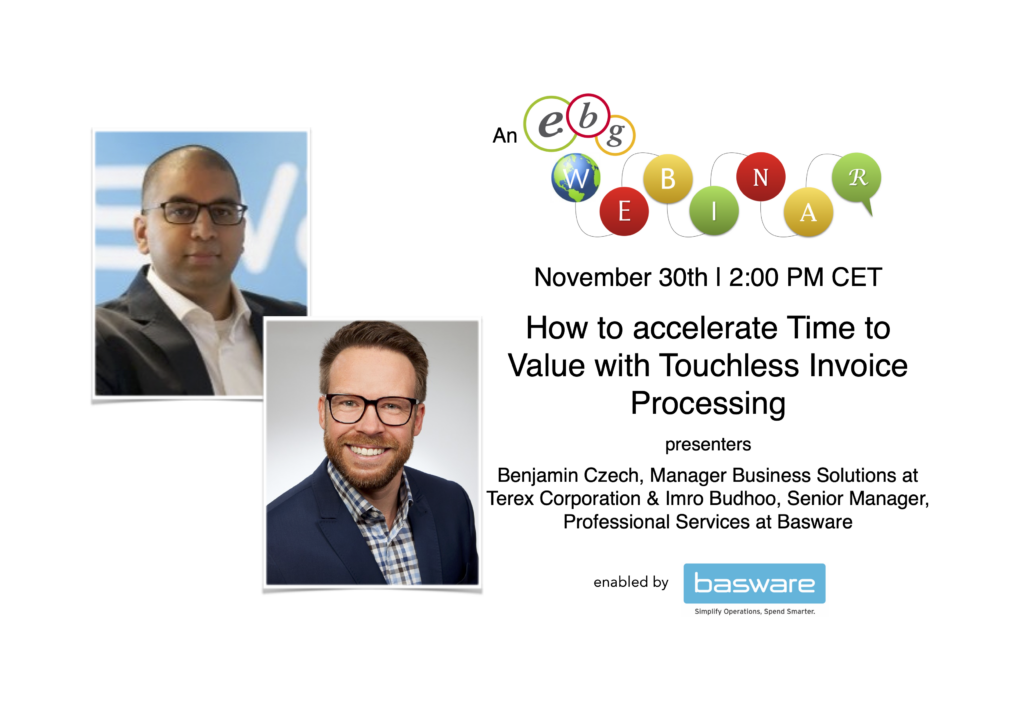 It is often said, "If you want to go fast, go alone. If you want to go far, go together." Adopting and operating new solutions and services can be time-consuming and requires new knowledge, processes, and ways of working. To achieve your business goals and reap the full benefits of your accounts payable (AP) solution, you need a team to ensure you are using it in the most optimal way.
Welcome to a webinar with practical experiences and concrete advice about how to optimize your finance operations within accounts payable.
Date: November 30th, 2022
Time: 2:00-3:00 PM CET
Place: Your computer/tablet/phone
Language: English
Cost: Free of charge but requires registration
Organizer: EBG | Network & Basware
What is Touchless Invoice Processing (TIP)?
For years Basware has been refining ways to tie financial transaction targets like insight, speed and accuracy into one solution. Increasingly Finance needs to free up resources and allow AP teams to support strategic initiatives like exception prevention and cost-saving opportunities. But how do you achieve that?
Learn how your organization can be empowered to utilize real-time insights to make informed decisions and impact company performance. Our experts have collaborated with finance departments and in our webinar, you will learn how you can adopt touchless invoicing faster together with our speakers Benjamin Czech, Manager Business Solutions at Terex Corporation and Imro Budhoo, Senior Manager, Professional Services at Basware, who will share their experiences. We will go through best practices to optimize your AP solution by using relevant insights to provide healthy advice for AP teams.
In this webinar, we will discuss:
What are best practices for organizations to adopt touchless invoicing?
How can you use your AP solution in the most optimal way to achieve business goals?
In what ways can AP add value to your organization's business?
All who register will receive the slides and recording.
About Terex Corporation
Terex Corporation is a global manufacturer of aerial work platforms and telehandlers, utilities industry equipment, materials processing machinery, and tower and rough terrain cranes. Terex designs and builds quality products used in construction, maintenance, manufacturing, energy, minerals and materials management applications. The origins of Terex date to 1933, when the Euclid Company was founded by George A. Armington to build hauling trucks. The Company grew and diversified over the years, principally through acquisitions. The name Terex was coined in 1970 by then-owner General Motors from the Latin "terra" (earth) and "rex" (king). In 1991, Terex was first listed on The New York Stock Exchange (NYSE:TEX).
About Basware
Basware offers the largest open business network in the world and is the global leader in providing networked source-to-pay solutions, e-invoicing and innovative financing services. Our technology empowers organizations with 100% spend visibility by enabling the capture of all financial data across procurement, finance, accounts payable and accounts receivable functions. Basware is a global company doing business in more than 100 countries and is traded on the Helsinki exchange (BAS1V: HE).
Find out more at basware.com