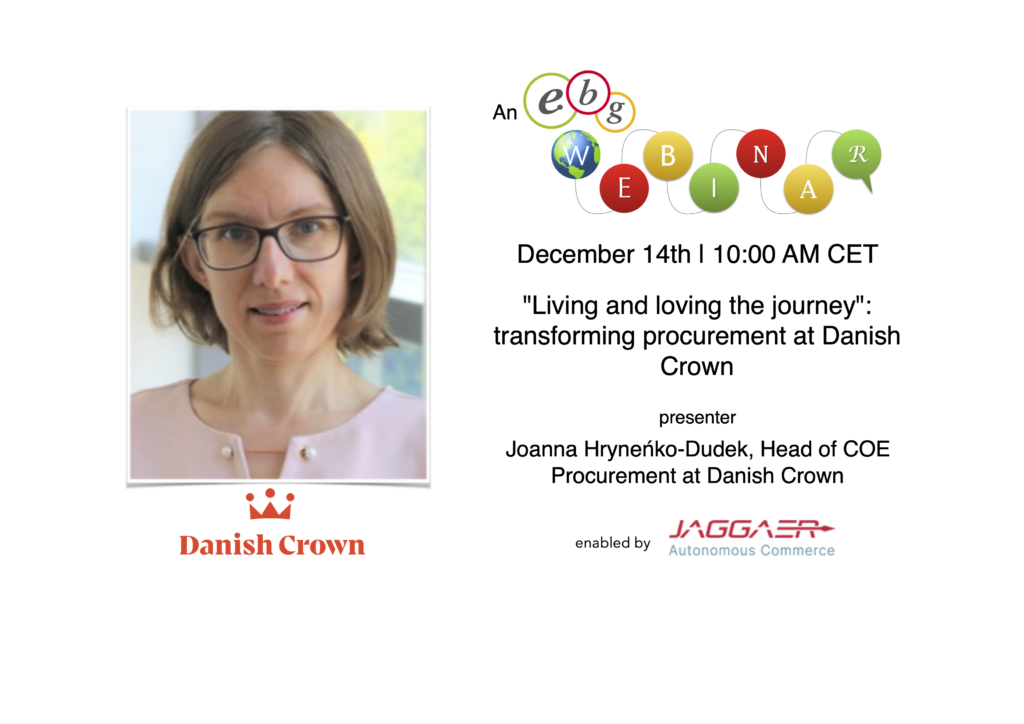 "Living and loving the journey": transforming procurement at Danish Crown. Danish Crown is a unique organization, owned by 9,000 Danish farmers supplying pigs and cattle. It has 25,000 employees and 60-plus factories.
Procurement transformation represents a dramatic shift in an enterprise's structure, operations and bottom line, resulting from the establishment of a new collective mindset, processes and tech. Those tasked with rolling out new procurement strategies require experience, ambition and the ability to motivate and organize large numbers of staff.

Danish Crown: A Procurement Transformation
Welcome to a webinar where we can draw from the experiences of a procurement centralization journey. A strategy and governance structure set up. Change management experiences. A technology implementation roadmap journey. In short lessons learned about a transformation many companies face or will be facing.
Date: December 14th, 2022
Time: 10:00-10:45 AM CET
Place: Your computer/tablet/phone
Language: English
Cost: Free of charge but requires registration
Organizer: EBG | Network & JAGGAER
In this webinar Danish Crown will talk about assembling the right team to "live and love" the procurement transformation journey, getting buy-in from top to bottom of the organization, investing in the right technology to drive change, and establishing a governance structure for the procurement function.
What were the bumps in the road to be navigated on the journey, and how? What's the best way to handle change management? How do you help key individuals to become more efficient by adapting to new technology?
Joanna Hryneńko-Dudek, Head of COE Procurement at Danish Crown will also share results achieved to date and its expectations for the future, especially with an eye to Danish Crown's ESG and sustainable production strategies.
Join the webinar and you will learn;
How Danish Crown set out on a journey to drive centralization and efficiency
How it set up the right change management strategy and governance structure
How Danish Crown rolled out its technology implementation roadmap
Achievements and lessons learned at Danish Crown
Register now to experience the procurement transformation journey at Danish Crown! All who register receive the slides and recording.
About Joanna
Joanna has almost 17 years of professional experience including 12 years in Procurement and Finance transformation and management. Before joining Danish Crown, she spent twelve years in Capgemini Poland working as business transformation consultant and manager for multiple global clients from different environment (manufacturing, agriculture, utilities). She is also certified ISO 90001 auditor, trainer and teacher. In Danish Crown she is responsible for leading Source to Pay process transformation.
About Danish Crown
Danish Crown is one of the world's largest exporters and one of Europe's largest producers of pork. The Danish Crown Group is also the largest meat-processing company in Europe, and Danish Crown Beef is a key player in the European beef market.
Danish Crown have production in Denmark, UK, several European countries and China, and have market access to more than 130 countries around the world.
With a turnover of around 60 billion DKK, approx. 26,000 employees, market presence in more than 130 countries, and production in several countries in Europe and in China, Danish Crown is a major player in the food producing industry. We stand on the shoulders of over 130 years of history, filled with tradition and innovation, and we have a vision of delivering climate neutral production by 2050.

One crown, one team
About JAGGAER
JAGGAER is leading the Autonomous Commerce revolution, a self-governing B2B commerce experience between buyers, suppliers, things (IoT) and partners. Over $500 billion worth of goods flow frictionlessly through our Enterprise Commerce Network every year. Leveraging AI and machine learning, our intelligent procurement solutions provide enterprise buyers and suppliers smart-match recommendations that align buyer needs with supplier capabilities. Our solutions autonomously execute many of the repetitive, behind-the-scenes tasks required to facilitate enterprise commerce. We are Networked, Intelligent, Comprehensive and Extensible. We are over 1,100 employees strong, all focused on customer success. For more information, visit jaggaer.com