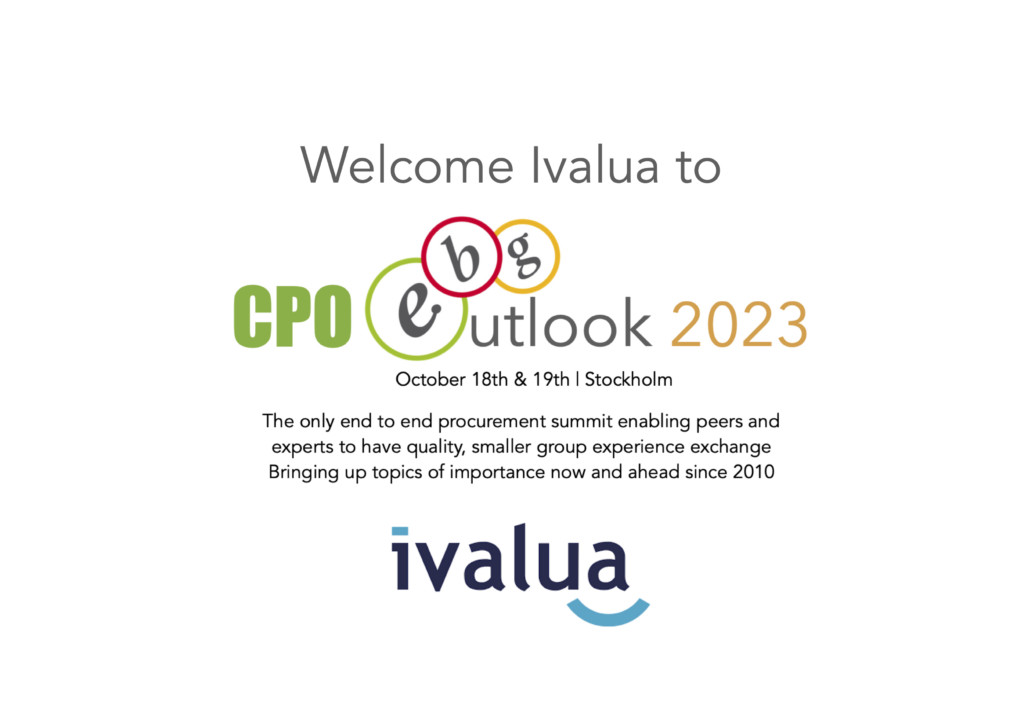 A new year, new beginnings but also cherishing what we know from the past. On October 18th & 19th we meet in Stockholm for CPO Outlook 2023. EBG | Network welcome Ivalua joining the summit as Platinum partner! CPO Outlook is the only summit combining 13 years of knowledge bringing end to end procurement insights together. Source to pay and strategic sourcing combined.
Why is this important?
As we were able to meet in person again in 2022 it was evident that those joining this unique Nordic focused summit understand the importance of business alignment. The importance of connecting that alignment into strategies such as category management. That category management need to have source to pay aligned processes and metrics. And that few companies still have that end to end alignment in place.
Round table discussions and workshops
At CPO Outlook 2023 you have the possibility to learn from almost all others joining. Multiple round table discussions and – new for 2022 – multiple workshops. EBG know the value in discussions and experience exchange.
Ivalua bring that end to end knowledge to the table. Knowing both direct and indirect procurement.
Seats are limited at CPO Outlook 2023 – you can register >>here and be among the first to choose what sessions to join.
About Ivalua
Ivalua is a leading provider of cloud-based Spend Management software. Our complete, unified platform empowers businesses to effectively manage all categories of spend and all suppliers, increasing profitability, improving ESG performance, lowering risk and improving employee productivity. We are trusted by hundreds of the world's most admired brands and recognized as a leader by Gartner and other analysts.
Learn more at ivalua.com. Follow us at @Ivalua.
About CPO Outlook
EBG | Network have created networking events since 2010. Determined to bring people together who can benefit from each others experiences.
After three years we could finally meet in 2022 again and it was amazing! Ivalua brought customer Ahlsell on stage to share ideas of how to use digitalization to improve. How to encourage your co-workers, how to collaborate with suppliers. Followed by round table discussions (Theme Discussions) where questions can be ventilated but also with the possibility to learn through listening to others.
Take a look at the Post Summit Page for an idea of what an EBG summit look like. Download the PDF >>here or by clicking the image below.
About EBG | Network
How many conferences have you attended where people only stream information from a stage? Leaving you to network during breaks and hopefully finding others that share your interests?
Anna Bjärkerud who founded EBG | Network have created networking events since 2008. She became interested in the concept of conferences but found two distinct areas of possible improvements. People who create conferences often lack knowledge in the area the conference focus on and they too often focus on streaming information rather than truly connecting people.
With a behavioral science degree in the backpack, Anna founded EBG in 2010, determined to bring people together across functions in a way that offer real value.
Fast forward to 2023 and EBG have grown through ups and downs and a pandemic.