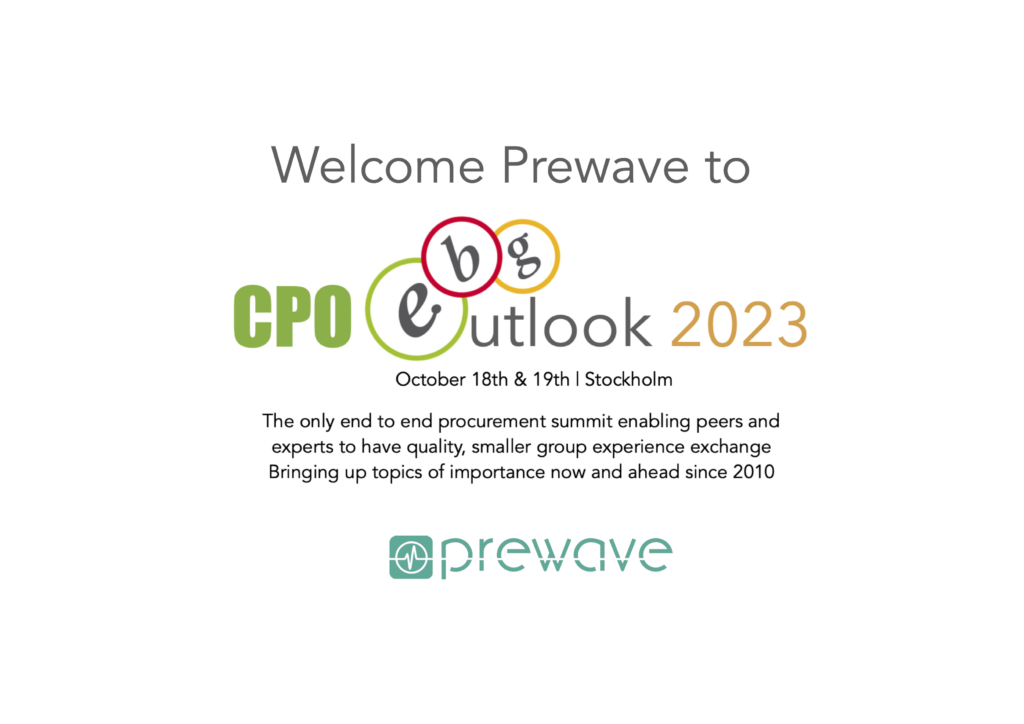 A warm welcome to Prewave joining CPO Outlook 2023 as Platinum sponsors! EBG | Network look forward to bringing people together on October 18th and 19th in Stockholm. Prewave ad supplier monitoring for purchasing, supply chain and sustainability managers to the summit. You who join us in October can choose to join their round table discussions and draw from both their and peers groups experiences.
AI Risk and Sustainability Monitoring
Prewave "Finds, understands and categorizes risks affecting your suppliers. The platform monitors your suppliers on social media and sends you highly relevant and specific alerts."
Regulations are increasing and the data is out there. Companies need to find ways to gather data beyond what has been imaginable. But how do you do this? What do you do with the insights you gather? How do you know which data to focus on when so much is available?
During CPO Outlook 2023 you can learn from others thoughts. How different industries are choosing to act to stay compliant and to stay ahead of possible disruptions. How should companies manage the increasingly AI improved and accessible insights available?
Registration is open and you find it >>here. Seats are limited and EBG | Network will (as we have since 2010) ensure you get to discuss with and learn about the topics You find important. Round table discussions and workshops are mixed with keynotes and panels.
About Prewave
Prewave heralds a new era of supply chain transparency, resilience & sustainability: With the mission of improving supply chains at heart, Prewave uses publicly available data from local news, social media and other databases in order to discover every link of the supply chain and understand and report on risks impacting suppliers and commodities along every tier. Prewaves AI algorithm analyses sources in more than 50 languages across 100+ risk categories to ensure that no disruption goes unnoticed. Brands such as VW, BMW, ABinBev, PWC or Zurich Insurance are already reaping the benefits today. Get in touch and join the wave forward. 
About CPO Outlook 2023
Based on the understanding that change management is if not The main ingredient to long lasting corporate development, it is one of the main ones. It doesn't matter how much you Know is possible if you have no way of understanding how to create the strategy. How to engage the right people. In what ways to monitor progress. And EBG believe you get the most out of a summit by engaging, talking and listening to as many informal yet to the point conversations as is possible.
Take a look at the >>Post Summit Report (PDF) from 2022. After 129 online round table discussions we could finally meet again in person in Stockholm.