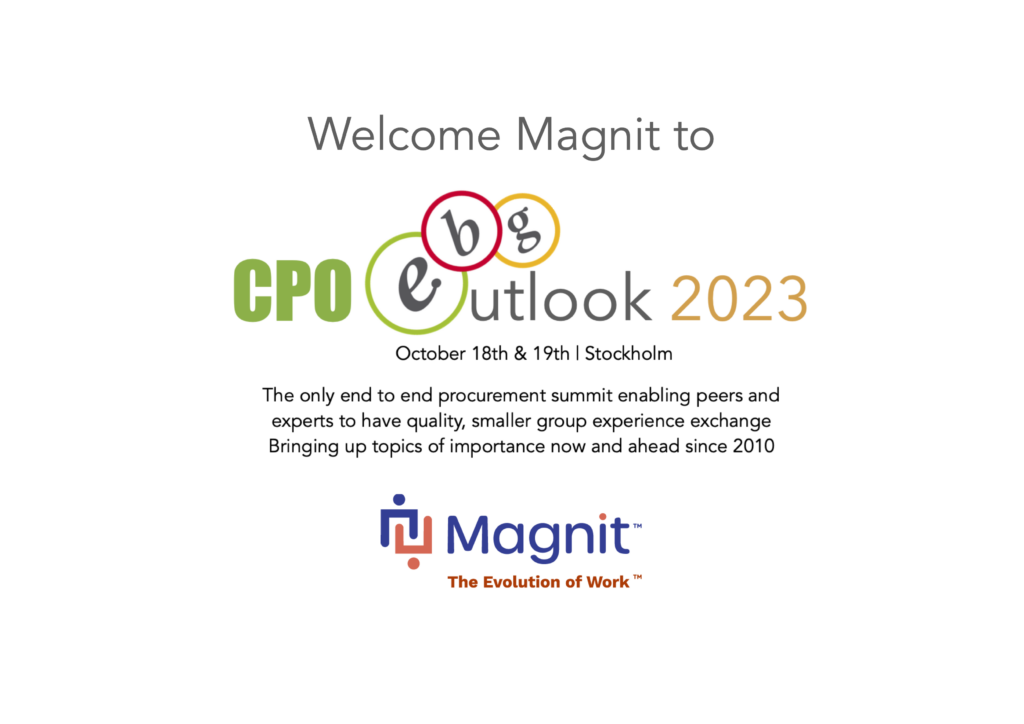 A warm welcome to Magnit joining CPO Outlook 2023 as an Expert Organization! EBG first came to know Magnit in 2022. It was evident how many companies struggle to optimize their entire workforce. Both from a strategic and operational perspective.
On October 18th & 19th the Nordics and beyond come together in Stockholm. For the 13th consecutive year EBG | Network bring together peers and experts that can draw from each others experiences. They do that in smaller groups and workshops combined with keynotes and a drinks & dinner event.
At CPO Outlook you can meet with highly competent consultants and solution providers. You pick and choose what topics you want to discuss. Most expert organizations invite you to join their informal yet to the point Theme Discussions (round table discussions) in Stockholm.
Registration is >>open and there is a great discount and dinner included during February.
About Magnit
Magnit is a global leader and pioneer in contingent workforce management. Our industry-leading Integrated Workforce Management (IWM) platform is supported by 30+ years of innovation, modern software, proven expertise, and world-class data and intelligence. It enables companies to optimize talent and diversity goals while achieving operational and financial success. With Magnit, companies can adapt quickly to the evolution of work to grow their extended workforce with greater agility, transparency, and speed.
About CPO Outlook
EBG summits are based on the fact that corporate development mean changing behavior. That changing behavior is hard and take time. Today there are incredibly well developed technology that can support this journey, but technology is not all.
During CPO Outlook procurement professionals and experts come together. In smaller groups and workshops to discuss what matter the most right now. For each individual.