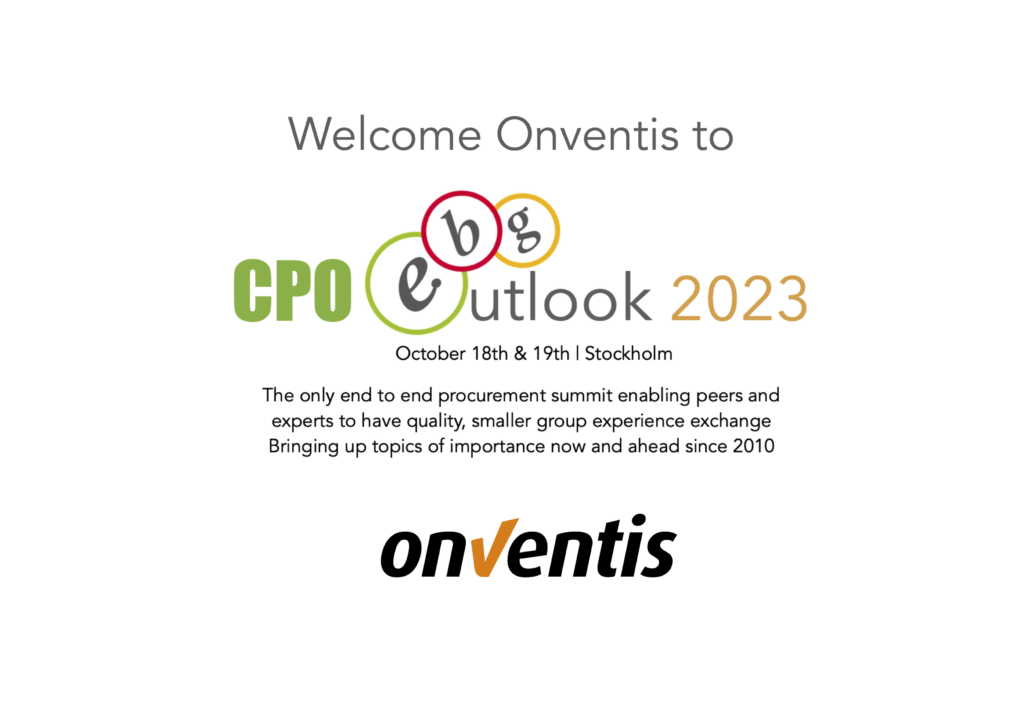 Welcome Onventis joining CPO Outlook 2023 as an Expert Organization. On October 18th & 19th you who join the summit in Stockholm can draw from the Onventis and Onventis team years of experience. For EBG | Network Onventis is a new acquaintance and we look forward to sharing this all-in-one procurement solution with the Nordic and beyond network. One suite for procure-to-pay, source-to-contract, supplier management and network collaboration.
Registration is >>open with a discount through February – even dinner is included (terms apply). Join the only Nordic and beyond focused networking summit taking end to end procurement to the next level. Not by only telling you about all possibilities out there if you only. No, we focus on different bits and pieces that just may help you actually succeed with Your strategies.
About Onventis
Onventis has been a cloud pioneer for digital transformation of purchasing and finance processes since 2000. The cloud-based software Onventis Buyer is an all-in-one procurement system that helps companies to manage their business spend in order to achieve financial control, efficiency, compliance and cost savings. It streamlines and automates all processes from source to pay including network collaboration with suppliers. The Onventis Network connects business processes for buyers and suppliers, simply and securely. Worldwide, over 1,000 companies with approx. 450,000 users in the Onventis network handle an annual business volume of over 10 billion euros with more than 50,000 suppliers.
About CPO Outlook 2023
It was a great experience and chance to meet people from the same area and share issues/best practices etc. It was very inspiring!

CPO Outlook 2022 participant feedback
There are enough conferences around the world telling you about everything that is possible to achieve. Broadcasting these insights from a stage. Leaving you with the question "how can I make this happen in my organization given all the challenges we face?".
EBG | Network summits have since 2010 focused on small group discussions in different topics. All moderators joining sharing what They want to discuss with peers and experts. No one having all the answers. And no, in real life you cannot just digitize and all your problems will be solved. Which all joining CPO Outlook 2023 know. Because of that discussions are real. You will walk away being inspired. But also with insight and concrete advice you will not get anywhere else in the Nordics.