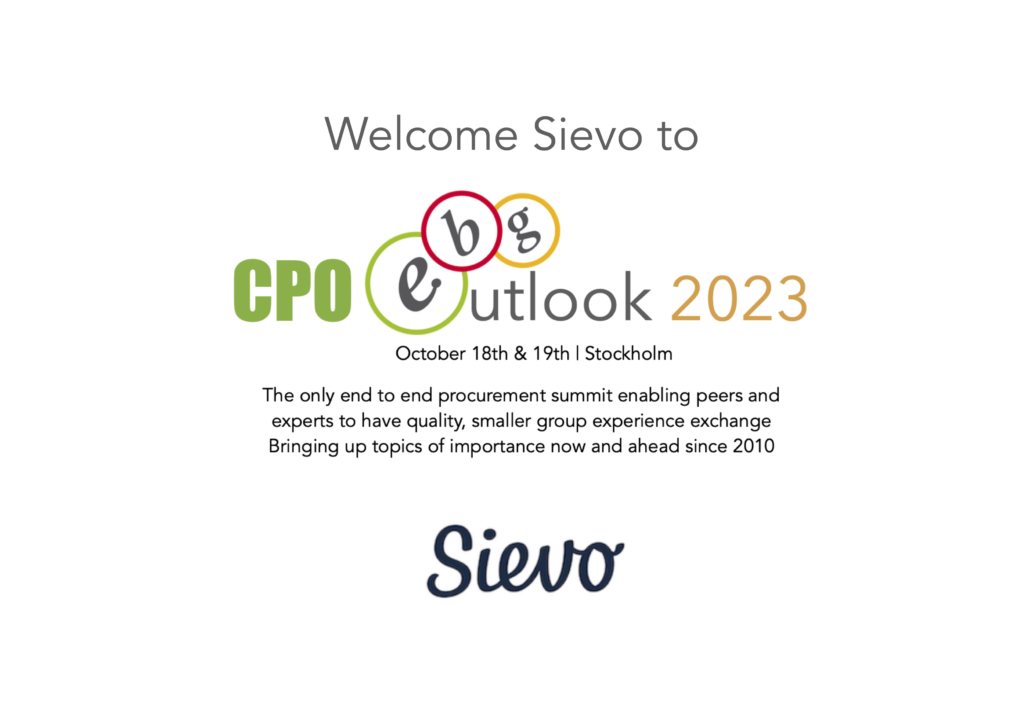 A warm welcome to Sievo – offering procurement analytics for data-driven enterprises – to CPO Outlook 2023. On October 18th + 19th procurement professionals come together to draw from each others experiences in Stockholm. Sievo join as an Expert Organization and will host round table discussions – Theme Discussions. Imagine sitting down with like minded peers and experienced experts. To focus on an important aspect of your corporate development and individual competence development.
Improving spend visibility, accelerate savings and drive profitability is high on all corporate agendas. But how do you gain access to the correct data at the correct time? Enabling a data driven company mean making sure stakeholders across functions can get access to the data needed.
Where are you on your data insight journey?
About Sievo
We are Sievo. We are the procurement analytics solution for data-driven enterprises.
We give procurement, finance and leadership teams a single source of truth and radical transparency to all sourcing decisions. Our solution helps you choose the right suppliers, deliver savings and manage compliance with confidence. Not only that, we enable a sustainable, diverse and resilient supply base.
We master the art of extracting, classifying and enriching data across all ERPs, procurement systems and external data sources, saving your valuable time.
Simply put, we're pretty damn good at turning even the crappiest data into actionable insights!
We've pushed the boundaries of spend analytics for two decades – and we're just getting started. We bridge the data-to-action gap and power agile procurement by combining AI with procurement expertise. Procurement organizations need an analytics partner they can trust. We're large enough to deliver, small enough to care.
About CPO Outlook
Imagine coming together with like minded procurement professionals. Learning in an informal discussion setting from experts. Being able to listen to others. To ask each other questions. Find other people you can connect with that you would not have met otherwise.
CPO Outlook is a unique gathering with limited seats focusing on the complexity in developing businesses from an end to end procurement perspective.
In 2022 we finally met again after a three year pause. Take a look at the Post Summit Report below to see what we discussed and what it looked like. We hope to see you in October 2023!