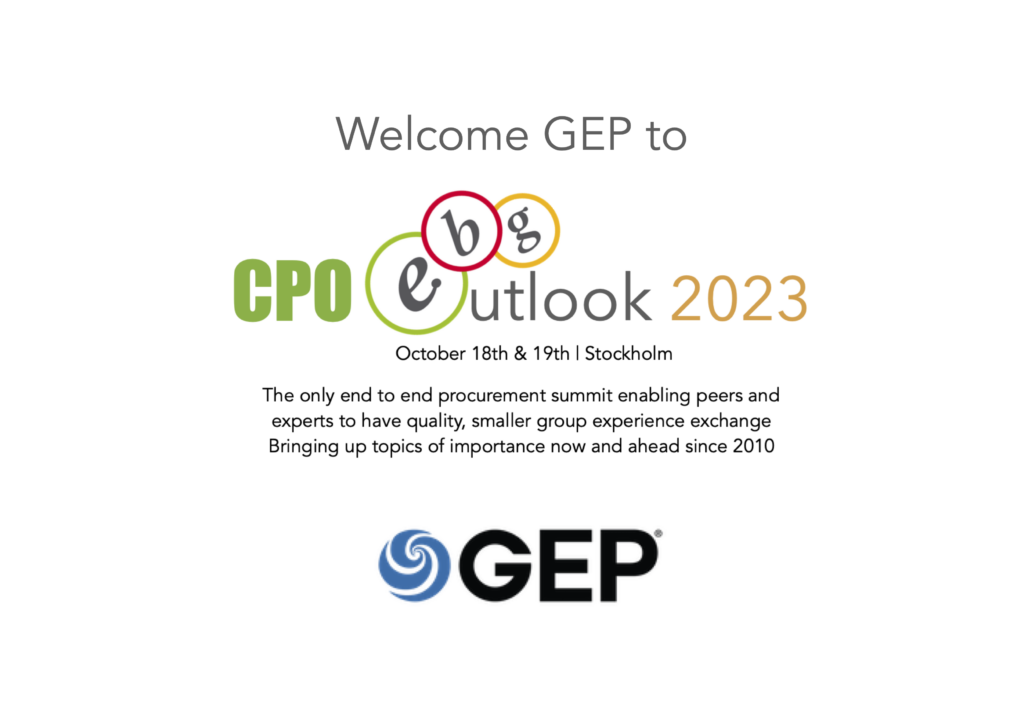 Strategy, software and managed services – welcome GEP joining CPO Outlook 2023 as an Expert Organization. GEP knowledge stretches over a wide range of skill-sets helping organizations achieve their goals. On October 18th & 19th you who join us in Stockholm can join round table discussions hosted by GEP. Learning from their and the peer group joining, all sharing the same interests.
The complexity facing organizations the last years is continuing. More are seeking to become more efficient, to act upon data insights, to use resources the best way possible and to do all of this in a risk reduced and sustainable way. Procurement organizations are under pressure but there are lessons to learn from others and experiences to share to avoid challenges others have faced.
About GEP
GEP delivers transformative supply chain solutions that help global enterprises become more agile and resilient, operate more efficiently and effectively, gain competitive advantage, boost profitability and increase shareholder value.
Fresh thinking, innovative products, unrivaled domain expertise, smart, passionate people — this is how GEP SOFTWARETM, GEP STRATEGYTM and GEP MANAGED SERVICESTM together deliver supply chain solutions of unprecedented scale, power and effectiveness.
Headquartered in Clark, New Jersey, GEP has offices and operations centers across Europe, Asia, Africa and the Americas.
Learn more via gep.com
About CPO Outlook
What is the core of an EBG summit? Skipping what could be in 10 years and focusing on how to overcome challenges now and learn from others how to evolve from here. Further EBG have had an end to end perspective since 2010, bridging the organizational gaps most companies face. Today with increased demands for data transparency this is crucial. When seeking to optimize strategies understanding a process along its lifecycle is vital.
1. All companies are experiencing approximately the same things and there are great learning's to be shared (no company is really unique).
2. There is a must to bridge Strategic and Operational Procurement and enable pure end-2-end optimization and collaboration.

What top takeaways from the conference do you bring back to your organization?
At an EBG summit you get insights from others like no where else. Trust and openness in order to learn from real experiences is key. EBG spend months planning and preparing for the summit ensuring You get the most from your presence. The rest is up to all joining.
An EBG summit always have limited seats due to about 40 round table discussions and workshops. All joining pre-choose sessions based on interest (you can of course change your mind as you join the summit but it give the moderators a plan to prepare which benefit the discussions).
Registration is open >>here – EBG hope to see you in October!