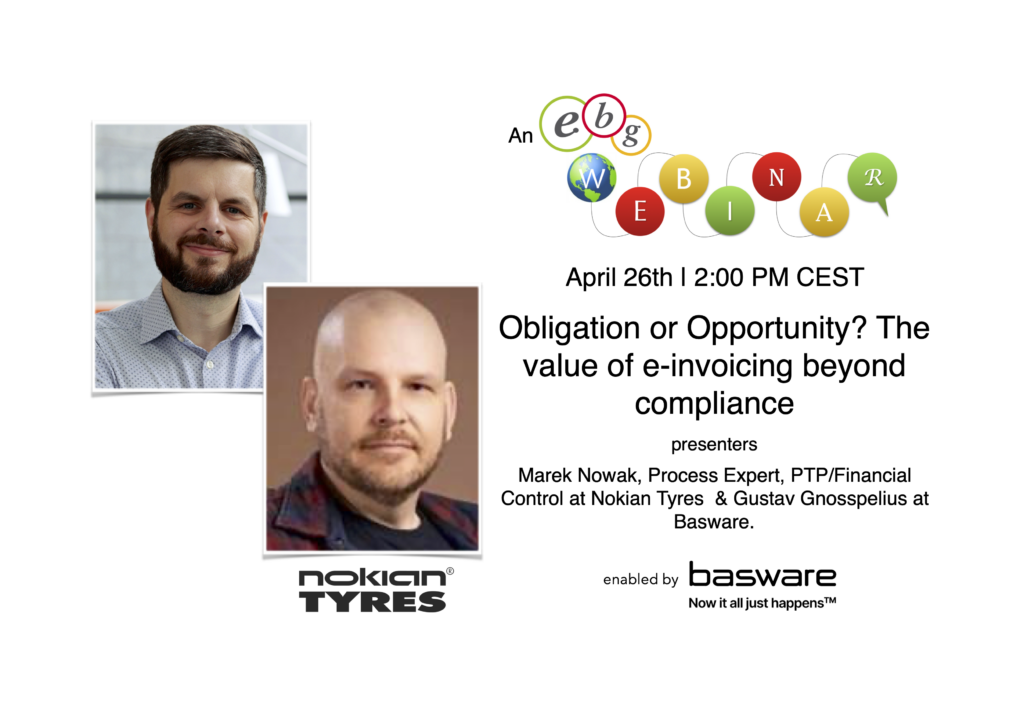 With the continuous deployment of global e-invoicing regulations, businesses are facing a wave of mandated alterations to their current practices. France, Poland, Belgium, Germany, Spain, and Hungary are just some of the most recent countries under scrutiny to start making changes to prepare for these mandates. Even though many of these countries are already practicing high levels of electronic invoicing, many times there is still some need for manual work, even with best-in-class organizations.
Join a webinar with both expert and practitioner experiences shared!
Date: April 26th, 2023
Time: 2:00-3:00 PM CEST
Place: Your computer/tablet/phone
Language: English
Cost: Free of charge but requires registration
Organizer: EBG | Network & Basware
And because of the "compliance" aspect of e-invoicing, it can be easy to look at the mandates merely as a task of obligation and penalty avoidance. However, there are plenty of additional benefits that companies can and should take advantage of.
In this webinar hosted by EBG Network, Gustav Gnosspelius at Basware and Marek Nowak, Process Expert, PTP/Financial Control at Nokian Tyres (Basware customer) will discuss the benefits of e-invoicing beyond compliance while walking us through their journey to e-invoicing excellence.
Join us April 26th to learn:
• Why these mandates are urging further awareness among businesses to move away from paper and PDF invoices to true e-invoicing
• Why e-invoicing always leads to better data quality input, faster throughput, improved AR and AP processes, and better insights for decision makers
• How to unlock the value of e-invoicing while navigating in the world of evolving mandates and tax reforms all while ensuring global compliancy
• The benefits beyond the mandate such as processing efficiencies, error reduction, decreased carbon footprint, digital archiving, cost savings, and more
This webinar is open for practitioners only. Registered will receive the slides and recording after and EBG are happy to gather questions of importance ahead of the session.
About Nokian Tyres
Nokian Tyres develops and manufactures premium tires for people who value safety, sustainability and predictability. Their purpose is to empower the world to drive smarter. Inspired by their Scandinavian heritage, they craft innovative products for passenger cars, trucks and heavy machinery that give you peace of mind in all driving conditions. Their Vianor chain provides tire and car services.
In 2022, Nokian Tyres segments net sales totaled EUR 1,350 million. At the end of 2022 they employed some 4,500 professionals. Nokian Tyres is listed on Nasdaq Helsinki.
About Basware
Basware is how finance leaders in global enterprises can finally automate their complex, labor-intensive invoice processes and stay compliant with regulatory change. Our AP automation and invoicing platform helps you achieve a new level of efficiency – in a matter of months – while reducing errors and risks. We bring a unique combination of true automation, complete coverage, and deeper expertise to make it all just happen for our customers. That's why the world's most efficient AP departments at 700+ global customers rely on Basware to handle over 170 million invoices per year.
Basware. Now it all just happens.™
Find out more at basware.com.