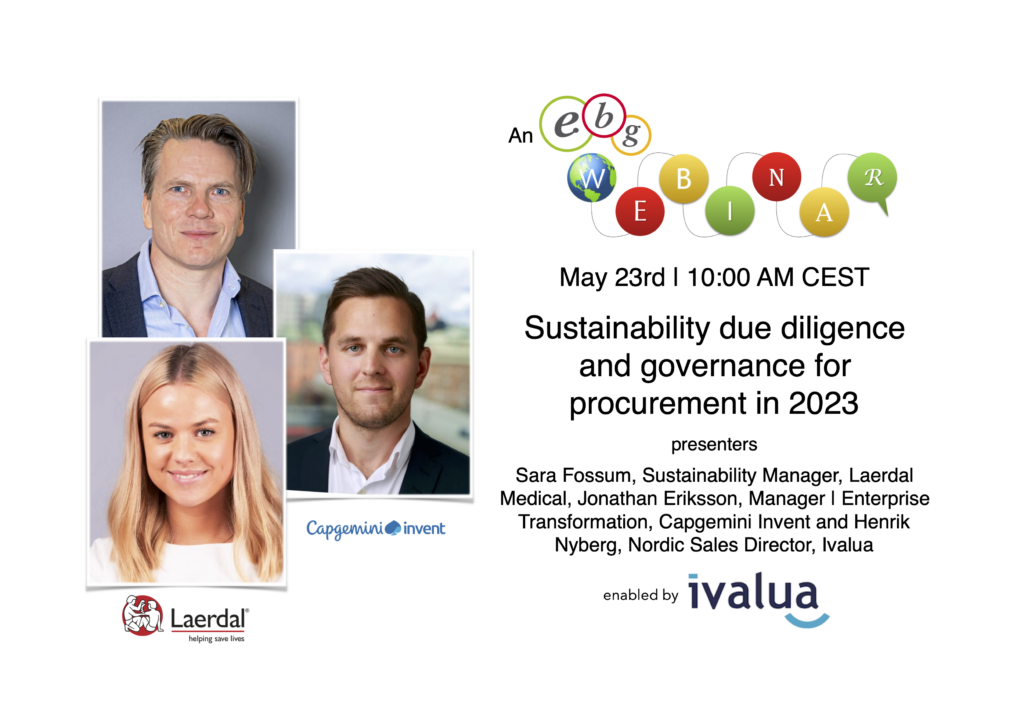 Procurement have been aware of the impact supply chain and external spend have on corporate sustainability agendas for a long time. A lot has happened on the legislation side as well as on corporate awareness.
During this upcoming webinar EBG bring together brains and experiences across multiple aspects of corporate sustainability realization. Because even though all are aware, the projects are many and the goals are clear. It is hard to keep track of what is expected of companies today and ahead. It is also hard understanding what a proper due diligence process may be. How companies should create a solid governance structure.
Date: May 23rd, 2023
Time: 10:00-10:50 AM CEST
Place: Your computer/tablet/phone
Language: English
Cost: Free of charge but requires registration
Organizer: EBG | Network & Ivalua
For procurement the corporate sustainability agenda means being in control of relationships, contracts and transactions. Overcoming challenges like having too many suppliers and uncertainty on ownership of processes. Data being too scattered and lack of time is crucial to meet upcoming requirements.
Yet more demands are coming. Join Sara Fossum, Sustainability Manager, Laerdal Medical, Jonathan Eriksson, Manager | Enterprise Transformation, Capgemini Invent and Henrik Nyberg, Nordic Sales Director, Ivalua for this webinar.
During this webinar we will focus on the following aspects;
The role procurement plays in helping the business comply with existing and upcoming sustainability strategies and concrete legal demands.
How many of your suppliers can you actually control and what will be enough?
What do the existing and upcoming legislations mean to procurement strategies and operations?
We will focus on upcoming legal requirements around ESG with the German Supply Chain act, Norwegian Transparency act and the Corporate Sustainability Reporting Directive (CSRD) as some of the better known examples.
And – perhaps most important of all;
· How do you set up a due diligence process and a governance structure to ensure you have the control you need?
· Now that you possibly are starting to be in control over your Net Zero strategies and your Science Based Targets – how do you incorporate a wider sustainability scope?
All registering will receive the slides and recording.
About Ivalua
Ivalua is a leading provider of cloud-based Spend Management software. Our complete, unified platform empowers businesses to effectively manage all categories of spend and all suppliers, increasing profitability, improving ESG performance, lowering risk and improving employee productivity. We are trusted by hundreds of the world's most admired brands and recognized as a leader by Gartner and other analysts. Learn more at ivalua.com. Follow us at @Ivalua.
About Laerdal Medical
Laerdal is dedicated to the mission of Helping Save Lives. We will do this through the advancement of resuscitation, patient safety and quality of healthcare, and saving lives at birth in low-resource settings.

To achieve our goal, we will be working with enabling technologies, collaborative initiatives, and early interventions with high lifesaving potential and low cost to society.

About The Laerdal Group
About Capgemini invent
By combining strategy, technology, data science, creative design, and engineering expertise with an inventive mindset, we partner with our clients to innovate and transform their business, enabling them to navigate today, while plotting a course for the future.

About Capgemini invent