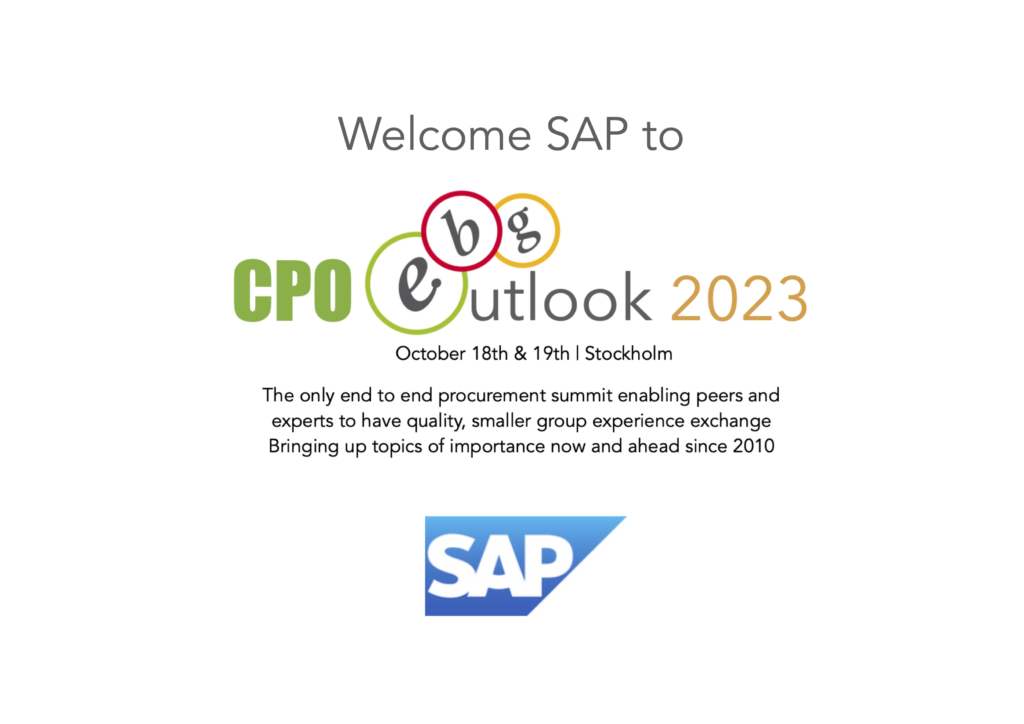 A warm welcome to SAP joining CPO Outlook 2023 as an Expert Organization. On October 18th & 19th you who join the summit can choose to take part in their Theme Discussions.
A lot has happened at SAP the past years and most companies have come across their ERP system but most likely other services and solutions too. At CPO Outlook you get to learn more about what is happening right now. At the same time you will draw from what others want to learn more about. In short, CPO Outlook like any EBG gathering – is unique. Unique in the way that months are spent learning what you want to discuss. What your peers want to discuss. Asking you to choose discussions based on your interests.
About SAP
SAP's strategy is to help every business run as an intelligent, sustainable enterprise. As a market leader in enterprise application software, we help companies of all sizes and in all industries run at their best: SAP customers generate 87% of total global commerce. Our machine learning, Internet of Things (IoT), and advanced analytics technologies help turn customers' businesses into intelligent enterprises. SAP helps give people and organizations deep business insight and fosters collaboration that helps them stay ahead of their competition. We simplify technology for companies so they can consume our software the way they want – without disruption. Our end-to-end suite of applications and services enables business and public customers across 25 industries globally to operate profitably, adapt continuously, and make a difference. With a global network of customers, partners, employees, and thought leaders, SAP helps the world run better and improve people's lives. For more information, visit sap.com
About CPO Outlook 2023
Companies are truly finding ways to make the most use of their corporate data and customer relationships. Equally many are collaborating with or aiming to collaborate further with their suppliers.
During CPO Outlook the beauty is that people and companies dare to open up. Sharing experiences on a level that is beneficiary to all. Not related to corporate secrets but to aspects that benefit all to improve. Apart from that you get to mingle, have drinks, eat dinner and have a good time of course.
Seats are limited so don't wait to register!