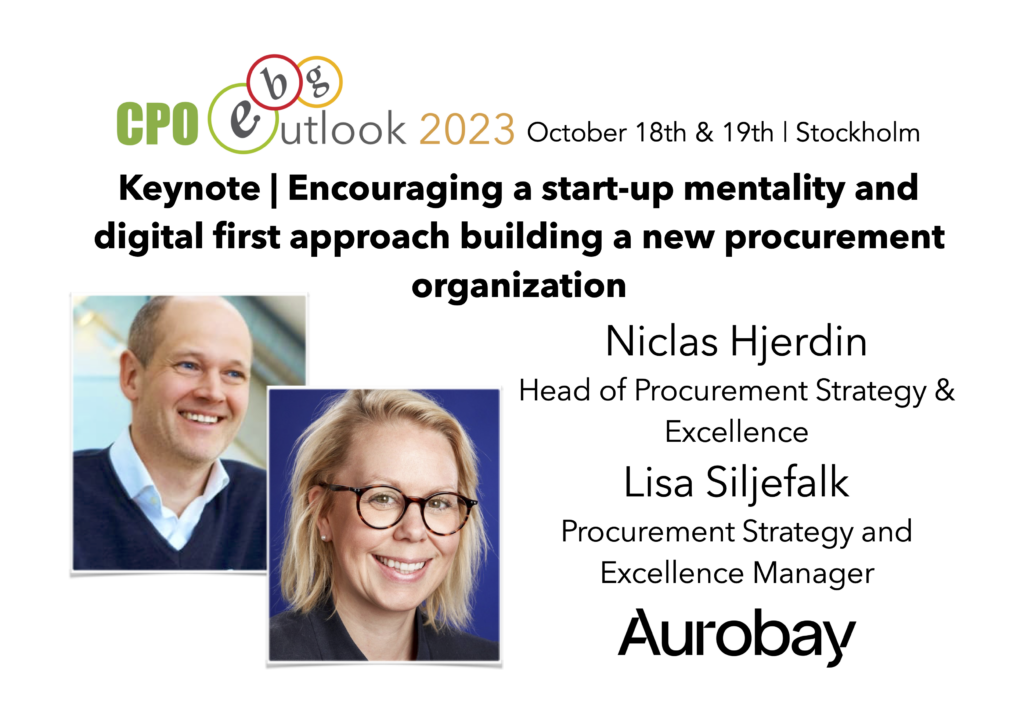 Every day we hear reports on what role artificial intelligence may play in our future lives. How all things digital may reform businesses and ways to do business. Or? Let's take a moment and reflect upon the direction "digital" may take. Let's share and discuss what direction digitizing and digitalization can and should take.
During CPO Outlook 2023 on October 18th and 19th you who join will be able to hear Aurobay share their unique direction ahead.
Niclas Hjerdin, Head of Procurement Strategy & Excellence and Lisa Siljefalk, Procurement Strategy and Excellence Manager at Aurobay will present their experiences and ambitions on stage. They will also host a workshop inviting a select number of you joining to dig deeper into a specific topic. Enabling you to learn from each other like no where else.
Encouraging a start-up mentality and digital first approach building a new procurement organization
What if you work in a start-up environment yet have 100 years of experiences as part of your corporate DNA. If you as that brand new company have an impressive line up of customers and the ambition to broaden and think outside the box. Also in procurement.
Aurobay was spun off from Volvo Cars in 2021 with 2850 employees in Sweden and China. The business since has transformed into a pioneer in the development of low- and zero-emission combustion engines.
Procurement play a vital part in this industry and are required to take end to end supply and supply chain responsibility. At Aurobay there is a "digital first" strategy within procurement. To ensure efficiency and effect using technology as a support or business enabler.
During this session you will learn from Niclas Hjerdin, Head of Procurement Strategy & Excellence and Lisa Siljefalk, Procurement Strategy and Excellence Manager at Aurobay. Finding out what it is like working in procurement in an established yet start up mentality type company. What it mean when you decide to optimize by digitalizing. What is required of a procurement organization that need to be flexible and innovative.
Why is Aurobay unique in its procurement role approach?
How is procurement organized and what role does procurement have today?
In what way should digitalization impact the role played by procurement?
About Niclas
Niclas is business driven and coaching with a high strategic focus on sustainable analyses and actions as well as the process of implementation and execution. He have been active in international sourcing with strategic development, organizational direction and leadership. Niclas has managed sourcing and procurement organizations on operative, tactical and strategic level both in Europe and China.
Areas of expertise:
✪ Change Management & Business Strategy
✪ Supply Chain Management, Strategic Sourcing & Procurement Development
✪ Global cooperation and implementation
✪ Organizational Development
About Lisa
Lisa is leading the Procurement Digital Strategic Roadmap and projects within Procurement Excellence ensuring an innovative, flexible, sustainable, and compliant procurement at Aurobay. Lisa has previously worked at Volvo Cars, Essity, Stretch, Accenture giving her broad practical and strategic knowledge.
About Aurobay
Aurobay develops and manufactures world-class powertrain solutions for a global market. A pioneering venture that brings together Volvo Cars' powertrain business with Geely, Aurobay is the brand name for this new powertrain business. Our 2,900 employees in Sweden and China work across engine production, R&D and sales. Powering sustainable mobility. And beyond.
About CPO Outlook
To think that there are simple solutions for complex challenges only create stress. That technology alone will solve all problems is simply not true. That just deciding on a strategy will enable it will not provide time enough to realize it.
At CPO Outlook EBG | Network allow people to learn from each other. Look at old problems in a new way. To look at possibilities with the understanding that you need to have multiple tasks in mind at the same time. That you really do not have time for what you are dealing with today but that you somehow need to find time to become more efficient. To improve the effect of what you do. To continuously find ways to exceed expectations.
During an EBG summit you join numerous round table discussions hosted by experiences experts and peers. You listen to keynotes, you continue discussions you started during breaks. You have drinks and dinner and join a series of workshops. In short, an EBG summit focuses on You.