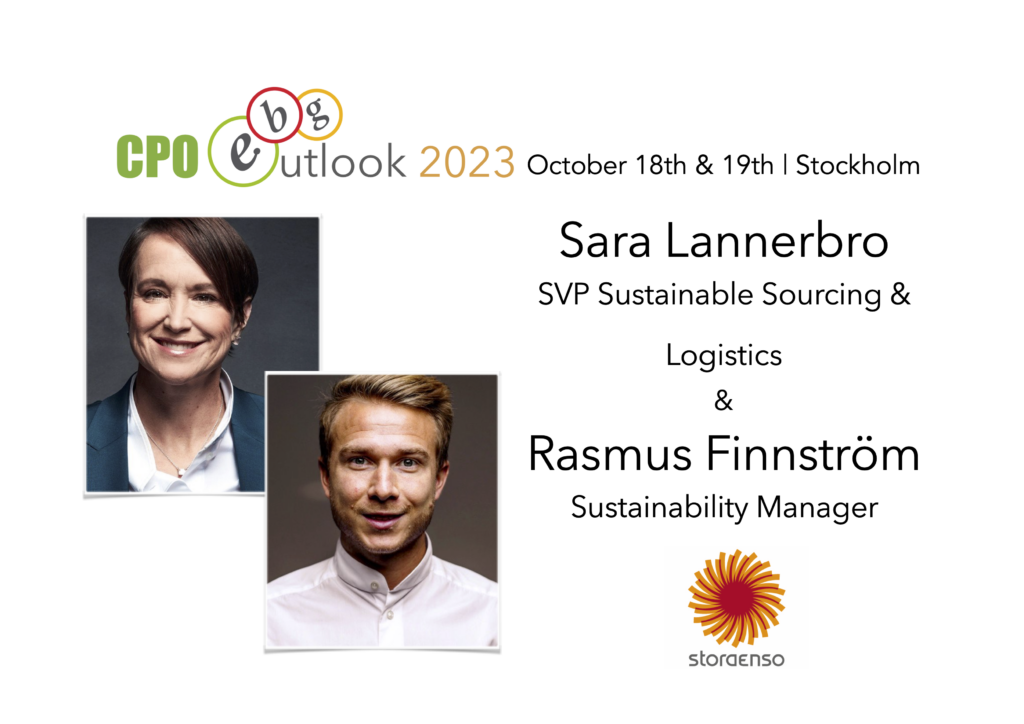 A warm welcome to Sara Lannerbro, SVP Sustainable Sourcing & Logistics and Rasmus Finnström, Sustainability Manager at Stora Enso joining CPO Outlook 2023. On October 18th and 19th you will meet them and on October 19th you can choose to join their workshop "How are you preparing for the Corporate Sustainability Due Diligence Directive?".
Everywhere you look you see companies talking about sustainability goals. ESG (Environmental, social and governance (ESG) – a framework used to assess an organization's business practices and performance on different sustainability and ethical aspects) is mentioned everywhere.
Taking a closer look reveal companies for some years have worked on their emission and Science based targets. Looking at what lies ahead (apart from of course continuously working on environmental aspects also continuing) – Social and human rights will take a much greater part.
What impact will that have on procurement? Imagine you need to be able to know a lot more about your n-tier suppliers than you do today. How would you manage? Because you will have to know much more.
Directive on corporate sustainability due diligence (the CSDDD)
On 1 June 2023, the European Parliament has agreed on its position on the Directive on corporate sustainability due diligence (the CSDDD). The CSDDD requires in-scope companies to conduct due diligence on, and take responsibility for, human rights abuses and environmental harm throughout their global value chains. Once the CSDDD has been formally adopted – not expected before 2024 – Member States will have two years to implement the CSDDD into national legislation (source).
Join the workshop hosted by Sara and Rasmus on October 19th to discuss;
How are you preparing for the Corporate Sustainability Due Diligence Directive?
Welcome to a workshop on the upcoming Corporate Sustainability Due Diligence Directive. Stora Enso will share their interpretation of the directive and the impact on large companies such as Stora Enso. What is Stora Enso doing today to identify, prevent, mitigate, or end negative activities on human rights and environment. The first steps to adopt to the up-coming law have been taken and Stora Enso will share the outcome of a gap analysis and an overview of a deep-dive on human rights in one of their sourcing categories. How can the gap analysis and the insights from deep-dives support the enhancement of the sustainable sourcing process?
Discuss;
How can companies strengthen the existing sustainable sourcing processes? 
What are the first steps to take? 
What is a high-risk supply chain?
Seats are limited to ensure you get to exchange know how with the group in a quality way. Apart from this session you will also be able to choose among 40 round table discussions and another 8 workshops!
About Sara and Rasmus
Sara is SVP Sustainable Sourcing & Logistics at Stora Enso. Prior to this role she has worked with sourcing and procurement in other capacities in Stora Enso and Ericsson.
Rasmus is Sustainability Manager at Stora Enso. Prior to this position he worked as a sustainability business developer at Scania Group.
About Stora Enso
By 2050, Stora Enso aims to offer 100% regenerative solutions – products that remove more carbon than they emit. (Fact sheet 2022)
Stora Enso develops and produces solutions based on wood and biomass for a range of industries and applications worldwide, leading in the bioeconomy and supporting their customers in meeting demand for renewable eco-friendly products.
Stora Enso has some 21,000 employees, and is publicly listed on the Helsinki and Stockholm stock exchanges. Their sales in 2022 were EUR 11.7 billion.
About CPO Outlook 2023
In a day and age where so much focus on technology and how automating tasks can be achieved, EBG focus on bringing people together. There is such power in seeing people from different industries coming together to share know how in topics They find important.
EBG enable 40 round table discussions and 10 workshops, dinner and networking apart from more traditional on stage presentations. In a unique way EBG allow people to meet face to face as professionals. Being personal and informal if wanted, to the point and focused.
Since 2010 this has been the way EBG have operated and in 2023 there are really vital and important topics that will be brought up! Make sure to >>register today.