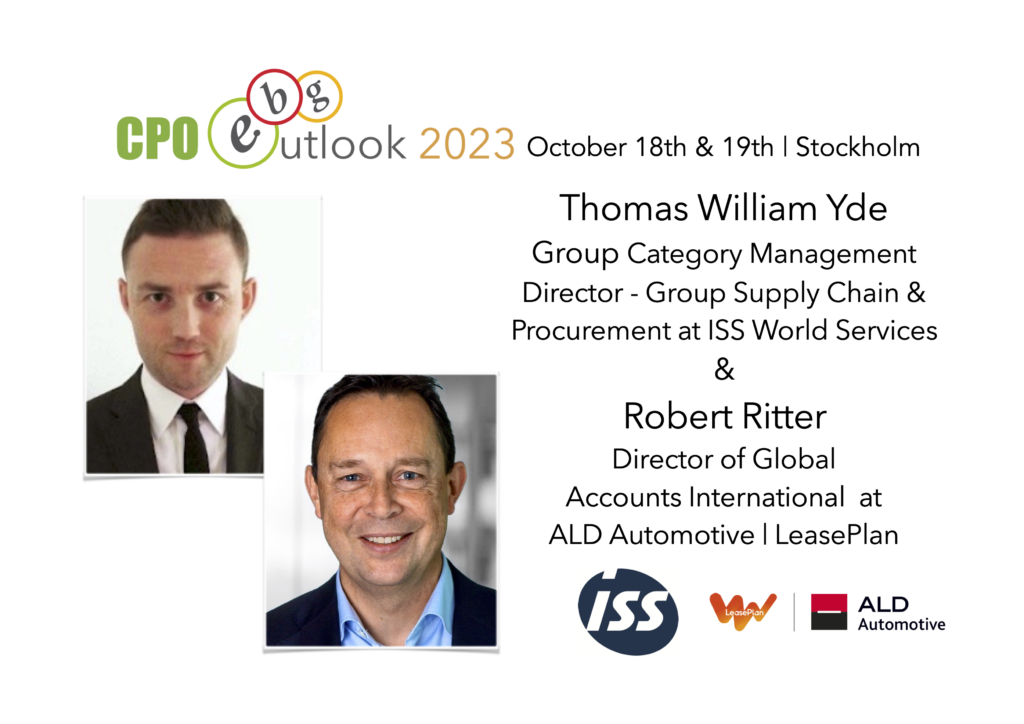 A very warm welcome to Thomas William Yde, Group Category Management Director – Group Supply Chain & Procurement at ISS World Services and Robert Ritter, Director of Global Accounts International at ALD Automotive | LeasePlan joining CPO Outlook 2023. Joining to share "The first Vested contracted for the Leasing Industry" as Robert states.
EBG back in 2010
The very first summit EBG created, a sales person from an office supply supplier was invited. "Say what ever you want to this finance and procurement community" said EBG. This sales person pointed out that customers wanted 24/7 support, best possible price on only 500 out of the 3000 items they sold, e-invoices and that for instance a binder cost 1/5 of what it cost to produce.
"And you get angry when we charge more on non agreement covered supplies?" he asked. "We are a business and need to make a profit" – believe it or not.
Another time EBG realized that even though companies were talking about end to end procurement and finance efficiency, spend control and supplier collaboration. What they were asking from their outsourcing partner was "how much does it cost to handle an invoice". Wanting transformation but asking for a transactional deal that for sure didn't help reach what they really needed.
EBG coming into contact with Vested and Kate Vitasek
In June 2013, Anna Bjärkerud was introduced to Kate Vitasek. A person who had dedicated her life to understanding why so many buyer-supplier relationships never deliver as desired. If you buy something complex – shouldn't it be because the one you buy it from do it better than if you do it yourself? Buying a service you cannot perform – is it really how many minutes it take to execute the service you want or is it the actual outcome from the service you desire?
Long story short – since then EBG have continuously shared the Vested way of collaborating between a buyer and supplier. The "What's in it for We"-mentality has been the core for EBG since 2010. We just didn't know a person in Tennessee developed a business model focusing on just that.
If you search this website you will find more about Kate. Even though Vested is eye opening – not all relationships are suitable for the win-win business model Vested. But – for all agreements, it is important to consider the way you treat buyer-supplier relationships. Are they really generating what you need or does it just look good on paper.
Thomas William Yde, Group Category Management Director – Group Supply Chain & Procurement at ISS World Services and Robert Ritter, Director of Global Accounts International at ALD Automotive | LeasePlan will share their two perspectives on their Vested way of working. Below what they will share;
Keynote | What are the challenges and opportunities in relationship based supplier agreements?
"ISS, a leading workplace experience and facility management company, and ALD Automotive | LeasePlan, a global leader in Car-as-a-Service, have signed an international Vested agreement for next generation fleet management." A press release dated 2022-11-16 shared the news and here you will learn what it means.
"Vested® is a business model, methodology, mindset and movement for creating highly collaborative business relationships that enable true win-win relationships in which both parties are equally committed to each other's success. The idea to move away from the traditional transactional buyer-supplier relationship."
ISS currently leases around 20,000 vehicles on a global scale, emitting 60,000 tons greenhouse gas emissions a year (which falls within scope 1 of the company's full-scope emissions), with a large part of the total fleet being leased through ALD Automotive | LeasePlan. ISS announced that it will electrify its global fleet in collaboration with ALD Automotive | LeasePlan, as part of ISS's ambition of reaching net zero within its global fleet by 2030. A collaboration business model being the basis for this to happen on a global basis.
During this session you will learn from Thomas William Yde, Group Category Management Director – Group Supply Chain & Procurement at ISS World Services and Robert Ritter, Director of Global Accounts at ALD Automotive | LeasePlan. Get their both perspectives and views on different approaches to this way of fostering and managing a buyer-supplier relationship.
You will learn
Why did ISS and ALD Automotive | LeasePlan choose to create a Vested business model for this relationship?
What has the chosen way of working meant to procurement at ISS and sales at ALD Automotive | LeasePlan?
What are the pro's and con's changing ways of working into a methodology that require a completely changed mindset?
How does Vested fit into the traditional category management way of working?
Following their keynote you who join the summit can choose to take part in their workshop. A way to ask all your questions and to learn from peers joining in. Limited seats so don't wait to >>register!
Workshop | How do you evaluate and understand what type buyer-supplier relationship is best fitted?
ISS has embarked on a Vested business model with ALD Automotive | LeasePlan to reach net zero by 2020. All buyer-supplier relationships are not suitable for this type way of working and during this session you will discuss different approaches.
Discuss the development of a more diversified way of working with contracts and collaborations. Discuss what it mean to a procurement organization in the short and long run having different contract models in place. What it mean from a supplier point of view. To the category management model? What does it mean to the competences needed in the organization, procurement function and on the supplier side.
Learn from Thomas' and Roberts' experiences. Understanding what kind of suppliers fit into different type sourcing models and contracting options. Discuss what the risks might be, and what it take from an organization to choose a Vested methodology.
Discuss;
How can procurement adopt a balanced view of the different sourcing and contracting models available?
In what way do you segment your suppliers to decide what sourcing and contracting model is best now and over time?
What prerequisites need to be in place to "go Vested" with a supplier?
What kind of suppliers do you have that fit for a Vested business model?
How do you make a Vested Relationship work in practice?
About ISS
350,000+ people | 30+ countries | 40,000+ customers. ISS is a workplace experience and facility management company formed in 1934, but the origins of the company date back to 1901. While ISS started out as a company that offered watchmen to local businesses, all throughout its expansion and development, ISS has held onto the same values. Connecting people and places has always been at the core of our business – to make the world work better.
ISS provides placemaking solutions that contribute to better business performance and makes life easier, more productive and enjoyable.
About ALD Automotive | LeasePlan
On May 22nd 2023 a press release stated "ALD today announces that it has successfully completed the acquisition of 100% of LeasePlan, one of the world's leading fleet management and mobility companies [, …]. This transformative acquisition represents a step-change which positions the combined group as the leading global sustainable mobility player with a total fleet of 3.3 million(2) vehicles managed worldwide. By joining forces, ALD and LeasePlan will lead the way to net zero and further shape the digital transformation of the industry.
With 15,700 employees worldwide and over 60 years of experience, ALD Automotive | LeasePlan provides full-service leasing, flexible subscription services, fleet management services and multi-mobility solutions to customers of all sizes, including large corporates, SMEs, professionals and private individuals.
About Thomas and Robert
Thomas is a strategically minded procurement executive with more than 10 years sourcing leadership experience. A proven track-record in leading high performing teams. Extensive experience in executing global cost drives and driving a global functional management setup. Prior to working at ISS, Thomas was Head of sourcing at Nordea and Head of Sourcing at Maersk Line.
Robert is helping organizations navigate international fleet management complexity. Robert have worked at LeasePlan focusing on business development and as international client director. Today he is Director of Global accounts based in Amsterdam.