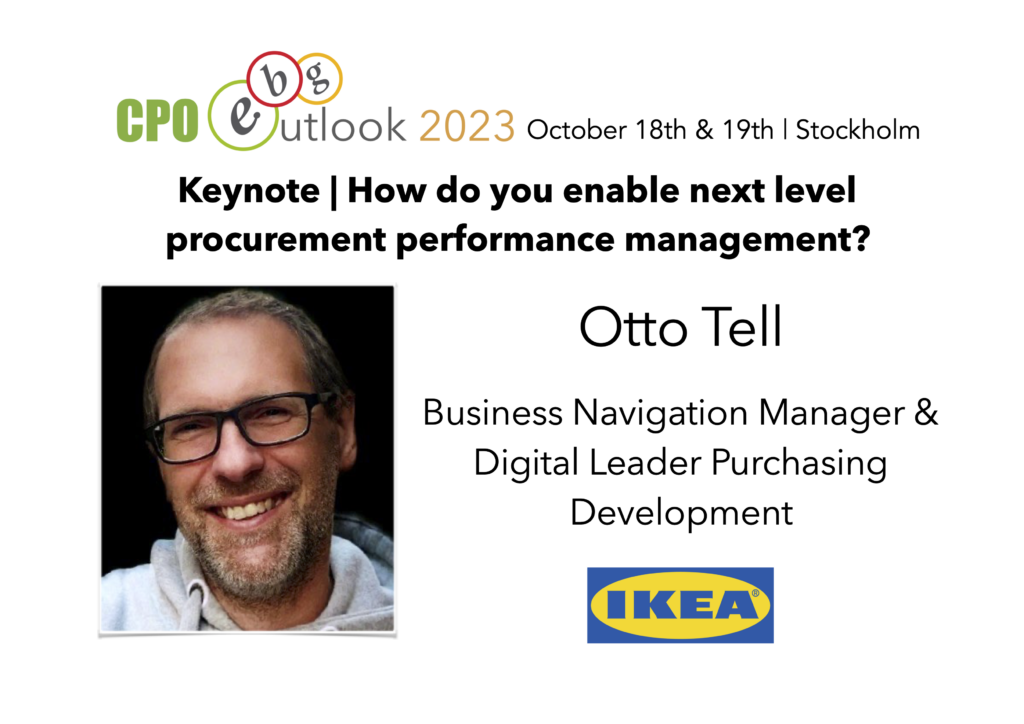 On October 18th and 19th a procurement peer and expert group of people meet in Stockholm. During CPO Outlook 2023 the focus lies on discussing critical business development challenges and opportunities most organizations face. Otto Tell, Business Navigation Manager & Digital Leader | Global Purchasing Development at IKEA of Sweden join the summit on stage and as round table discussion host.
If there is one thing always coming back is the importance to discuss how to align corporate functions. EBG was founded due to the lack of alignment between functions dependent of each other. Procurement is very interesting especially due to the dependency to other functions to fulfill set targets. Supplier performance and resilience are center topics that highlight this dependency.
Register to join CPO Outlook 2023 – limited seats available
Join CPO Outlook 2023 today for a unique experience based on informal yet to the point discussions. In times of uncertainty we are after all people in charge of making changes, the question is which and how.
What role can and should automation and digitalization have? How will procurement organization look ahead – how much can be automated and digitized? In what ways will data be used ahead (we all know how hard it is today to gather and use relevant data properly)?
Keynote | How do you enable next level procurement performance management?
Past and current years have shown volatile market shifts with short to no time to prepare. Supply shortages, logistics obstacles and price fluctuations have created the demand to find ways to predict risk, become resilient and at the same time develop the entire road to market. IKEA has built a capacity roadmap and during this session you will learn from their change journey. Otto Tell has worked at Inter IKEA Group since 2018 and he will share his experiences. He will reflect upon how digitalization can become an even more important part of end to end global purchasing development. The aim, to build a capacity roadmap and become a better orderer and recipient. To develop future capabilities with the help of digital transformation.
He will share;
How do you enable procurement performance?
What does a capability roadmap mean?
How can data be used to create a better supply chain?
In what way can companies use digitalization to help innovate the business?
Following his keynote, Otto will host a round table discussion. At an EBG summit they are called Theme Discussions. All focusing on topics that interest the discussion host. You who join the summit will pre-choose sessions and seats are limited.
Theme Discussion | How much may resilience cost?
All are aware that companies must stay on top of risk assessments on multiple levels. Ensuring delivery. Buying with risk awareness. Acting fast. Having the highest level of risk insight comes with a cost. What cost is acceptable in the short and long run? At the end someone has to pay the cost. This discussion will focus on navigating through risk and resilience decision. The discussion will also focus on the need for resilience work and what companies do to control the root cause of that need.
Discuss;
What are the groups lessons learned gathering and judging data to predict risk?
How do you work with scenario based risk assessments?
What does your earmark risk and resilience budget look like? (If you have one)
How can Europe become more self-sufficient?
In what ways does your company try and affect politics in Europe (discussing mining, factory capacities etc)?
About Otto
Otto is leading the enablement of performance management and develop future capabilities via digital transformation for the global Inter IKEA purchasing organization.
About IKEA
Ingvar Kamprad founded IKEA in 1943 at the age of 17, selling goods like pens and wallets. IKEA is named after the initials of founder Ingvar Kamprad, Elmtaryd, the farm on which he grew up, and Agunnaryd, the nearby village.
The IKEA Brand unites more than 200.000 co-workers and hundreds of companies with different owners all over the world. It's one brand, but it reaches millions of hearts and homes. Their value chain is unique. It includes everything from product development, design, supply, manufacture and sales – and of course it begins and ends with their customers.
The IKEA retail business is operated through a franchise system. Today, 12 different groups of companies market and sell the IKEA product range under franchise agreements with Inter IKEA Systems B.V.
About CPO Outlook 2023
Even though technology evolve in rapid speed it is still people who need to make informed decisions. Decisions that may very well impact the future of mankind. At least decisions that impact a lot of people both internally and externally.
CPO Outlook 2023 is a unique gathering of procurement professionals with an open mind. For two days a limited group of people (EBG want as many as is possible to be able to draw from each others experiences) share know how. EBG have enabled summits of this kind since 2010 and have seen other conferences come and go.
Take a look at what the 2022 summit looked like and make sure to register to join us today!