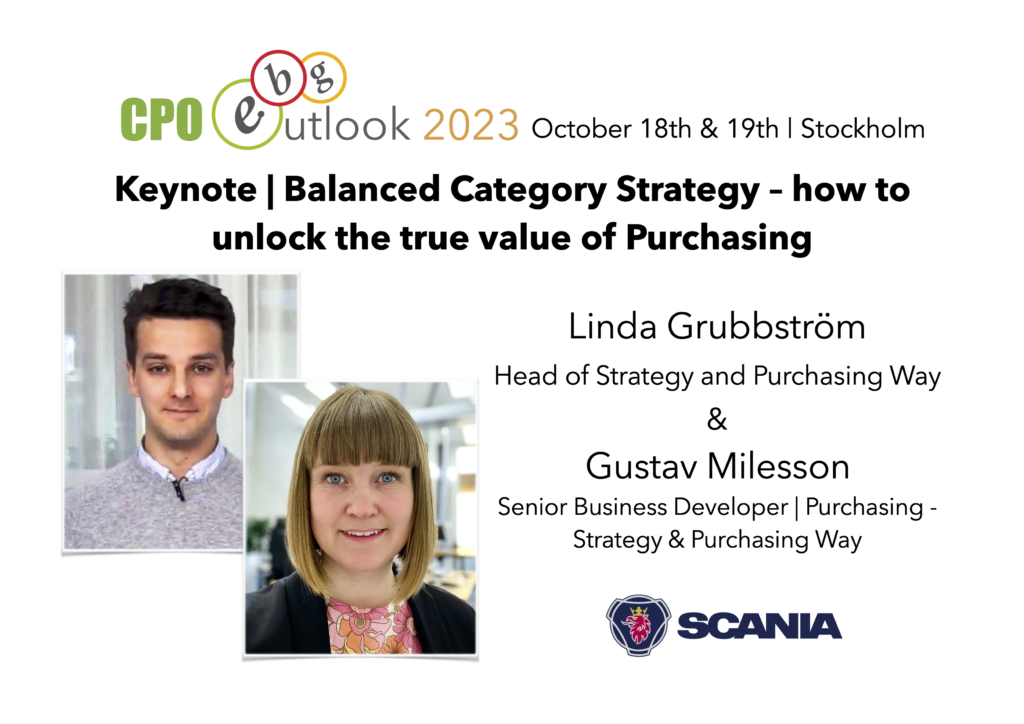 Over the years it has become evident that there is a huge gap between what and how companies plan to operate and how they actually do operate. For decades procurement organizations have discussed and planned for a category management way of working. Ensuring best possible value created.
So why is there such a gap between theory and practice? During CPO Outlook 2023 that is being discussed. In order to discuss such a broad topic it need to be divided into pieces of the puzzle that corporate business development and execution is. On October 18th and 19th yo who join the summit in Stockholm will have unique opportunities to learn from peers and experts.
You who join the summit will learn from Linda Grubbström, Head of Strategy and Purchasing Way and Gustav Milesson, Senior Business Developer | Purchasing – Strategy & Purchasing Way at Scania. Learn how they are balancing Technology, Quality, Delivery, Cost and Sustainability. Following their keynote you can also choose to join their workshop focusing on how you – in reality – change procurement focus and ways of working. Probably some of the best spent minutes you can invest in in 2023!
Keynote | Balanced Category Strategy – how to unlock the true value of Purchasing
Procurement at Scania have embarked on a change journey. Here they will go through what that process has been like and what they found. Further they will share how the result will affect future ways of working.
Scania has a "Scania Way" approach to all its values and strategies. For procurement this means finding a balance between the value propositions named TQDCS – Technology, Quality, Delivery, Cost and Sustainability. Procurement are taking responsibility for what value the procurement organization deliver within the company and towards its customers.
This include analyzing and considering what category management should look like in the future. Understanding how to raise the strategic level including less focus on the tactic and operational work. What does that mean to a business? It will impact the competences needed. Management buy in. A functioning governance structure and new KPI's. Learn about the cultural change the team have worked on to reach set targets.
Following the keynote Gustav and Linda will host a workshop going more deeply into certain areas and share lessons learned in the group.
Learn about;
What was found during the analytics and mapping process?
Why has Scania initiated the TQDCS focused balanced category strategy?
What does the strategy mean to future category management structures and ways of working?
Which are the main challenges changing governance structures and cultural habits?
How have Scania worked so far to impact existing structures, ways of working and the competences brought in ahead?
What lies ahead?
Seats are limited and you will pre-choose what round table discussions and workshops to join to help moderators prepare. You can of course change your mind also during the day too.
Workshop | How do you realize changed procurement focus and ways of working?
We all know culture eats strategy for breakfast. Finding ways to support and influence common ways of working within for instance category management is key. Key because even TCO (total cost of ownership) is becoming obsolete. Cost focus is not enough neither only focus on delivery. What value does procurement create for the customer? The insights generated yesterday are not good enough tomorrow. It is important that procurement get to offer guidance during a strategic shift. Yet more is demanded from fewer and procurement need to find ways to still realize strategies and operational excellence. Here we will share experiences in enabling those strategies throughout the business from a procurement perspective. From management and down and from operations and up.
Discuss and share lessons learned;
How do you work with broader category management and get the function strategy to permeate the entire business?
What challenges are You facing? What are You following up and what behavior is that generating?
Which role do KPI's have during this journey?
What coverage do You have within the Value Based dimensions within Your scope of work?
About Linda
Linda is an experienced leader within Purchasing and Business Development with a demonstrated history of working in the automotive industry. Skilled in leadership, business development and strategic sourcing with a Master's degree focused on Product Design & Industrial Engineering from KTH Royal Institute of Technology.
About Gustav
Gustav have worked at Scania for six years with business and process development. Ambitious and open minded he today work with their strategy and purchasing way.
About Scania
Scania is a world-leading provider of transport solutions, including trucks and buses for heavy transport applications combined with an extensive product-related service offering. They offer vehicle financing, insurance and rental services to enable our customers to focus on their core business. Scania is also a leading provider of power solutions for industrial and marine applications.
Scania is part of TRATON GROUP. Under this umbrella the brands Scania, MAN, Volkswagen Caminhões e Ônibus and Navistar work closely together.
With nearly 57,000 employees in more than 100 countries, Scania is a truly global player. Our sales and service network is strategically placed where our customers need us, no matter where they operate.
About CPO Outlook 2023
In a day and age where it seems quick solutions are getting attention EBG focus on allowing people to meet face to face to discuss complex challenges and opportunities. Allowing you to break down what may seem like an impossible task into smaller pieces.
You are supposed to know all of your suppliers. Your organization is – still – supposed to do more with less (hey we got AI now right). People in your organization are supposed to be multi-talented and handle all things strategic and operational. Even if they don't own the mandate to decide how to end to end.
All of this is known – so how can we help each other?
At CPO Outlook 2023 we do. There are limited seats >>Register Today and EBG look forward to seeing you!