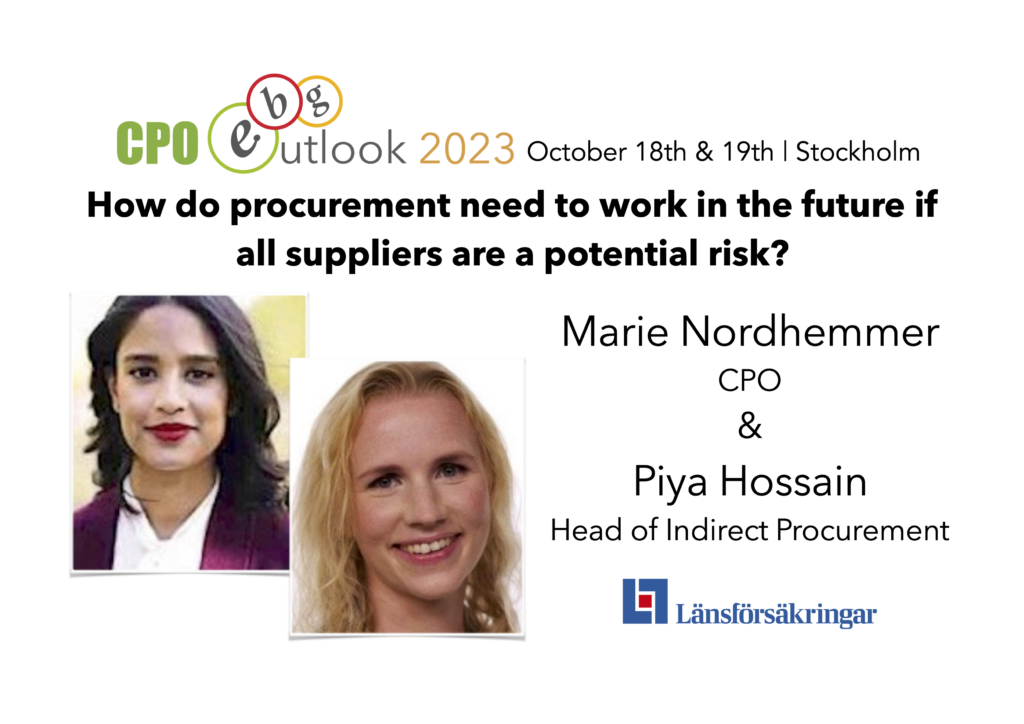 The thought might be daunting. Knowing and controlling risks down your entire supply chain. All suppliers, even the tail. At CPO Outlook 2023 in Stockholm discussions are held touching real situations you in procurement face. Such as very quickly understanding if you have any suppliers related to Russia. Or upcoming if you know about human rights compliance throughout your N-tier suppliers.
Marie Nordhemmer, CPO and Piya Hossain, Head of Indirect Procurement at Länsförsäkringar invite you who join CPO Outlook 2023 to join their round table discussions. Discuss how you in procurement can tackle being asked to know all about your entire supply chain. Forget how Kraljic suggested where to focus – the tail may even be your main concern!
EBG | Network have always found it intriguing how procurement are asked to handle a multitude of tasks. To know facts even if they do not own actually buying and have little possibility to follow up a contract after it is signed.
All of this will need to change. Procurement will have to consider how to take on a much larger workload. Which seem impossible. How can this challenge be solved?
These type scenarios and real situations will be discussed on October 18th and 19th in Stockholm. Consider the power in peers and experts coming together to engage in real conversations.
Join the summit and pick the below discussion if this is close to your situation;
How do procurement need to work in the future if all suppliers are a potential risk?
Are old ways of working within procurement becoming obsolete? Can we still rely on the Kralics matrix to help us decide where to focus? Are past years ways of setting up category management structures still valid and deliver as they should? Yes , no and no is argued here. You can learn a lot from industries that operate under heavy regulation. While other industries (still) can choose to focus on different big projects – these industries procurement organizations must focus on everything all at once.
Cost, sustainability, risk, the tail. You are reliable for ALL suppliers not being or becoming a risk factor or falling under for instance EU sanctions. Apart from everything else you need to be in control over. Ad to that an operating model where procurement do not own the end to end process yet know of the potential risks and are closest to the supplier post agreement. Tomorrow there may be another sanction, law or regulation you are obliged to take control over. How do you build structures, processes and tools to manage this new reality?
Discuss:
In what ways can you screen all suppliers and make sure you have desired information?
How do you create a category management structure paired with operational excellence to deal with constant change of focus?
How do you set up an agile organization that cope with constant change in priorities and have the right skill-sets?
Who need to own the supplier relationship to handle possible red flags?
About Marie
Marie is an experienced business transformation leader within the areas of procurement, sales and logistics in large, complex and international FMCG, Insurance and Bank companies.
She has driven several business development and transformation programs. Process development in both traditional and agile environments in order to deliver sustainable business value. Whether the goal is reducing cost, improved time to market, increased sales or developing new business, external partnering with suppliers is a critical success factor.
About Piya
Piya have many years experiences in strategic and operational procurement. She work at Länsförsäkringar and has worked in procurement at SEB and LRF Samköp. At Länsförsäkringar Piya is Head of Indirect Procurement.
About Länsförsäkringar
The Länsförsäkringar Alliance is unique in the Swedish bank and insurance market. The 23 customer-owned regional insurance companies cooperate, thereby combining the ability of a small company to adapt to its customers with the strength of a large company.
Länsförsäkringar Bank is one of Sweden's largest banks. The strategy is based on the Länsförsäkringar Alliance's large customer base, a strong brand and local presence through the customer-owned regional insurance companies.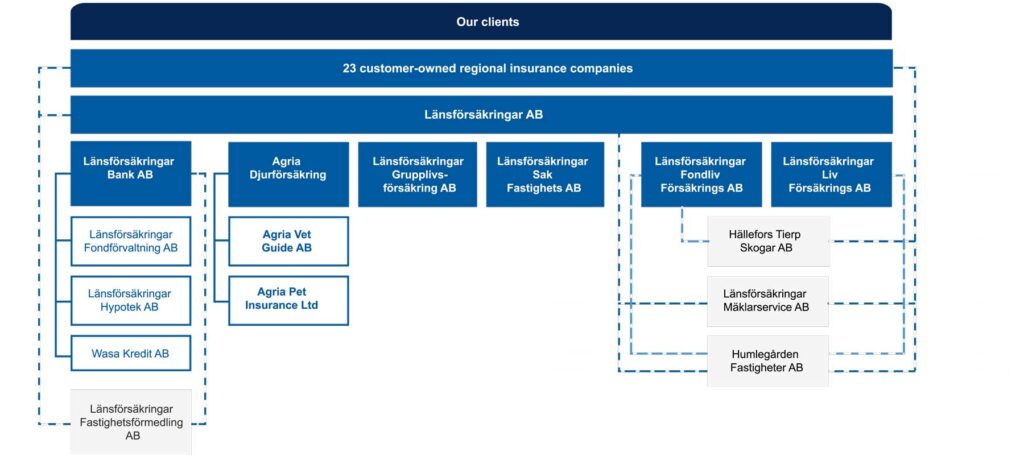 About CPO Outlook 2023
EBG was founded in 2010 from a behavioral science point of view. How can it be that those who need to change behavior are never in the room? Why is it so that people are measured in a way that prohibit real change and desired outcome? When will companies abandon the functional divide that was created in the early industrial age and start viewing processes end to end? How can companies say they want transformation yet demanding what and how people and suppliers act?
In short – let's meet and have informal discussions about challenges and opportunities with open eyes. Knowing that change is hard and take time. What may seem obvious need to be broken down into pieces to become a reality.
Make sure to >>register today since seats are limited.