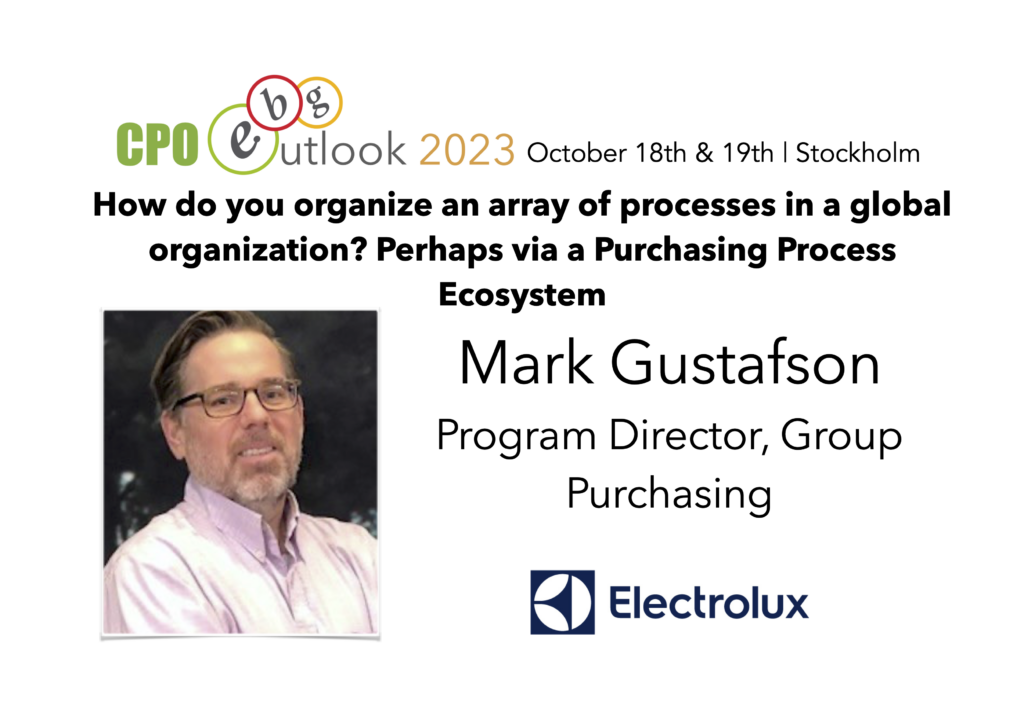 Perhaps via a Purchasing Process Ecosystem. There is no shortage of data and insights on any and all organizations. Making use of it is much harder. Too often when we talk about digitalization and automation it seems it is a thing of its own. As if "digitalization" is one thing applicable to the entire organization. Which is bizarre.
The better when EBG can help break down ways of looking at digitizing into measurable and understandable projects.
Mark Gustafson, Program Director, Group Purchasing at Electrolux is inviting you who join CPO Outlook 2023 to join. his round table discussion. Sharing how they are creating a Purchasing Process Ecosystem and asking you how you work with the same type data and insights.
What do you mean?
To help clarify what Mark mean, EBG asked a couple of follow up questions as we fine tuned his Theme Discussion topic for the program.
When you say gathering processes – what do you mean?
Processes (and all the others) documented in various SharePoint sites, Teams pages, e-mails with file attachments, in our learning management system, in Internal Communications articles, webinars, etc.
Data may be in structured systems (Ariba, SAP, etc.), in an Excel file on our SharePoint (e.g., category manager responsibility assignments).
What is it you are hoping to achieve by connecting the dots? What type insights/synergies/efficiency improvements etc. do you hope for?
Process is a foundation for automation/digitalization, Identify Regional harmonization opportunities, Efficiency of our Resources, Employer of Choice.
What would you like to share and discuss with others?
Ways of working – we are trying to use a more "agile approach" using task cards to keep up with the many to do items, results, learning's, next steps, process and data governance – also ask what others are doing in this regard.
The below is the full copy of what you can discuss with Mark;
How do you organize an array of processes in a global organization? Perhaps via a Purchasing Process Ecosystem
What if you could have One Source of procurement process-related information? Process flows, job aids, training materials, and supporting data made accessible from this One source. That when all this loosely-structured content is gathered, emerging technology such as AI/ChapGPT can help connect the dots.

This is what Electrolux aims to do.

Understanding processes is a foundation for further automation and digitalization. A way to identify harmonization opportunities. Ensuring resources are efficient. That you hopefully become the employer of choice because working has become less ambiguous.

All risk, sustainability, financial, contracting, sourcing, supplier quality, supplier development, SRM, category strategy, operational purchasing, supply chain, net operation working capital, vendor master data, etc. processes, tools, templates, training references will eventually be organized in one SharePoint repository. Another goal is to ensure a governance framework is applied to maintain the Ecosystem over time.

Electrolux is using a more agile approach to keep up with the many to do items to make this a reality. We will compare how your organization has tackled this challenge and whether you have similar experiences.
Discuss;
How important and challenging is it to make all relevant process information accessible in one place?
What are your experiences in ensuring the many processes are clear, maintained, and visible?
In what ways do you keep up with the many to do items, results, learnings, next steps, process and data governance?
Make sure to >>register to join the summit in October, seats are limited.
About Mark
Mark is a diverse industry and category strategic purchasing experience with leading international firms, supported by mechanical engineering and MBA degrees
Team-building leader with track record of accomplishments through others by coaching through challenges, developing a clear strategy, fostering a team mentality, improving process, and increasing data visibility
Consistent bottom-line contributions realized through supplier collaboration, data-driven negotiation strategies, and strategic sourcing process application.
About Electrolux
Electrolux Group is a leading global appliance company that has shaped living for the better for more than 100 years.
Electrolux reinvent lifetime taste, care and wellbeing experiences for millions of people, always striving to be at the forefront of sustainability in society through our solutions and operations.
In 2022 Electrolux Group had sales of SEK 135 billion and employed 51,000 people around the world. Their headquarters are located in Stockholm, Sweden, and the Electrolux share (ELUXb) is listed on Nasdaq OMX Stockholm.
Under their brands, including Electrolux, AEG and Frigidaire, they sell approximately 60 million household products in over 120 markets every year.
About CPO Outlook 2023
There are numerous procurement conferences telling you what to do to be successful. On stage presentations sharing visions and results. How they got there and how challenges were tackled is rarely discussed, this is simply not part of the program.
EBG | Network is based on the knowledge that change take time and that change management is key to succeed. It is great listening to success stories and visions – but you also want to learn about how they got there. The nitty gritty of business development. The many actions taken, the multiple decisions that were taken. At an EBG summit you can choose among about 40 round table discussions and 8 workshops. You will also be inspired from on stage presentations but they are always followed up by informal yet to the point discussions.