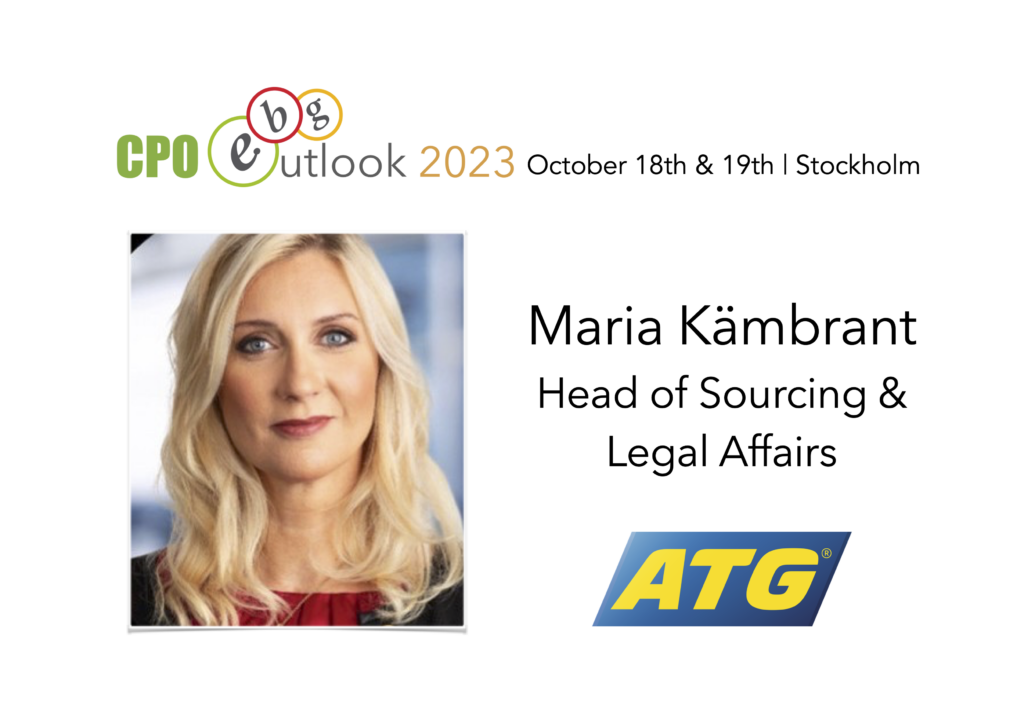 Today artificial intelligence may seem both as the solution of everything as well as a possible threat. A warm welcome to Maria Kämbrant, Head of Sourcing & Legal Affairs at ATG joining CPO Outlook 2023. She will host a workshop calling on the procurement community in the Nordics to unite. To unite and help each other create a common contract standard for AI based services.
On October 18th and 19th you who meet in Stockholm can choose among several round table discussions and workshops. Informal yet to the point discussions. Discussions in-between discussions since you heard someone share an idea or a challenge that resonate with you. EBG helping the procurement community learn from each other rather than being fed simple solutions from a stage all day.
Seats are limited and sessions are pre-chosen to help moderators prepare. You may of course change your mind also during the day if there are seats available.
It may very well be so that many companies have yet to realize the complexities in risk assessments. Both existing and not the least upcoming risk assessments. During CPO Outlook 2023 several of those aspects are addressed. They may be just what Your organization need to stay ahead of complex situations.
Below what Maria invite you to discuss;
Is AI just another hype and how will it impact procurement?
The buzz around Artificial Intelligence has been substantial since Open AI released Chat GPT 3.5, it has been marketed as a cure-all solution for inefficiencies and new AI startups pop up like popcorn.
IT contracts traditionally regulates the delivery of certain service/functionality that provides a defined output, and if a problem occurs SLA´s kicks in. With generative AI there will be an extra layer of complexity added since the SW itself will adjust itself over time.
How can we validate the quality and legality of a service and its output that over time might bring a different answer to the same question? How do you regulate risk and liabilities in these circumstances?
In negotiations Suppliers often argues that "everyone else agrees to this", showing long lists of other companies that supposedly have agreed to use their service under the same circumstances.
What if we within procurement could strengthen our position by setting common contract standards that we apply for AI based services?
In this workshop we will discuss;
How can we do a risk assessment of AI based services?
How can we ensure that the AI based service provided meets quality and legality requirements over time?
About Maria
Maria has solid, hands-on experience in;
* Building a consultative and agile procurement and legal affairs function on a group level, driving digitization, establishing processes, methods and tools, including a supplier risk management playbook.
* Leading complex international negotiations to enable partnerships and deals, services and rights in categories as IT Software, Hardware & Platforms, Media production and streaming, Sports rights and Sponsorships, Gambling and Payment Services.
* Building integrated liaisons with business owners to develop and build new business opportunities and successful partnerships balancing commercial, legal and operational risks and opportunities.
* Defining and establishing complex ecosystems, business models, contracts and negotiations, while taking ownership and driving a proactive, strategic agenda, to ensure business excellence.
About ATG
ATG is a unique betting company. Since 1974, we've been powering Sweden's horse industry, offering responsible betting. This means that when you place a bet with us, you're also supporting Sweden's horse industry.
ATG®, AB Trav och Galopp, or the Swedish Horse Racing Totalisator Board, was founded in 1974. The company was founded by the Swedish state with the aim of ensuring the long-term financial stability of trotting and thoroughbred racing.
About CPO Outlook 2023
At an EBG summit you only meet people willing to share their own experiences. The basis is that 1+1=3. The more a group of experiences people share with each other – the more value is created. By now we have all learned the hard way that human interaction is needed to get the most out of a conference. There is so much happening in between sessions. During an EBG summit you will hear and be able to ask questions to an incredible amount of peers and experts. Not is the sense of hundreds of people being present. An EBG summit have very limited seats. No – because you are enabled to meet with and learn from almost all present in the room!
Founder Anna Bjärkerud have a behavioral science degree and have created business meetings since 1998. EBG have brought together cross function experiences since 2010.