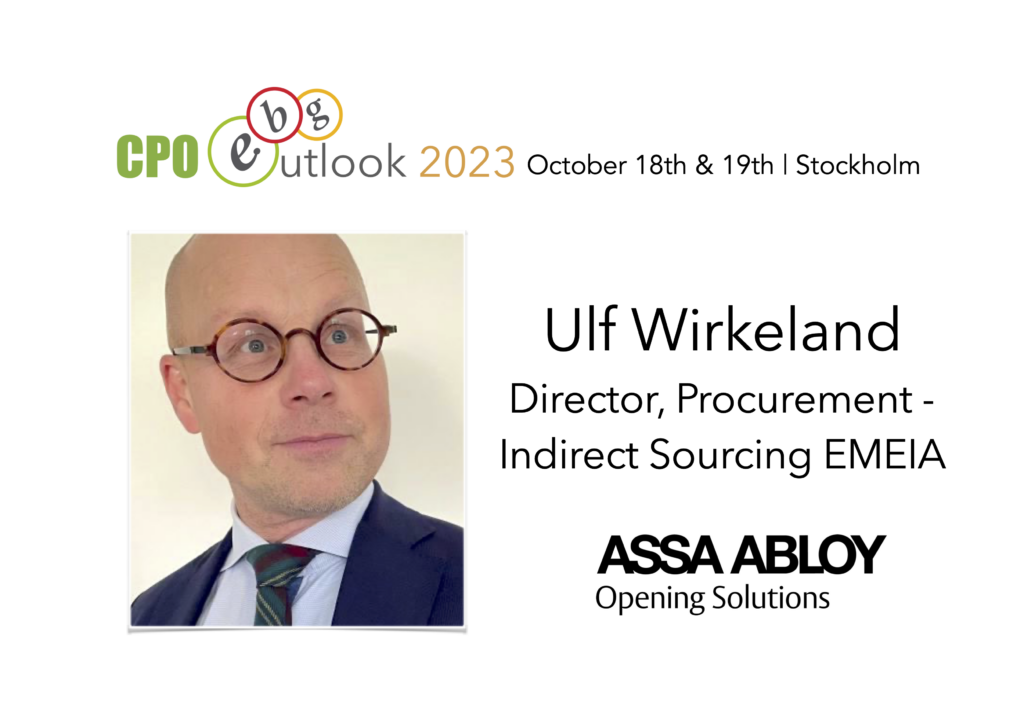 A warm welcome to Ulf Wirkeland, Director, Procurement – Indirect Sourcing EMEIA at ASSA ABLOY Opening Solutions joining CPO Outlook 2023. You who join the summit can choose to take part in the round table discussions he and Magnit will host. There is a struggle to find the right talents and to handle the non employee workforce.
New regulations and laws require ways to develop compliance strategies. Both GDPR and the new Swedish hiring legislation (LAS) equally so. Navigating the corporate talent ecosystem is interesting as is the role procurement play in it.
Make sure to register to join CPO Outlook 2023 on October 18th and 19th in Stockholm. Do so if you are interested in having real conversations about topics that are relevant here and now. Informal yet to the point conversations. Conversations that just may give you the keys needed to solve your challenges and help grow your business.
Below the topic Ulf and Magnit invite you to discuss;
Navigating Global & Local External Workforce Trends in 2023 with ASSA ABLOY
Join us for an impactful round table session with Ulf Wirkeland at ASSA ABLOY, as we discuss how to best navigate in the current External Workforce landscape, tackling the biggest trends.
Don't miss this engaging round table session, where you'll gain valuable insights, actionable strategies and key takeaways for efficient external workforce management.
Discuss and learn more about;
Key Learnings in how to gain control and optimize the cost of the External Workforce
Strategies for compliance with new regulations and laws, including the NEW Swedish Hiring legislation (LAS) and GDPR
Why the time is now to take full charge of your contingent workforce, according to >>a recent report by MIT Sloane and Deloitte
About Ulf
Ulf is Director, Procurement – Indirect sourcing, EMEIA at ASSA ABLOY Opening Solutions. He has many years experience in indirect procurement management as well as being a category manager in the past. Prior to ASSA ABLOY Ulf worked at Fleet Logistics Nordic as Operations Director.
About ASSA ABLOY Opening Solutions
ASSA ABLOY Group is the global leader in access solutions. Every day, we help billions of people experience a more open world.

About ASSA ABLOY Opening Solutions LinkedIn
ASSA ABLOY Opening Solutions leads the development within door openings and products for access solutions in homes, businesses, and institutions, their offering includes doors, door and window hardware, mechanical and smart locks, access control and service.
Since ASSA and Abloy came together in 1994, more than 300 companies have joined the ASSA ABLOY family – which give them 52,000 colleagues.
About Magnit
Magnit is a global leader and pioneer in contingent workforce management. Our industry-leading Integrated Workforce Management (IWM) platform is supported by 30+ years of innovation, modern software, proven expertise, and world-class data and intelligence. It enables companies to optimize talent and diversity goals while achieving operational and financial success. With Magnit, companies can adapt quickly to the evolution of work to grow their extended workforce with greater agility, transparency, and speed.
About CPO Outlook 2023
If you want to gather and share between the lines experiences with other procurement professionals sharing the same interests as you – CPO Outlook is for you. If you are tired of sitting all days long listening to people on a stage giving you visions and no solutions. This summit is for you. If you know transformation and change is about much more than deciding where you want to go. CPO Outlook 2023 is for you. If you have experiences change take time and is really about helping people behave differently – this summit is for you.
Business development doesn't succeed because of a fancy power point. It comes from being able to dig deeper behind the slides, learning about all the nitty gritty taking place.
Seats are limited since the two days focus on round table discussions and workshops mainly. Make sure to >>register now. This is also one of very few summits in the Nordics where you can bring the English speaking team we know many of you have!