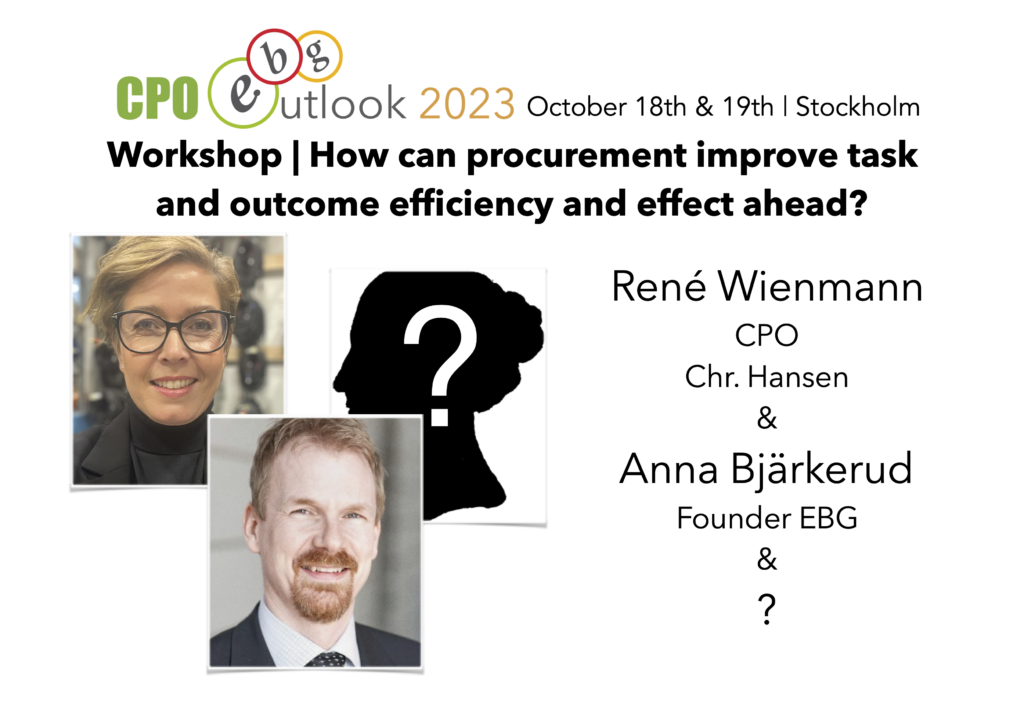 A few months back EBG posted a question via LinkedIn, searching for people with experience in procurement Shared Service Centers. Not "only" the transactional part – but the more strategic aspects such as category management. Since talents are hard to find and companies are increasingly global – why not ad or enhance competences built in such central capacities?
The response was huge! Numerous people reached out – also wanting to learn more about using a CoE/GBS/SSC for more than transactional tasks.
However – very few have any experience in achieving successful organizations like this. Leading EBG to widening the focus. If few are able – what could the possible mix of talent and task set up look like ahead?
These are the basics – to few people, to much – and increasingly much – to do. It is harder and harder to find talents and technology at least seem to be be there to help solve this puzzle. How to reach the desired efficiency and effect level.
Anna Bjärkerud will co-host this session together with René Wienmann, CPO at Chr. Hansen. Further, EBG are looking for additional resources to help bring the different perspectives to life! Have You successfully created and sustained a globally focused CoE/SSC/GBS (dear child have many names) taking on more strategic tasks? Reach out to EBG!
Below the workshop base line which can be developed ahead as well but giving you an idea of the thought scope;
How can procurement improve task and outcome efficiency and effect ahead?
Lack of talents + Digital capabilities = Time to re-consider what future flexible procurement operating models and resource usage may look like and how they could be organized?
In a recent Deloitte study (2023 Global Chief Procurement Officer Survey) talent acquisition and retention was the most cited internal risk. Four times higher than digital fragmentation. Digital transformation was the second most cited procurement strategy (behind supplier collaboration). For a long time centralization has been the chosen model and transactional tasks possibly outsourced (external or captive) to a Shared service center/Center of Excellence. To manage all of the above, standardization of policies, processes, systems, and data is key.
But. Many organizations face a Catch 22 moment – with too much to do to enable the transformation needed. There are more and more responsibilities with ESG requirements, risk assessments, advanced analytics and increased speed to market. With that in mind – how can procurement develop operating model and resource usage ahead looking at different enablers?
This is a session bringing different experiences together, exploring ways for procurement to evolve. What are the lessons learned within the group ensuring the best possible – flexible – operating model and resource usage (of course also related to industry)?
Discuss;
How standardized are your processes and systems (as a means to choosing ways forward)?
What tasks and responsibilities should be possible to push out in the organization to other stakeholders?
When and for what tasks is the Shared service/Center of Excellence model best fitted? How about adding category management tasks to utilize global capacities?
To what extent will technology help solve the efficiency and effect gap? What technologies have shown proven effect?
What combinations of the above have been most successful?
Being caught between the hype and everyday life
An EBG summit focus on challenges and opportunities here and now as well as ahead. Trying to not focus on the past, but learning from experiences had. Imagine coming together with like-minded who just may hold pieces of a puzzle for the obstacles and possibilities You face.
An EBG Themed Focus Session on October 19th is a workshop where you learn from the experiences moderators hold. Added to that you meet a peer group sharing the same interest as you have in this particular workshop. It being day 2 mean you have more or less spoken to a majority of those attending and the discussions you can have are simply really value adding!
Make sure to >>register today to join CPO Outlook 2023 in Stockholm. EBG know procurement and have carefully enabled networking sessions since 2010.