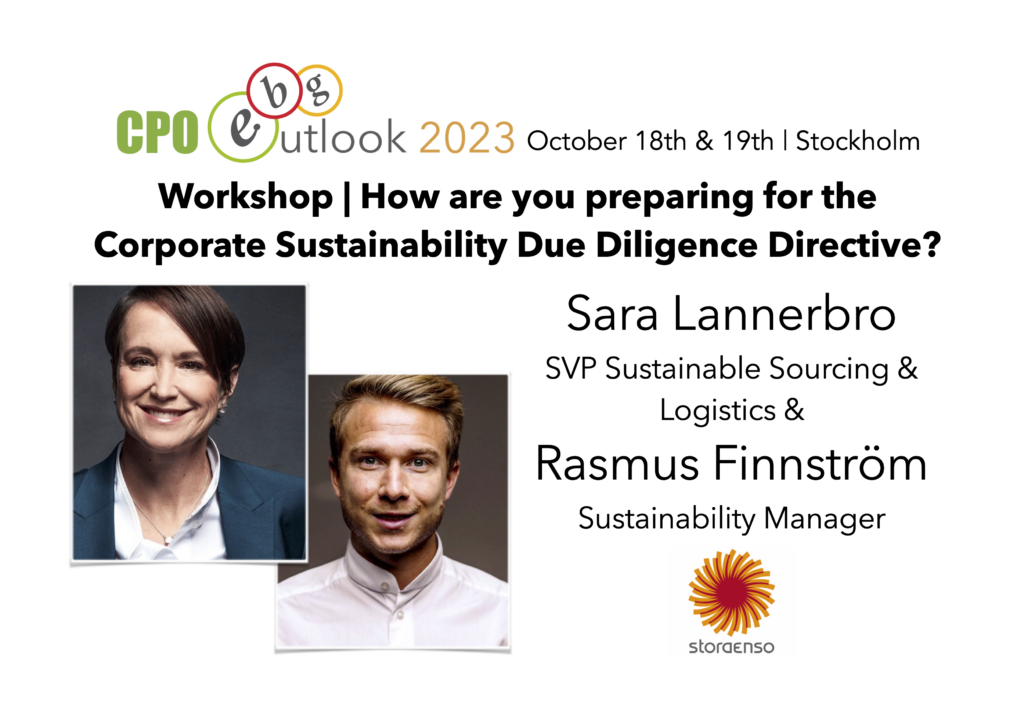 On 1 June 2023, the European Parliament has agreed on its position on the Directive on corporate sustainability due diligence (the CSDDD). The CSDDD requires in-scope companies to conduct due diligence on, and take responsibility for, human rights abuses and environmental harm throughout their global value chains. Once the CSDDD has been formally adopted – not expected before 2024 – Member States will have two years to implement the CSDDD into national legislation. (Source: Loyens & Loeff)
Let's take a look at the sentence "throughout their global value chains". What does that really mean? How are companies interpreting this directive and its meaning for the different functions in a company?
Come CPO Outlook 2023 on October 18th and 19th great minds come together to dig deeper into the actual and practical meaning of the many legislation's in play for companies.
Join Sara Lannerbro, SVP Sustainable Sourcing & Logistics and Rasmus Finnström, Sustainability Manager at Stora Enso for an incredible workshop on October 19th. By then you know many of the other attendees at CPO Outlook. Ensuring an informal setting where you learn from each other.
Learn more about and discuss;
Workshop | How are you preparing for the Corporate Sustainability Due Diligence Directive?
Welcome to a workshop on the upcoming Corporate Sustainability Due Diligence Directive. Stora Enso will share their interpretation of the directive and the impact on large companies such as Stora Enso. What is Stora Enso doing today to identify, prevent, mitigate, or end negative activities on human rights and environment. The first steps to adopt to the up-coming law have been taken and Stora Enso will share the outcome of a gap analysis and an overview of a deep-dive on human rights in one of their sourcing categories. How can the gap analysis and the insights from deep-dives support the enhancement of the sustainable sourcing process?
Discuss;
How can companies strengthen the existing sustainable sourcing processes?
What are the first steps to take?
What is a high-risk supply chain?
All round table discussions during day 1 and workshops during day two have limited seats. This is one of very few summits where you can have real conversations with others sharing the same interests as you.
Make sure to >>register to not miss out. As of now the choose link is open and seats are limited. If you have ever visited a "normal" conference you know that listening to hours of on stage presentations and panels alone will not help you. An EBG summit will.
About Sara and Rasmus
Sara is SVP Sustainable Sourcing & Logistics at Stora Enso. Prior to this role she has worked with sourcing and procurement in other capacities in Stora Enso and Ericsson.
Rasmus is Sustainability Manager at Stora Enso. Prior to this position he worked as a sustainability business developer at Scania Group.
About Stora Enso
By 2050, Stora Enso aims to offer 100% regenerative solutions – products that remove more carbon than they emit. (Fact sheet 2022)
Stora Enso develops and produces solutions based on wood and biomass for a range of industries and applications worldwide, leading in the bioeconomy and supporting their customers in meeting demand for renewable eco-friendly products.
Stora Enso has some 21,000 employees, and is publicly listed on the Helsinki and Stockholm stock exchanges. Their sales in 2022 were EUR 11.7 billion.
About CPO Outlook 2023
People sharing experiences with peers. Far beyond pretending change come easy an EBG summit focus on how to actually tackle challenges and possibilities.
Choose and take part in the below topics (more will be added);
Business development and operating models
| | |
| --- | --- |
| • | How can procurement improve task and outcome efficiency and effect ahead? | Chr Hansen |
| • | Keynote | Balanced Category Strategy – how to unlock the true value of Purchasing | Scania |
| • | How do you realize changed procurement focus and ways of working? | Scania |
| • | How do you expand as a procurement organization from protecting and optimizing Cost & Supply to being a key enabler for Profit & Reputation growth? | Orkla Foods |
| • | How do you shape and organize procurement resources in a flexible way? | Aurobay |
| • | Navigating Global & Local External Workforce Trends in 2023 with ASSA ABLOY | Magnit & ASSA ABLOY |
Digitizing and automating
| | |
| --- | --- |
| • | Is AI just another hype and how will it impact procurement? | ATG |
| • | Keynote | Encouraging a start-up mentality and digital first approach building a new procurement organization | Aurobay |
| • | How do you organize an array of processes in a global organization? Perhaps via a Purchasing Process Ecosystem | Electrolux |
| • | Beyond Spend Analytics – Procurement Analytics now and in the future | Sievo |
Supplier performance and management
| | |
| --- | --- |
| • | Keynote | What are the challenges and opportunities in relationship based supplier agreements? | ISS & ALD/LeasePlan |
| • | How do you evaluate and understand what type buyer-supplier relationship is best fitted? | ISS & ALD/LeasePlan |
| • | Supplier Performance Management in 2023 | Coloplast |
| • | Keynote | How do you enable next level procurement performance management? | IKEA |
| • | CSRD: Driving Sustainability and Compliance through your contracts | Icertis |
Procurement as an end-to-end structure
| | |
| --- | --- |
| • | Challenges in Procure-to-Pay adoption (and how to overcome them) | DeLaval |
| • | How do you navigate in a matrix organization to ensure transformation in procure-to-pay area? | Danish Crown |
| • | Efficient Spend Management, Risk Mitigation, and Maverick Spend Control – By working smarter and automating | SAP |
Risk management and sustainability
| | |
| --- | --- |
| • | How much may resilience cost? | IKEA |
| • | How do procurement need to work in the future if all suppliers are a potential risk? | Länsförsäkringar |
| • | Strategies and solutions to the evolving landscape of supply chain regulations | Prewave |
| • | How are you preparing for the Corporate Sustainability Due Diligence Directive? | Stora Enso |
| • | How the race to net zero will change procurements role in organizations | Ivalua |
| • | Escaping the Reactive Compliance Trap: Strategic Risk Management as a Foundation for Sustainability ROI | EcoVadis |
Since 2010 this has been the way EBG have operated and in 2023 there are really vital and important topics that will be brought up! Make sure to >>register today.