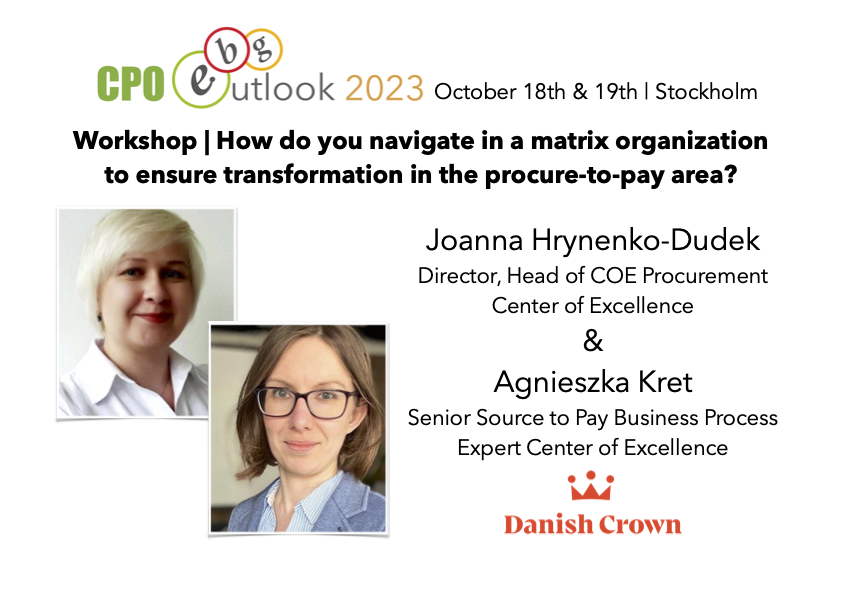 There is a glocalization of supply chains and a need to create a pool of agile resources. Spend managers need to become margin managers and an end to end overview over profit management is becoming increasingly important. Many organizations choose to create Centers of Excellence or Global Business Services to gain that overview and be as efficient as is possible.
But how do you realize that end to end overview as you have both global, regional and local hubs of people, information and ways of working? How do you enable transformation and navigate a matrix organization to ensure the value intended is the value created?
Joining CPO Outlook 2023, October 18th & 19th in Stockholm, you have several opportunities to draw from experiences in achieving just that. Joanna Hrynenko-Dudek, Director, Head of CoE Procurement and Agnieszka Kret, Senior S2P Business Process Expert at Danish Crown invite yo to join their workshop.
Workshop | How do you navigate in a matrix organization to ensure transformation in the procure-to-pay area?
Today many companies have divided functions and responsibilities globally, regionally and locally. Aiming to use resources best possible and make sure processes and transactions are as efficient as can be. Centers of Excellence and Global Business Offices are created and responsibilities are supposed to be shared across the organization. The discussion about who should do what and who's to be responsible may seem easy on paper but in reality the transformation to a matrix organization along the procure to pay process may be challenging.
Join us to discuss the different strategies in to building bridges in organization to ensure effective transformation without leaving anyone behind.
Discuss:
As many companies decide to launch Procure-to-Pay transformations – how do you create momentum for change?
With more and more companies establishing their CoE and GBS offices – how do you determine who should be the driver for change?
How are you making sure the business is engaged in the process?
What should you prepare for, and: what are you likely to miss on your way?
When bad news is good news – how to approach total disaster and make benefit of it?
The key aspect here is that even though a strategy is decided upon – change does not come easy. It take persistence over time. A deep understanding of how to use technology to reach insight and control. It take having that dynamic end to end perspective.
About Joanna
Joanna has almost 17 years of professional experience including 12 years in Procurement and Finance transformation and management. Before joining Danish Crown, she spent twelve years in Capgemini Poland working as business transformation consultant and manager for multiple global clients from different environment (manufacturing, agriculture, utilities). She is also certified ISO 90001 auditor, trainer and teacher. In Danish Crown she is responsible for leading Source to Pay process transformation.
About Agnieszka
Agnieszka has a Supply Chain mind connecting the dots across SC Management world to drive positive & individualized impact. She is passionate about making the change using cross-functional experience in international projects. Crash-coursed in crisis situations.
About Danish Crown
The Danish Crown Group is a global food processing company and among the largest in its field. The Group is the world's largest pork exporter and Europe's largest pork processor. Furthermore, Danish Crown Beef is a significant player in the European beef market.
Just like the crops in the fields continuously change, Danish Crown tirelessly refine and improve how we work, from farm to fork, to ensure good, safe food for people around the world to enjoy. Their history goes back to 1887.
As a global leader in sustainable meat production, Danish Crown have big obligations; not just to deliver, but to explore new opportunities. They still have a long way to go and face many challenges. But they remain committed to improving how food is produced – with respect for animals, people and the environment. In this quest, Danish Crown are prepared to challenge ourselves, the industry and the market.
About CPO Outlook 2023