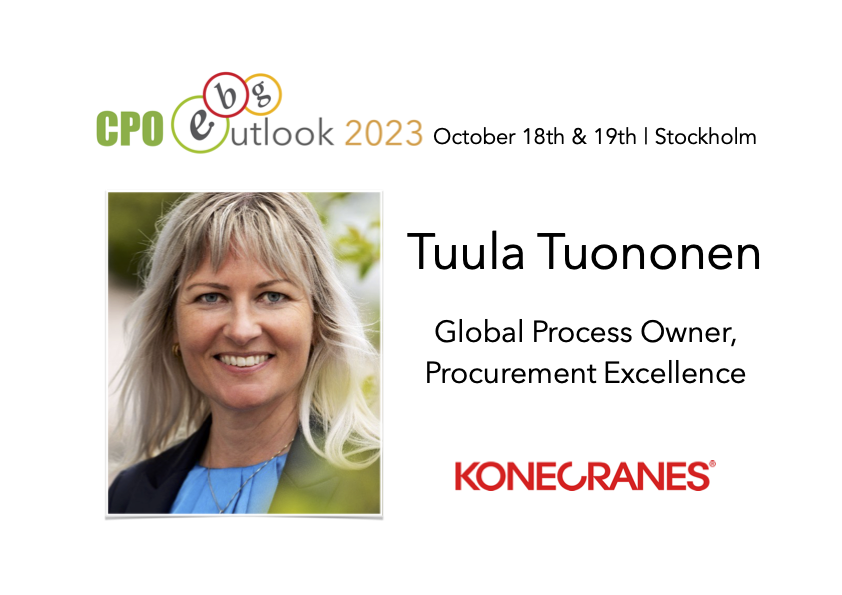 How are you creating a multidimensional supplier relationship management structure? Ways of working that both give procurement the data needed as well as helping business stakeholders make more initiated decisions. A warm welcome to Tuula Tuononen, Global Process Owner, Procurement Excellence at Konecranes joining CPO Outlook 2023. On October 18th and 19th you who join the summit can take part in incredibly valuable round table discussions and workshops. You will get inspired by peer keynote presentations and if you can have drinks and dinner with EBG.
Today and looking ahead, procurement will have to know a lot more than today about corporate suppliers and supply chains. Today's market volatility also require more improved profit management.
Apart from obvious challenges of handling masses amount of data – procurement are often organized in a way where central procurement such as category management, ends after the contract is signed. Leaving for the business to cater for and follow up on supplier activities and actual outcome.
Tuula invite you to discuss the many dimensions of creating 360 supplier relationship management. Ways of working that help both procurement and the business perform better.
About Tuula
Today Tuula work at Konecranes as a Global Process Owner, Procurement Excellence. Tuula have deep market insights from working at companies such as Coupa and Basware. Prior to that Tuula worked as head of procurement at Danske Bank, Sourcing Category Manager at Sanoma Corporation and Sentior Contract Manager at Nokia to mention some experiences.
About Konecranes
Konecranes is a global leader in material handling solutions, serving a broad range of customers across multiple industries.
Their business is divided into three segments – Service, Industrial Equipment and Port Solutions – each contributing approximately one-third of Group sales. The Group's brand strategy is based on the corporate Konecranes master brand, which is complemented by the Demag and MHE-Demag brands and a portfolio of freestanding power brands including R&M, SWF Krantechnik, Verlinde and Donati. On top of that TBA Group is also part of the Konecranes Group's brand portfolio. 
Konecranes Service offers specialized maintenance services and spare parts for all types and makes of industrial cranes and hoists. Konecranes Industrial Equipment provides an extensive range of industrial cranes, from components and light duty applications to demanding process use and solutions. Konecranes Port Solutions provides equipment, software and service for the container handling industry.
In 2022, Group sales totaled EUR 3.4 billion. The Group has around 16,300 employees in 50 countries. Konecranes shares are listed on the Nasdaq Helsinki (symbol: KCR).
About CPO Outlook 2023
Developing large organization may be a daunting task. Holding so much value and including to many relationships. Such a great number of connected dots that together hold 70% or even more of corporate revenue. How to best evolve ahead, how to best use resources and technology to realize corporate strategies. At CPO Outlook you meet with peers in an informal yet to the point environment. Here you can ask each other questions and follow up questions. Beyond visionary on stage presentations you can learn from the fine tuned lessons learned that change management is all about.
Now on its 13th year – EBG hope to see you in Stockholm on October 18th & 19th! Seats are limited, >>register and start choosing what sessions to join! Seats are limited.